Home / News / Environmental News
Iowa Senate passes budget that could cut Iowa's water sensor network
Bill also removes state goal of having 10 percent of it lands be public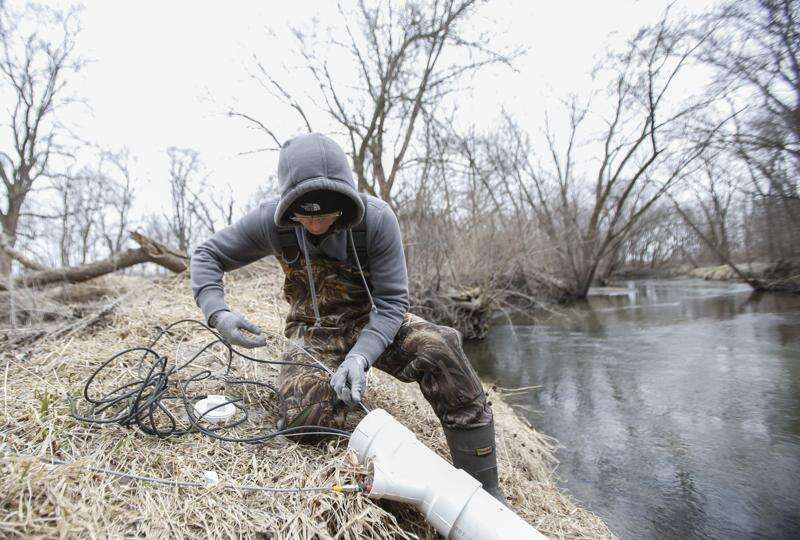 The Iowa Senate has passed a budget that could zero out funding for river and stream sensors that measure nitrate and phosphorus to see if conservation practices are working.
The budget for agriculture, natural resources and environmental protection, which passed Tuesday in a party-line vote 33 to 16 with Democrats opposed, shifts $500,000 from the Nutrient Research Center at Iowa State University to a water quality program in the Iowa Department of Agriculture and Land Stewardship.
The ISU center, which supports the sensor network at the University of Iowa, had been planning to allocate $500,000 to the UI this year for the network and related projects. The budget also eliminated a requirement the ISU center work with the UI and the University of Northern Iowa.
"That's a big loss," Sen. Janice Weiner, D-Iowa City, told The Gazette on Wednesday. "It's a loss to the Nutrient Research Center and to the University of Iowa, but it impacts all Iowans."
The 2008 Gulf Hypoxia Action Plan called for Iowa and other Midwest states to cut nitrogen and phosphorus loads in the Mississippi River by 45 percent. To do that, Iowa developed a Nutrient Reduction Strategy that requires water treatment plants to make improvements and asks farmers to implement voluntary conservation practices.
Iowa deploys about 70 sensor each year on streams and rivers across the state that measure nitrate loads and concentration so observers can tell whether water treatment plant upgrades, wetland improvements and agricultural conservation practices are working to reduce pollution.
The sensors send real-time data to the Iowa Water Quality Information System, which has an interactive map online. On Wednesday afternoon, it showed 13 of more than 50 sensors already out for the season reporting nitrate levels over the safe standard for drinking water.
Sen. Dan Zumbach, R-Ryan, who sponsored the budget bill, did not speak directly about reducing funding for the sensor network, but said Republicans want to put more money into conservation practices.
"What we do know is practices on the land and in our towns is what makes cleaner water," he said Tuesday on the Senate floor. "When we made the decision on how to appropriate dollars, it was all about let's put practices that help clean our water."
The Iowa House likely will take up the budget bill, Senate File 558, next week.
'Fits a pattern'
Rep. Chuck Isenhart, D-Dubuque, said it fits an ongoing theme of trying to strip state funding for water monitoring.
"Since the Nutrient Reduction Strategy has been adopted, there has been an assiduous effort to minimize the amount of accountability we have for that spending," he said. "This fits a pattern we've seen over the last decade."
A Republican budget proposal in 2017 would have cut state funding to the Iowa Flood Center, created by the Legislature in 2009 in response to major Eastern Iowa flooding in 2008. The Flood Center, housed at the UI, shares some staff and a building with water quality monitoring efforts. Most of that funding was restored when the UI pointed out the cut would jeopardize a major federal grant.
Public lands goal removed
The budget bill also removed language from Iowa Code that said Iowa would aspire to have 10 percent of its land under open space protection by 2000. Sen. Sarah Trone Garriott, D-Des Moines, spoke out against the change Tuesday.
In two studies, Iowa ranks 47th and 48th out of 50 U.S. states for its share of publicly-owned lands. Both studies, by Texas A&M University's Natural Resources Institute and the hiking and climbing website the Summit Post, calculated that just roughly 3 percent of Iowa's land is publicly-owned.
"Whenever any legislator has attempted to put forward policy that undermines the acquisition of public lands or limited our state's ability to expand public lands, the public has turned out in force in opposition. It happened this year again," Trone Garriott said.
Senate File 516, proposed earlier this year, said the Iowa DNR should emphasize maintaining state-owned land over buying new land — which critics said would deter land acquisition. Dozens of farmers and advocates for conservation and recreation attended a hearing, with many opposed. The bill died at the time.
"To sneak this into our budget work really robs our public of the opportunity to speak out against it," Trone Garriott said Tuesday.
After Trone Garriott's comments, Zumbach hinted at the reasons for removing the 10 percent goal.
"We're all aware of driving through a park that isn't being mowed they way it used to be. We moved some dollars around so the DNR is in a position to take care of that property," he said.
Comments: (319) 339-3157; erin.jordan@thegazette.com