Home / News / Environmental News
DNR's Joe Sanfilippo retires after 41 years in Eastern Iowa
Manchester field officer supervisor talks about dealing with disasters, both natural and human made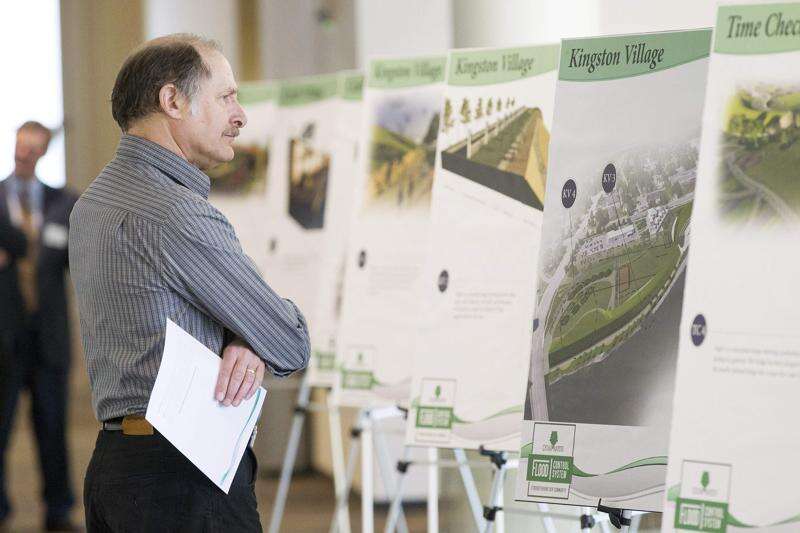 Joe Sanfilippo was in the Bronx, New York, installing car radios in May 1980 when he was offered a job with the Iowa Department of Natural Resources.
The New York City native, then 24, had returned home to make some money after earning a forestry degree at Iowa State University in 1979.
"The job market was not that good, so I ended up moving back east," he said. "Then, finally, a job came open in Manchester at the DEQ."
The DEQ was Iowa Department of Environmental Quality, a predecessor to the Iowa DNR.
While Sanfilippo grew up in the city, he went to a small two-year college near the Adirondack Mountains in New York and then transferred to ISU. He learned to love the more peaceful pockets of the world — places where air, water, trees and wildlife need protection and management.
Sanfilippo, 65, has been doing that for 41 years and will retire as supervisor for the DNR's Manchester field office June 30.
Much of Sanfilippo's early career was spent in the DNR's air quality division, where he inspected manufacturing facilities and responded to complaints in 15 Eastern Iowa counties, including Linn. He worked with other programs, including wastewater, underground storage tanks, animal-feeding operations and emergency response.
Those emergencies are some of the most memorable moments for Sanfilippo.
"We had the Flood of '93 and, of course, 2008 and several floods in between there," he said.
In 1999, the Volga river rose up and swamped Littleport, a Clayton County town of 140 residents. "My wife and I were listening to the scanner," Sanfilippo said. "They were calling for sandbagging and then 10 minutes later they called for an evacuation. It happened that quickly."
Littleport did not return, nor did the nearby town of Elkport, which was flooded in 2004.
After floods and other natural disasters, including the derecho windstorm last August, the DNR works to make sure the drinking water supply is safe and the sewer system is up and running, Sanfilippo said. DNR staff also find ways to dispose of solid waste, whether that's garbage or tree debris, so it doesn't become a public health risk.
"The most challenging part (of the job) probably is dealing with spills, chemical spills," Sanfilippo said.
One month after Cedar Rapids and other Eastern Iowa communities were flooded in June 2008, four diesel locomotives slid off the track and into the Mississippi River near Guttenberg. A boulder dislodged by heavy rain damaged a section of track, causing the Dakota Minnesota and Eastern Railroad train to derail in a remote area, The Gazette reported in 2014.
"The staff in my office was already stretched pretty thin because all 15 of our counties were declared disaster areas," Sanfilippo said of the derailment. "That was a very remote location. The only way to get to the spill site was by boat or along the railroad tracks. It was about two miles from nearest crossing. It was a tough spot to deal with."
The railroad company deployed booms to contain an estimated 4,400 gallons of diesel fuel and fabric pads absorbed the floating oil. Some fuel went to the river bottom and stuck to vegetation. The company agreed to pay $625,000 to mitigate the environmental damage caused by the spill.
"When we get involved in a cleanup, our big job is to monitor what the responsible party is doing and what their contractor is doing," Sanfilippo said.
DNR decisions don't please all parties.
Sanfilippo's staff in April approved the nutrient management plan of a 10,000-head cattle feedlot near Monona, despite dozens of emails and public comments from people opposed to the project in the watershed of a popular trout stream.
But Sanfilippo sees some positive changes in his tenure.
"The most noteworthy thing I could look at are coal-fired power plants," he said. "We have a lot fewer than we did years ago. We had several in Waterloo-Cedar Falls area that have shut down. I think that's been a big change. I would say for the better."
In his retirement, Sanfilippo plans to stay in Iowa, but will do more woodworking, motorcycle riding and fishing.
Comments: (319) 339-3157; erin.jordan@thegazette.com