Home / Business News / Energy
What's next for the Coggon Solar project in Linn County?
A solar project covering nearly 700 acres west of Coggon will begin construction this spring after the Linn County Board of Supervisors voted 2-1 in favor of the project Monday night.
Here's what we know about the project:
What is the Coggon Solar project?
Coggon Solar is what project partners Clenera and the Central Iowa Power Cooperative (CIPCO) are calling the large solar power project 3 miles west of Coggon. About 750 acres have been rezoned for the entire project area, but the actual footprint of the project will only cover about 640 acres, according to the plans submitted to the county.
The setback from other properties not part of the project will be 300 feet and the solar panels will stand 18 inches tall.
The 100-megawatt project's life span is up to 35 years, the partners say, and will produce enough energy to power 18,000 Iowa homes. The project is estimated to offset approximately 300 million pounds of carbon dioxide during its life span.
The solar panels used in the project are solar photovoltaic (PV) modules that will convert the energy from sunlight to DC electricity, according to the proposal to the county.
Clenera is an Idaho-based company that has 25 solar projects in 10 states, including another 100-megawatt project in Wapello, Iowa, according to Clenera's website.
CIPCO has 13 member cooperatives and serves over 300,000 Iowans in 58 Iowa counties, including rural Linn County, according to CIPCO's website. CIPCO's offices are in Des Moines, Cedar Rapids, Creston, and Wilton, Iowa.
Where is it located?
The property is in rural Coggon, south of Linn-Delaware Road, north of Hutchinson Road, west of Quality Road and east of Sutton Road.
These two maps show wide and closer views of where the project will be built.
Coggon Solar Project
The proposed solar project, a 640-acre project 3 miles west of Coggon, is a partnership between Idaho-based Clenera and Central Iowa Power Cooperative named Coggon Solar LLC.
Source: Linn County
Site plan from Clenera's website coggonsolar.com: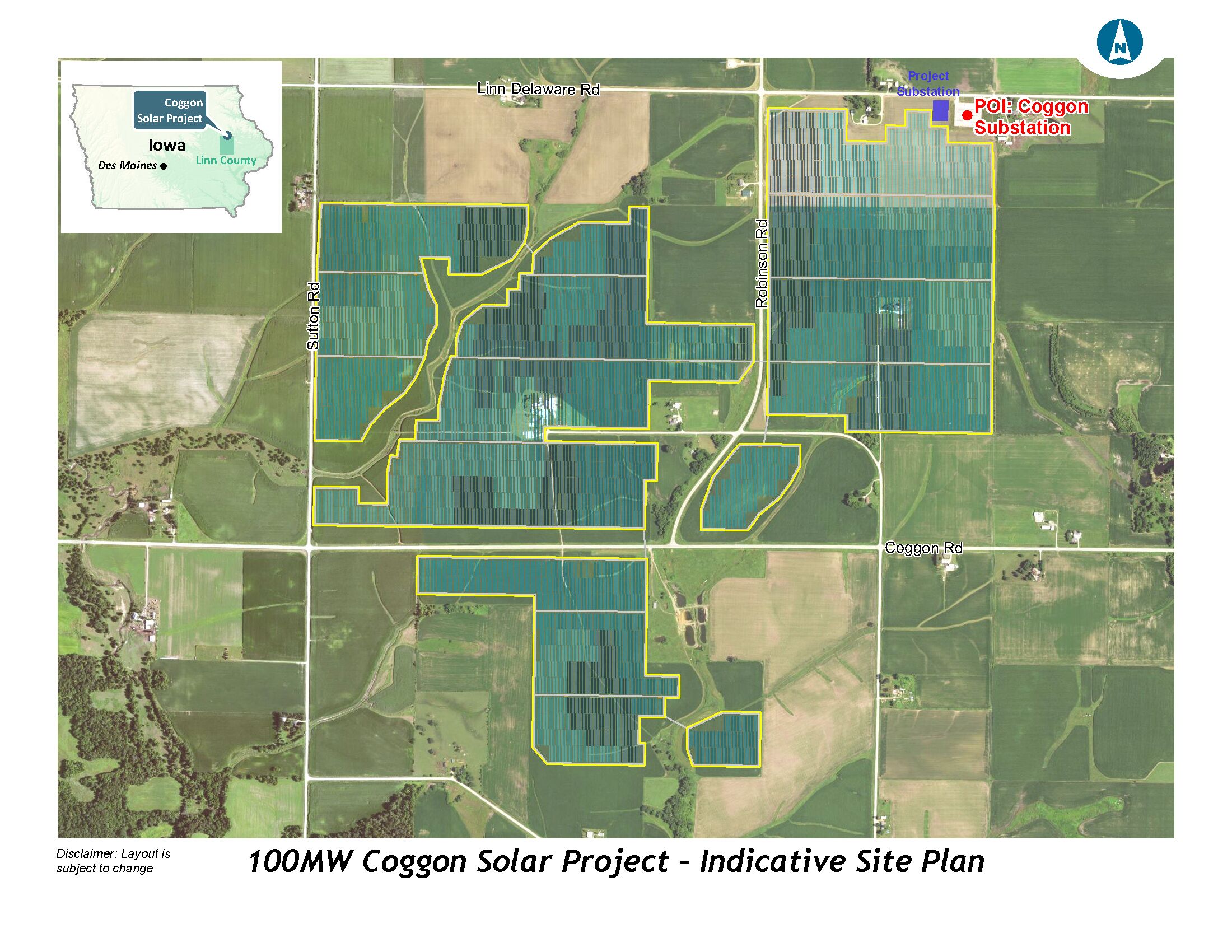 When will it be built?
Construction is slated to begin in March, though an official date hasn't been released. The construction phase is expected to last 12 months, though the initial proposal to the county has the completion date aimed for December 2022.
At previous meetings, Clenera Director of Development Tom Fitzgerald said Coggon Solar will be a $150 million capital investment that will require around 300 construction jobs at its peak. Earlier this month, Coggon Solar signed a letter of intent with the Cedar Rapids and Iowa City Trades Council for the project to be built with local labor.
According to the proposal to the county, construction will generally occur between 7 a.m. and 7 p.m., Monday through Saturday. Though during the startup phase, some activities may happen outside of those hours.
How will the land around the solar panels be maintained?
The application to the county includes an agricultural impact mitigation plan, vegetation management plan and also has conditions saying developers are responsible for any storm-related cleanup.
The plans include maintaining topsoil, managing water runoff and preventing erosion.
What happens when the project reaches its 35-year end mark?
Clenera says the project is not permanent and will be fully removed after 35 years.
The application to the county includes a decommissioning plan that spells out how the solar panels would be recycled or sold on the secondary market.
According to Clenera's coggonsolar.com site, Coggon Solar is "contractually obligated in its leases to fully restore the project site to its pre-project condition" once the project reaches the end of its life. Once construction is complete, Coggon Solar will put a $2.7 million security bond in place "to provide financial assurance of decommissioning."
Gage Miskimen contributed.