Home / Business News / Energy
Linn supervisor says court could toss pipeline safety setbacks
Wolf Carbon Solutions says it won't seek eminent domain for CO2 pipeline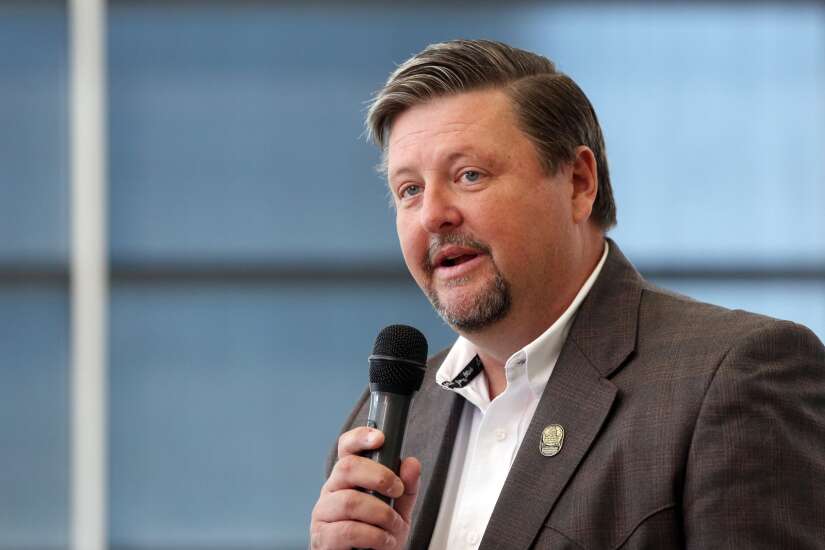 CEDAR RAPIDS — Linn County supervisors know they can't dictate exactly where hazardous materials pipelines are built, but they believe setbacks saying where the route can run near public facilities are legal and will help protect residents.
Supervisor Louie Zumbach spoke twice Monday night at an informational meeting about Wolf Carbon Solutions' proposed 280-mile carbon dioxide pipeline through Iowa, which includes Linn County. He said he's worried the proposed setbacks being considered by the Board of Supervisors would be challenged in court.
"What I've read through the lines is if we write an ordinance that prevents this from happening, it will get thrown out," Zumbach said at the meeting at the Hawkeye Downs Expo Center attended by several hundred people.
Summit Carbon Solutions, one of three companies proposing CO2 pipelines in Iowa, has filed federal lawsuit against Shelby and Story counties over their setback ordinances, the Iowa Capital Dispatch reported. The company says these counties are trying to circumvent the authority of the Iowa Utilities Board, which decides on siting in Iowa, and the federal government, which patrols safety of hazardous materials pipelines.
"Our hands our quite firmly tied by several other jurisdictions that fall above us," Zumbach said. "We're not really scared of that (a lawsuit). I'm fearful whatever we do in the end, won't be in our best interest."
Iowa Utilities Board Chair Geri Huser, who led Monday night's meeting, told Zumbach he should do what he feels he must to protect his constituents, even if the law may not be clear on the subject.
"I'm one who says 'Try it until you're told you can't do it'," she said.
Linn County supervisors were poised Monday morning to take up the first consideration of an ordinance that would mandate setbacks between pipelines and schools, hospitals and parks. Zumbach, one of three board members, was absent.
He had been scheduled to be gone for personal business months in advance, but staff forgot when setting Monday's meeting, he said.
"Staff didn't realize I wasn't going to be there and I, of course, wanted to be there for the pipeline stuff, but they had already done the publishing of the hearing," Zumbach told The Gazette. Public meeting notices must be published at least once, not less than four and no more than 20 days, before the date of the action, according to Iowa Code.
A vote on the proposed ordinance now will be at 11 a.m. Monday.
"We're looking at trying to balance the fact that IUB has the final say and the law doesn't really allow us to prevent the pipeline from being constructed, but the law allows us some flexibility in setback distance," Supervisor Chair Ben Rogers said in an interview. "Essentially, the law does tie the hands of county supervisors to stop pipelines. So we're trying to set some added safety measures."
The ordinance proposes two setback standards.
One would apply to public areas such as schools, hospitals and parks. That mandates a setback of 155.8 feet times the pipeline's diameter, which would equal about 2,500 feet — a little less than half a mile — for the 16-inch pipeline.
The second sets a setback of 107.65 feet times the diameter of the pipeline, plus another 328 feet, equal to about 2,050 feet for the pipeline.
The day after the public meeting, Zumbach in an interview Tuesday expressed more confidence in the proposed ordinance.
"Whatever we pass will withstand any kind of court battle," he said. "I don't want to write something that will get thrown out, because then we will have nothing. I'd rather have these setbacks that withstand the test of time. I don't want to win a battle and lose a war."
Supervisor Stacey Walker said he thinks Zumbach's concern about the Utilities Board dismissing the county ordinance is valid.
"Where we differ a little bit is I think it would just be bad politics for the IUB to do away with any reasonable ordinance," Walker said. "I think this ordinance as written is reasonable and centers safety."
Wolf's proposal calls for collecting compressed carbon dioxide at ADM plants and shipping it in a 16-inch underground pipeline to ADM's sequestration site near Decatur, Ill. Wolf wants to find other industrial clients to tie into the project, which would be eligible for up to $1 billion a year in federal tax credits.
The project would provide $1.1 billion in economic development for Iowa, Wolf officials said Monday. In Linn County, there would be 311 jobs during construction of the pipeline bringing in $22 million.
Pat Brierley, Wolf's vice president of engineering, said when Wolf files an application for a permit to build its pipeline — which it plans to do in January — the company will not ask for the right to use eminent domain, which allows a company to force easements for right of way with compensation.
People who oppose the project said Monday they worried about explosions, wanted to know what happens after the pipelines' anticipated 20-year life span and suggested ongoing, rather than one-time, compensation.
Wolf held a first round of informational meetings last summer, but agreed to a second round because of concerns not all affected landowners were properly notified.
Comments: (319) 339-3157; erin.jordan@thegazette.com