Home / Business News / Energy
Iowa, Nebraska and Missouri apply for $1B in federal money to be hydrogen hub
Infrastructure bill includes $7 billion for six to 10 regional hydrogen hubs
Iowa, Nebraska and Missouri together are applying for $1 billion in federal money to open a regional hub for producing clean hydrogen.
The proposed Mid-Continent Clean Hydrogen Hub (MCH2) would be competing with other regional proposals for $7 billion available to establish six to 10 green hydrogen hubs as part of the Infrastructure Investment and Jobs Act.
A news release from Gov. Kim Reynolds Thursday doesn't say how much money the states are seeking or where the hub would be located.
"Participating states are uniquely qualified and situated to serve as a hydrogen hub with a thriving hydrogen economy given the presence of high-quality wind, solar, biomass, nuclear, agricultural and other energy resources …" according to four-page memorandum of understanding among the states signed April 4.
Initially 79 applicants asked the federal government for permission to apply for the federal funding, Iowa Finance Authority and Economic Development Authority Director Debi Durham told the Finance Authority board last week. The Energy Department told 33 of those applicants to submit a full application, she said.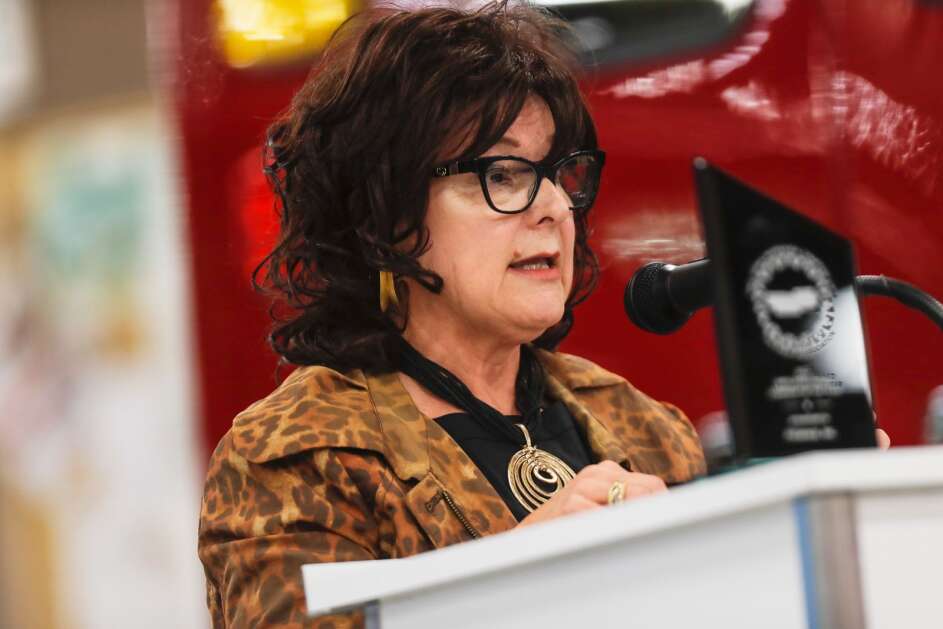 "We were quick to say 'yeah, that makes sense for Iowa'," Durham said. "We're a supplier of hydrogen and we have a demand for hydrogen, right?"
The Energy Department is expected to make funding decisions by November.
The application timeline fit with the completion of a two-year study produced by Ideal Energy, an Iowa-based renewable energy firm, and the Iowa Economic Development Authority on the feasibility of hydrogen production in Iowa.
"We spent our two years studying the landscape of Iowa and our opportunities here," Troy Van Beek, Ideal Energy founder and CEO, told The Gazette.
What is "green" or clean hydrogen?
Clean hydrogen is made with water, an electrolyzer and a renewable power source, such as a wind or solar farm. No greenhouse gas emissions come from the process.
To get away from using fossil fuels and other energy sources that produce greenhouse gases, industries are looking for fuels made with renewable energy. Hydrogen is a primary ingredient in making carbon-free fuels like renewable diesel and sustainable aviation fuel. It also can power fuel cell electric vehicles.
Hydrogen is a primary ingredient in ammonia, which Iowa's agricultural industry uses for fertilizer. The worldwide ammonia market is valued at nearly $75 billion, the report says. Ammonia also could be used to fuel trucks, trains and cargo ships, Van Beek said.
"Storage would be an excellent opportunity if we're going to balance the grid," he added.
Wind makes up about 60 percent of Iowa's generated power — second only to Texas in the share of energy from wind. But sometimes the wind blows when there isn't an immediate need for the energy. By using that surplus wind energy to produce hydrogen, the hydrogen or ammonia could be stored to provide energy later.
The challenges of hydrogen are that it is an explosive gas so must be dealt with carefully. It also has very small molecules, which can weaken metal in some circumstances.
By becoming the "Persian Gulf of renewable hydrogen," the report says Iowa could see a $1.19 billion increase in gross domestic product and 7,000 new jobs by 2030. The jobs number includes direct and indirect jobs and those that are temporary, such as construction.
Other states have been announcing their hydrogen hub applications.
Louisiana, Arkansas and Oklahoma said in January they would team up to submit an application to develop a $1.25 billion HALO Hub, with HALO standing for Hydrogen, Arkansas, Louisiana and Oklahoma, the Times-Picayune reported.
Comments: (319) 339-3157; erin.jordan@thegazette.com