Home / Business News / Energy
Cedar Rapids, Iowa City and Des Moines to seek $1 million climate planning grants
Cities eligible only because the state declined to apply for $3 million
Three of Iowa's largest metro areas — Des Moines, Cedar Rapids and Iowa City — will seek $1 million each in federal climate change planning money available because the state declined the funds.
Davenport, as the third-largest metro area in Iowa, was in line ahead of Iowa City for the funds, but the city passed before the Friday deadline.
"It's an exciting opportunity," said Jennifer Fencl, environmental services director for the East Central Iowa Council of Governments, which is submitting notices of intent to apply from both the Cedar Rapids metro area — which includes Linn, Jones and Benton counties — and Iowa City metro area of Johnson and Washington counties.
"It does put you in line or eligible for the $4.6 billion they have available in implementation," Fencl said.
The U.S. Environmental Protection Agency offered each state $3 million from the Inflation Reduction Act to come up with a plan to reduce greenhouse gas emissions, create green energy jobs, lower energy costs for families and reduce air pollution, among other objectives.
Iowa was one of only four states to turn down the money.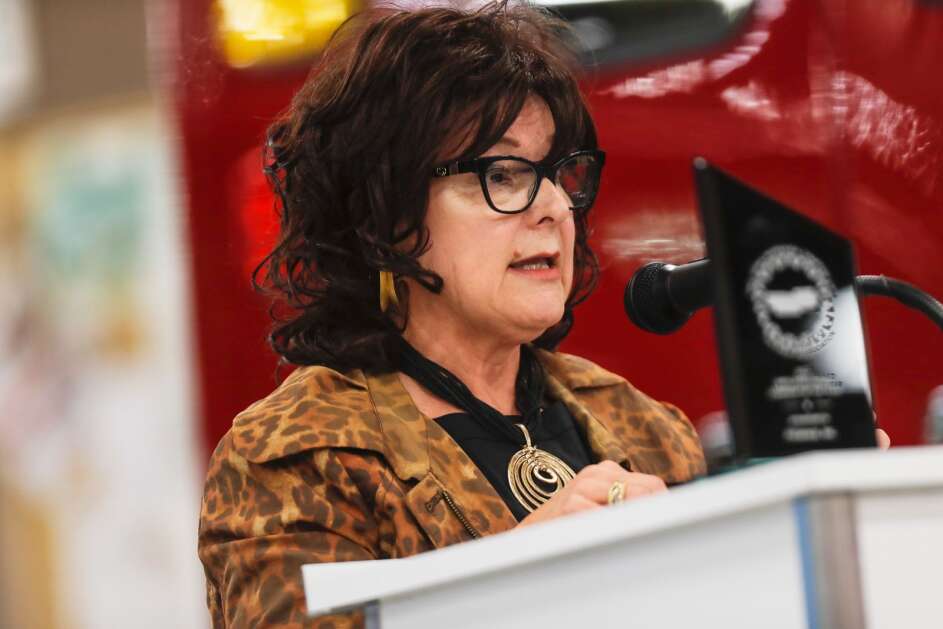 Debi Durham, director of the Iowa Economic Development Authority and the Iowa Finance Authority, told the Finance Authority board last month there were "strings attached."
"I was very supportive of the decision to the governor to not go forward," she said when IFA board member Tracey Ball, of Des Moines, asked Durham about the grant. "The reason why was because the strings attached to it are not things I believe we're in a position to meet."
John Norris, Polk County administrator, said he didn't understand the state's decision.
"I was disappointed the state didn't think it was worthwhile," he said. "Now they've really eliminated most of rural Iowa being part of this process."
Polk County has filed a notice of intent to apply for the $1 million planning money on behalf of its metro statistical area, which includes Polk, Dallas, Guthrie, Jasper, Madison and Warren counties, Norris said.
Fencl said if the Eastern Iowa metro areas are approved for the grants, they will be required to submit a preliminary version of a greenhouse gas reduction plan by March 2024.
"The second deliverable is a more in-depth plan where you identify your targets and what your actions will be to meet those targets," she said. "There are two years of implementation, which is really nice."
Sara Maples, Cedar Rapids Sustainability Program manager, said Friday the city would use its share of the funding to implement the city's Community Climate Action Plan, adopted in 2021.
"The plan prioritizes 24 actions, with goals to support access to basic needs for all residents, including healthy food, high quality green space, and clean air and water. Our plan prioritizes community, ensuring that Cedar Rapids remains a resilient and accessible place to live and work for all, now and into the future," she said in an email.
Fencl said she is encouraging other larger metro areas, such as Waterloo/Cedar Falls, to apply because if other metro areas around the country aren't interested, there may be more money available to willing communities.
Rep. Chuck Isenhart, D-Dubuque, said the Dubuque metro area filed a notice of interest for this possibility.
The Gazette reached out to Davenport Thursday to ask why the city declined to seek the $1 million, but did not hear back by noon Friday. The Mississippi River continues to rise through the Quad Cities Friday.
Iowa is among about half the states without goals for reducing greenhouse gas emissions, despite ranking No. 2 in the nation for emissions from crop production. Greenhouse gases, including carbon dioxide and methane, cause global warming by trapping the sun's heat in the atmosphere.
Since 1990, the energy and industrial sectors have slashed their combined greenhouse gas emissions by nearly 35 percent, according to an analysis by The Gazette and Investigate Midwest of the EPA's Greenhouse Gas Inventory Data Explorer. But the agriculture and transportation sectors each went up more than 6 percent between 1990 and 2020.
Comments: (319) 339-3157; erin.jordan@thegazette.com