UI's micro-scholarship program has fewer students taking advantage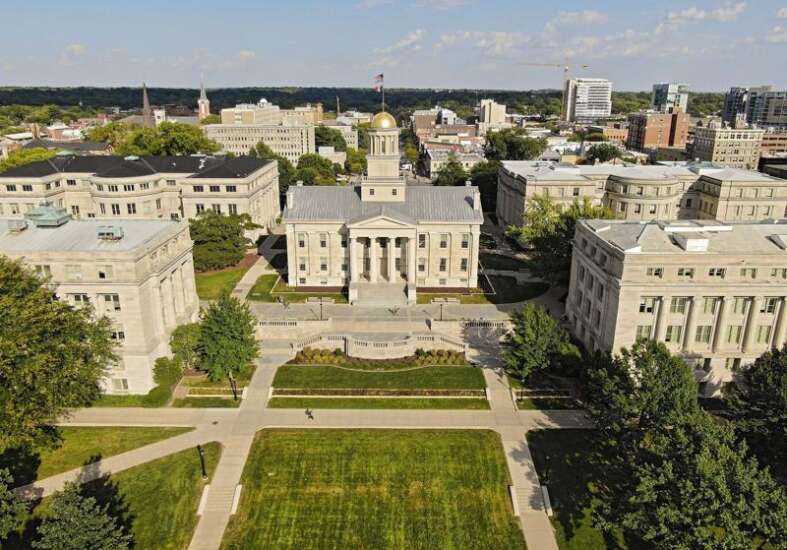 The number of high school graduates cashing in on a University of Iowa offer to pay them for good grades and extracurricular activities has tapered off since the institution unveiled the incentive two years ago - even as tuition has risen and, along with it, the need for financial aid.
For the new UI fall term, 395 first-year students received a total $68,456 in scholarship dollars using Raise.me, a relatively new San Francisco-based startup that lets eligible high schoolers earn money toward tuition at participating colleges or universities of their choice.
In fall 2016 - the first semester after the UI in March 2016 announced a partnership with Raise.me to offer micro-scholarships to students from select school districts in each of Iowa's 99 counties - 518 new UI students claimed $85,970 in scholarship earnings via Raise.me.
That number dropped to 404 in fall 2017, totaling $72,972 in UI scholarship payouts.
Although eligible high-schoolers can 'follow" any college or university they choose and earn scholarship dollars toward tuition, they only get the aid they amass at the school they choose to attend.
Raise.me allows each participating campus to individualize the details of its micro-scholarships, and the UI made its available only to students in the school district in every Iowa county with the highest rate of students receiving free- and reduced-lunch.
UI's four-year pilot agreement with Raise.me allows students to earn up to $1,200 toward UI tuition by logging accomplishments - like a B in algebra I, which will get you $25, or taking four years of the same foreign language, which will earn you $100.
Since the program's UI inception, the campus has awarded a total $227,398 to 1,317 students.
The UI is the only public institution in the state currently offering micro-scholarships on Raise.me, along with five other private schools - including Cornell College in Mount Vernon, Drake University in Des Moines, and Luther College in Decorah.
Per an annual report from Raise.me, the service has accumulated 1.3 million users, 28,000 educators, and it's connected to students in two-thirds of high schools across the country. University of Iowa's student followers on the website top 22,000 - from freshmen to seniors.
Of those, 31 percent are minorities, 30 percent are first-generation students, and 19 percent are receiving free or reduced lunch in their respective high schools - speaking to its use as a tool to reach those harder-to-tap populations, which are growing in Iowa.               
'Our mission at the University of Iowa is to help students succeed, and students following us are better prepared to make that happen, even if they ultimately decide not to enroll," said Brent Gage, associate vice president for enrollment management. 'In addition, this program targets 99 school districts (one in each Iowa county) that have the highest rate of students participating in free/reduced lunch, and we hope that can increase access to higher education for those students most in need."
Student financial aid has become a hot topic across the nation and in Iowa of late, as lawmakers slash state support for public universities, prompting Iowa's Board of Regents to increase tuition to make up lost revenue. Iowa regent universities have promised to commit any increases in state appropriations toward financial aid, and officials told The Gazette that the UI is tapping its 'university general fund scholarship budget" fund for the Raise.me scholarships.
The university also must pay Raise.me an annual participation fee of $5,000, plus $10 per student that submits for a micro-scholarship to the institution. To date, UI has paid $15,000 in annual fees and $25,310 in distribution fees, totaling more than $40,000.
Money for those Raise.me payments are coming from the UI Office of Admissions.
Critics of the site have called it an indirect marketing scheme - in that Raise.me makes money off participating schools, which are making money off new applicants swayed by the allure of free money. The university, according to its contract with Raise.me, has the discretion to fulfill the micro-scholarships as part of other financial aid packages or as separate aid offerings - raising questions among doubters as to whether awarded dollars really add to student earnings.
But recent Board of Regents documents show institutional aid across all of its campuses - including the UI - have been increasing, even as state aid per year has remained low at $2.2 million across all three regent schools.
UI-provided undergraduate aid increased to $117 million in the 2016-17 school year, up from $102 million the year before.
UI officials said they'll assess the Raise.me partnership's success after a four-year pilot phase, but for now Gage said the university is 'pleased to continue offering students an opportunity to participate in the program because its goal is for them to take rigorous courses and get involved in school activities, all while saving for future college expenses."
l Comments: (319) 339-3158; vanessa.miller@thegazette.com