UI Labor Center: 'This is not by any stretch over'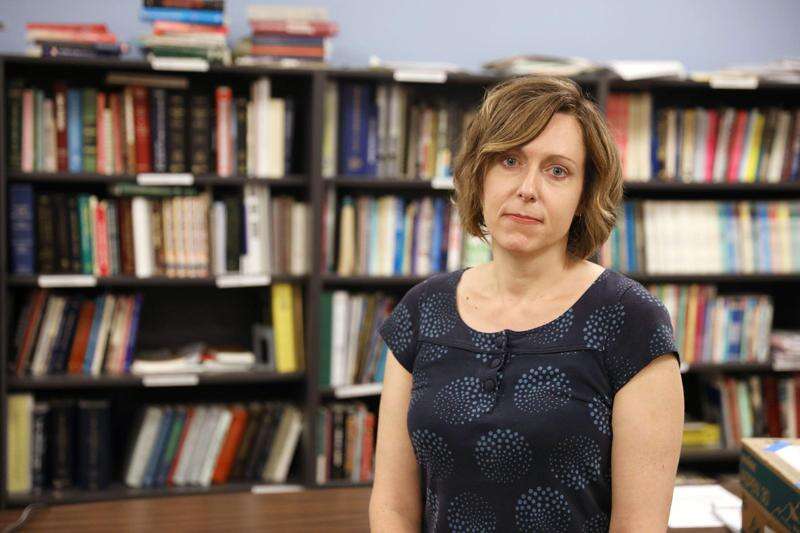 CEDAR RAPIDS - Pitched by the University of Iowa as an unavoidable consequence of budget constraints and funding cuts, the looming closure of its 67-year-old Labor Center came across far more political than economic Thursday during an evening public hearing.
'When something feels like it's politically motivated, usually it's politically motivated," Hawkeye Area Labor Council Executive Director Rick Moyle told a crowd of more than 80. 'Given the environment in Iowa right now, you probably shouldn't be shocked. But, given what the Labor Center has done over the course of its 67 years, it is shocking that even they can pull this."
The 'they" to which Moyle was referring was the state Board of Regents, the university executives they oversee, and the lawmakers to whom they report.           
'They can change this," he said. 'The $557,000 is there."
That's the entire chunk of funding the university provided in the most recent budget year to its Labor Center, which is housed within the UI College of Law. And it's how much UI President Bruce Harreld said he's cutting in response to persistent legislative funding cuts.
The UI Labor Center, which for generations has provided worker rights education across the state, is among seven Harreld announced in July will close - although some not immediately. Another three will see funding cuts.
'We're disappointed to be in this position because these centers and employees provide valuable outreach and service to Iowans," Harreld said in a statement at the time. 'But we can no longer ask our students to support activities previously supported by the state just a generation ago."
But lawmakers, city and county dignitaries, faith leaders and dozens of community members cried baloney Thursday during a public hearing in Cedar Rapids held as part of a series meant to stand in for what they said was the university's failure to consult with constituents.
'Why do we find ourselves here in this awful predicament?" Linn County Supervisor Stacey Walker asked. 'I'll say it, I know you've heard it before, but elections have consequences. And if you believe that this assault on public-sector unions, on collective bargaining, and on the Labor Center is about anything other than squashing the voice of working people, then you are sorely mistaken."
Dozens of Iowa workers, union representatives, and advocates stepped to a microphone to praise the UI Labor Center, promise to fight for its existence and battle assaults on worker rights on a statewide level.
Many mentioned recent changes in Iowa law stripping collective bargaining rights and powers previously afforded unions. Some directly called out Harreld and Gov. Kim Reynolds, accusing them of deceiving Iowans.
'When I first heard the news about the defunding of the Labor Center, I started making phone calls. And what struck me is when I tried to reach out to Bruce Harreld, I got referred to a lobbyist," said Rep. Liz Bennett, D-Cedar Rapids. 'The story that's being told here is, 'This is just about money.' "
It is, and it isn't, she said.
'What they want you to think is, 'We just don't have money for something so important.' Not true," Bennett said.
'We know the money's there. It is about the money in that this is about people who profit from the labor of workers, whose sweat and labor makes them rich, wanting to make more money by stripping workers of their power.
'Apparently the Reynolds administration thinks that's fine," she said. 'Well, I'm here to say that Reynolds is wrong."
Center representatives and advocates Thursday reported a change in the UI rhetoric about what started as a looming Labor Center 'closure."
'The University of Iowa is now saying that the center is not closing - don't cheer," Moyle said. 'They're saying that they just don't have the funding. That play on words is disgraceful."
But Jennifer Sherer, who has directed the UI Labor Center for a decade, said she actually believes that line - although not necessarily as the university meant it.
'Tonight has completely restored my faith," Sherer said of her initial disappointment in the UI leadership's apparent decision to give up fighting for 'the public mission of our public university."
'Because it is clear to me that Iowans have not given up on their commitment to public education and the university's public mission," she said. 'And a handful of people don't get to make the decision about a 67-year-old institution that thousands and thousands of people have created.
'This is not by any stretch over with. I think what we heard tonight is this is just the beginning of a very important dialogue until the public funding for this very important public mission is ultimately restored."
l
Comments: (319) 339-3158; vanessa.miller@thegazette.com