Pitch perfect: Students, volunteers work hard to stage Iowa show choir competitions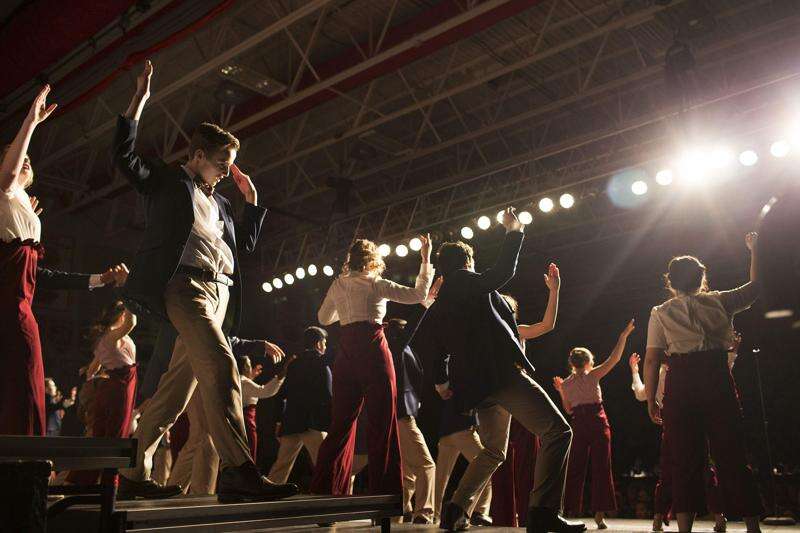 After 30 minutes of rehearsing, the 10th Street Edition Show Choir had sang a single stanza from its show nearly as many times.
It still wasn't perfect, and the group of high school students could tell.
Director Trent Buglewicz counted the basses and tenors in again: 'Five, six, seven, eight, one.'
'Don't doubt it, don't doubt it,' they sang.
'Trying that again, but with the right pitch,' Buglewicz interjected. 'Five, six, seven, eight, one.'
They started again.
'Except with piano?' Buglewicz said. 'Five, six, seven, eight, one.'
The boys grew quieter.
'Forte?'
And louder. 'We'll fight it, we'll fight it, I will transform.'
It had only been weeks since Linn-Mar High School's varsity show choir's competitive season began — with a first-place finish at the Viterbo 101 invitational in Wisconsin.
Their win didn't earn students an easy rehearsal, or any time to relax.
This month marked the beginning of a busy show choir competitive season for many high schools in Iowa and the Midwest. Linn-Mar High hosted its own show choir invitational, Supernova, on January 13.
A growing show choir fan base pushed the event into the high school's gym for the first time — where its audience capacity grew from 700 to 1,400 — after 17 years of the all-day competition being held in the school's auditorium.
Building a performance space in the gym, as well as staffing the event, took more than 600 volunteers, many of them parents. The performance space was finally ready to go at 3 a.m., said Supernova co-chair Scott Berger, and many were back for the morning events by 5:30 a.m.
'I got two hours of sleep that night,' said Berger, 48, whose son is in 10th Street Edition. 'The things we do for our kids.'
The invitational raised about $50,000 for Linn-Mar show choirs, which helps pay for costumes, transportation and other performance needs. Most students pay $500 in fees.
The 10th Street Edition group will compete again in Anamosa, Cedar Rapids and Davenport over the next month. The 57 students selected for 10th Street Edition are some of the best of more than 230 Linn-Mar students who auditioned.
At a rehearsal that went past 9 p.m. one Thursday, 10th Street Edition spent the bulk of the night perfecting two verses in their about 20-minute show.
'Stop rehearsing like we won,' Katie Andreason, 17, told her peers at one point. Later, while she led a workshop where students dissected the motivations behind their facial expressions on stage, she boosted up the group: 'I know we start our season super strong, so we need to just keep climbing.'
That's the 'uncharted territory' Buglewicz, 25, said the show choir is in now. This early in the season, the show is good shape. That makes rehearsals tough, he told students, and the work now is in perfecting tiny details of the show.
'We usually do things over and over again, drill everything,' Megan Callahan, 16, said. 'Otherwise we do show runs to build up our stamina too. Just a lot of reps and sweating.'
The group started building the show before school began in August. Over time, they've drilled vocal harmonies, dance breaks and theatre techniques to create a show that tells the story of a woman who is deaf and dreams of flying a plane over the course of eight songs.
'A 20-minute show has consumed my life the last five months,' said Kaleb Cook, 17.
It seems to be paying off. A former member of Ankeny Centennial, another top show choir, 19-year old Davis Churchman, said there is a 'major, major difference' between 10th Street Edition's show this year and its competition.
'If their choreography is clean and crisp, then they get scored better,' said Churchman, who is a student at Mount Mercy University and assists Buglewicz. 'If their vocals are in tune with each other, and there's no voices sticking out, they'll get scored higher. 'It's judged by those things: choreography, cleanliness, vocal technique and show theme, creation and performance.'
For Buglewicz and his students, this feels like it could be their year.
'These students have worked really hard to get what they felt as their highest expectation ready for the first competition,' Buglewicz said. 'So now, we're just tweaking and changing and perfecting. There's always tons to do — we could work this show until the end of time.'
That level of minutiae can be exhausting for students, and most were sweating and leaning on each other in the wings of the high school's auditorium before one last run-through of the show.
But it's worth it, students said, and no one wants to be the performer who loses the group points but letting a smile fall or pose shake.
'I'm just so proud of you guys, even though sometimes you make me so mad,' Buglewicz said near 9:30 p.m., as students let out a tired laugh. 'This show is awesome. This show is awesome, and you're awesome.'
(WRONG prices) — Tickets to Cedar Rapids Washington High School's MoShow show choir event on Feb. 10 are $12 for adults, $7 for students and seniors and free for children age 5 and under. The information was incorrect in Saturday's Living.
l Comments: (319) 398-8330; molly.duffy@thegazette.com