Key to agriculture, Veterinary Diagnostic Laboratory faces uncertainty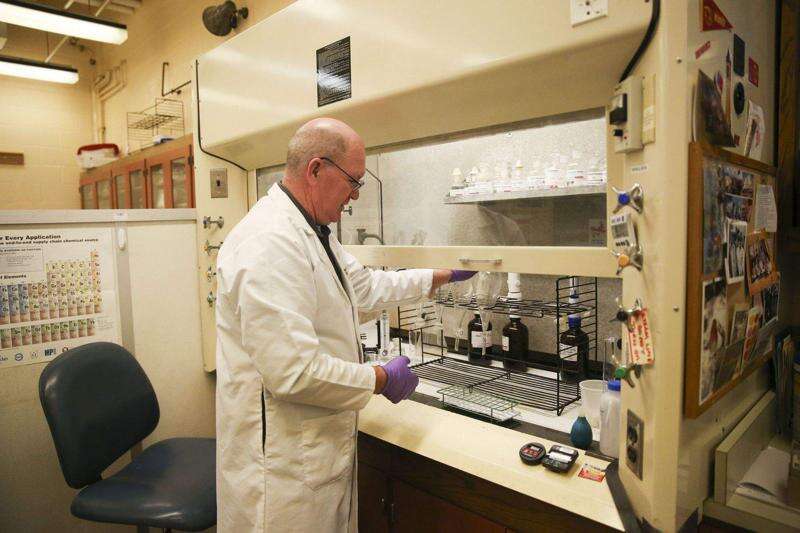 AMES — Every year, the state puts $4 million toward running its only fully-accredited animal diagnostic lab — the busiest of 14 like it in the nation that the farming industry relies on, especially in crises like the 2015 bird flu outbreak.
In a typical year, that investment pays off with nearly $32 million in revenue for the state, according to a new study. That income spikes to well over $100 million a year during severe animal health emergencies — which are becoming more common as globalization spreads the movement of animals, food and people worldwide.
But the lab — and therefore its trusted role in supporting the agricultural economy — is in peril, its supporters say.
The Veterinary Diagnostic Laboratory on the campus of Iowa State University won reaccreditation last year. Yet it came with a warning — and left fears that the vital stamp of approval won't come again unless the state shows progress toward building a new, more biosecure facility.
Touted as advancing Iowa's $32.5 billion animal agriculture economy, the ISU lab runs more than 1.25 million tests in its processing of more than 85,000 cases a year — a number doubled since 2009.
'The space and structural limitations of this aging facility combined with the rapid growth of the laboratory will, in the opinion of this site team, limit the laboratory's ability to adequately respond to a large scale foreign animal disease outbreak,' reported the American Association of Veterinary Diagnostic Laboratory Diagnosticians in 2017.
Interim Dean of the ISU College of Veterinary Medicine Pat Halbur recently warned lawmakers he's 'very confident we won't get accredited again.'
Not without a new 150,000-square-foot stand-alone lab — or at least movement on it.
'We were very fortunate to make it through this time,' Halbur said last month at a legislative Transportation, Infrastructure and Capitals Appropriations Subcommittee meeting. 'We're doing what we can to hold this together.'
ISU has asked lawmakers to provide $100 million — in annual $20 million increments — toward a new, $124 million stand-alone lab. Of the remaining cost, $20 million would come from private donations and $4 million from ISU.
In a very tight state budget again this year, though, neither Gov. Kim Reynolds nor lawmakers have specified support in their 2019 budgets for building the facility.
During that subcommittee hearing last month, Rep. Dan Huseman, R-Aurelia, urged support for a new lab. He didn't name a dollar amount, but said he'd like to give the lab 'something to get started' after hearing the warnings from Halbur.
'He wasn't saying that just to get money,' Huseman said. 'I believe he was serious.'
Lawmakers haven't yet made decisions on the lab's 2019 budget request, as they're still working on cutting the current year's budget to reflect sluggish revenue.
In fact, as part of those de-appropriations, Reynolds has proposed cutting state support for the lab's general operations from $4 million — where it has stayed since 2015 — to $3.95 million.
Acknowledging the stark budget realities, Halbur told lawmakers that even $5 million toward a new lab in the upcoming year could go a long way in getting the project rolling.
Lab Director Rodger Main said it could persuade prospective donors — including those in the agriculture industry — to contribute.
ISU officials warn the consequences of not getting state support for a new lab could be dire both for the lab and for the agriculture industry.
Specifically, Main said, if the lab fails to meet accreditation standards at the next review in five years, it would lose its level 1 status and forfeit its ability to conduct diagnostic testing 'that has official, regulatory, or program disease consequence.'
Those services are foundational in supporting Iowa agriculture and its ability to sell animals — along with meat, milk, and eggs — in the global marketplace, he said.
'We actually are the busiest, and the largest, food animal veterinary diagnostic lab of our kind in the country, and really recognized as leaders,' Main said in an interview. 'But our core infrastructure is really something … it needs to be addressed to meet the needs of today, and moreover for tomorrow.'
'Devastating impact'
A recent Legislative Services Agency report on the veterinary lab notes globalization has upped the importance of comprehensive veterinary lab infrastructure.
The Ames facility offers diagnostic services across animal species, including necropsy, bacteriology, serology, histopathology, virology, parasitology and toxicology. Its primary clients are veterinarians who work with animal owners — including the thousands of livestock farmers in Iowa.
'Cases' the lab processes typically involve packages from veterinarians that include tissue or entire carcasses of animals that have died, or samples from live animals, their environment, food, or water.
In 2009, the Ames lab processed 39,473 case submissions — a number that more than doubled to 85,923 last year. In addition, the lab provides educational opportunities to students, scientists, diagnosticians and practitioners, and develops diagnostic tools and techniques.
The ISU College of Veterinary Medicine graduates about 145 veterinarians a year, and the lab's graduate students and training positions have risen nearly 43 percent from 42 in 2013 to 60 last year.
Taking a broader view of its impact, the lab 'in times of peace' enables Iowa's agriculture industry to remain competitive, according to Main.
'The healthier their animals are, the better they're going to perform, the more efficient they're going to be, and you're going to be more competitive in a global marketplace — as well as being able to maintain access to those foreign markets,' he said. 'Access to the export markets is a big thing because of the volume of meat, milk, and eggs that are being exported throughout the world.'
The lab's return on investment spikes during times of crisis. 'In the absence of a very capable and competent diagnostic lab infrastructure or system, that ability to trade is diminished greatly,' Main said.
Thus losing its accredited lab could have 'a fairly devastating impact on the state,' Main said.
Since opening in 1976, the lab's 11 faculty and 20 staff have multiplied to 26 faculty and 126 staff — mirroring a rise in complexity and scope of its operations. Yet its core facility has not substantially updated.
That's a problem because, for starters, the lab is located in the same building as the large animal and small animal hospitals. Auditors have cited concerns about cross-contamination of contagious diseases from the lab to animals and people leaving the veterinary hospital.
Auditors also reported crowding and lack of space to respond to large-scale disease outbreaks. Aged infrastructure like heating, ventilation and air conditioning pose safety concerns for scientists who process samples containing disease-causing agents.
Maintaining prestige
A new stand-alone lab would expand its current space 30 percent to 150,000 gross square feet. The new facility — which would be located near the existing lab on the veterinary medicine campus — would be separate from the teaching hospital and other public spaces. Being apart from the existing lab would allow construction with minimal disruptions.
The project also would renovate about 24,000 net square feet in the existing lab, providing the college with more research laboratory and classroom space.
'While the size and scope of animal agriculture economies and veterinary diagnostic lab capabilities can vary significantly among states, the ISU (lab) infrastructure is among the oldest,' the Legislative Services Agency reported.
In a 2012 audit of the ISU lab — which also found glaring deficiencies and immediate concerns — a site team reported meeting with private practitioners, federal veterinarians and representatives from the pork, poultry and beef production industries.
'If a tornado blew through and destroyed all of campus, there's no question the first thing rebuilt would be the diagnostic laboratory,' auditors reported the advocates told them.
l Comments: (319) 339-3158; vanessa.miller@thegazette.com