Iowa universities ask for $200 million in capital projects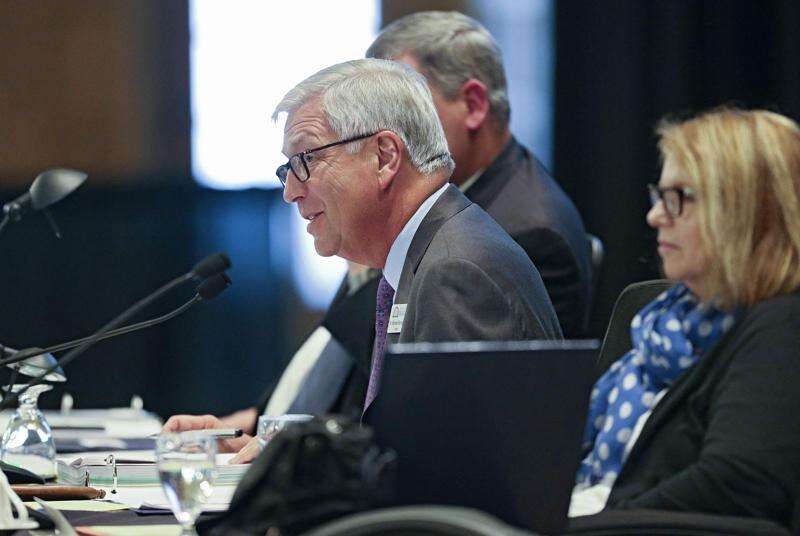 DES MOINES - Despite Gov. Kim Reynold's suggesting lawmakers turn down new capital improvement requests from the state's public universities, representatives from the University of Iowa, Iowa State University and the University of Northern Iowa on Wednesday requested more than $200 million for campus projects.
Given Iowa's budget situation, Reynolds has recommended no funding for capital projects - at least for the coming fiscal year. She called for about $32 million in budget cuts and adjustments because of a revenue shortfall. A Senate plan would raise that to $52 million.
However, the House and Senate chairmen of the Transportation, Infrastructure and Capitals Appropriations Subcommittee held out hope they could find at least seed money for the projects on the three university campuses and Iowa School for the Deaf.
'We heard about some awesome projects that bring value for those campuses, the students and the communities - I get it," Sen. Craig Johnson, R-Independence, said.
However, the reality of the budget will limit what the subcommittee can do, Rep. Dan Huseman, R-Aurelia, said.
Huseman said he sensed support from fellow legislators for an appropriation for ISU to get started on a $124 million Veterinary Diagnostic Lab to replace the 42-year-old facility university officials warn likely will not pass muster with the professional association that accredits labs.
The lab was reaccredited in 2017, but Pat Halbur, interim dean of the ISU College of Veterinary Medicine and a pathologist who is a former president of the accrediting organization, told lawmakers he's 'very confident we won't get accredited again."
'We were very fortunate to make it through this time," Halbur said. 'We're doing what we can to hold this together."
He and lab director Rodger Main warned the loss of accreditation would severely limit Iowa's $32.5 billion animal agriculture industry. Much of the work at the lab supports the movement of livestock across state lines as well as meat exports.
ISU is proposing to build a 150,000-square-foot lab at a cost of $124 million.
Reynolds also suggested zero funding for the diagnostic center in 2019 but included $20 million in next year's fiscal 2020 budget.
Halbur said he understood the challenge lawmakers have funding the project, 'but if we could get $5 million this year, we could really get rolling on this project." It would help convince donors to contribute toward the new lab's cost.
Huseman said he would like to 'give them something to get started" because he believed Halbur's warning about accreditation. 'He wasn't saying that just to get money," Huseman said. 'I believe he was serious."
UNIVERSITY OF IOWA
The subcommittee also heard the UI's request for $52 million over three years to modernize its Main Library, which University Librarian John Culshaw described as 'the glue that holds together the academic work of our colleges."
A $21 million renovation in 2013 achieved about one-third of the modernization necessary, he said.
NORTHERN IOWA
UNI asked for $36.2 million over three years for expansion and modernization of its Industrial Technology Center that was built in 1974.
With all the changes in technology, 'there's just not enough space to do what's needed," Mike Zwanziger, director of facilities management, told the subcommittee.
UNI has nearly 500 students in construction management, manufacturing technology, technology management and engineering education classes taught in the building. Ninety percent of the graduates take jobs in Iowa, said John Fritch, dean of UNI's College of Humanities, Arts & Sciences.
Additional space is needed to prepare students for roles in Iowa industry and prepare teachers in STEM disciplines, to provide space for technology-heavy labs and to modernize the curriculum to develop programs in emerging fields.
SCHOOL FOR DEAF
The Iowa School for the Deaf in Council Bluffs asked for $4.1 million to renovate 88-year-old Long Hall, named after a graduate and former principal.
l Comments: (319) 398-8375; james.lynch@thegazette.com