Iowa Flood Center predicts 'normal' season — maybe
Mar. 1, 2018 1:28 pm, Updated: Mar. 1, 2018 8:05 pm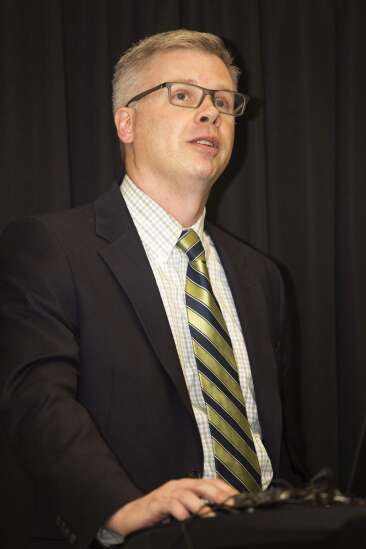 IOWA CITY - A decade after historic flooding levels brought billions worth of damage to Eastern Iowa communities, a statewide flood center that arose in its wake predicted Thursday what to expect this year: an average season.
This flood season marks the 10th anniversary of the 2008 floods, which led to an estimated $10 billion in damage across the state and triggered numerous flood mitigation projects like the ongoing raising of Dubuque Street near downtown Iowa City and long-term construction of a permanent flood control system in Cedar Rapids.
Witold Krajewski, director of the Iowa Flood Center that was established on the University of Iowa campus after the flood, said a 'normal" season this year means some flooding events around the state, but nothing extreme. Yet because of the size of the watersheds in Iowa, it takes only a week of storms to change the situation from drought to flood.
'These kind of predictions are associated with a high level of uncertainty. That means it's very easy to be wrong," Krajewski cautioned. 'Rainfall and storms are something that is notoriously difficult to predict accurately."
Flooding is a problem Iowans are all too familiar with, at least according to the number of presidential disaster declarations the state sees. Krajewski said the states' 99 counties have seen almost 1,000 such declarations in 30 years.
'That is actually a terrifying realization because that shows we've got a real problem here in the state of Iowa," Krajewski said.
To help Iowans get a better sense of flood impacts, the center developed numerous tools, together called the Iowa Flood Information System, or IFIS.
In 2016, when Cedar Rapids experienced a major flooding threat, the system crashed the Friday before the crest when 80,000 residents tried to log on to it to see the predicted impacts.
The newest features, showcased in news conference Thursday, include flood inundation maps to give viewers a prediction of which areas would be affected in a given community at a given flood stage.
Another feature is HAZUS, damage cost estimate calculator for various flooding scenarios.
'The inspiration was kind of our personal experience here in Iowa City during the 2008 flood. As the weather service was making a forecast and stage, the community was trying to respond in real time in flood fighting efforts," said Nathan Young, associate director of the center. 'They were always kind of chasing the forecast so we were inspired to create these and have them ready made, ready to go in the event of a flood so the information was on hand."
Looking to the future, Krajewski said global climate changes brings 'enhanced extreme events" like droughts or floods.
'It is even more important than usual to have access to information and that's what we try to do for the people of Iowa," Krajewski said.
l Comments: (319) 339-3172; maddy.arnold@thegazette.com