Iowa Board of Regents reject union calls for expanded negotiations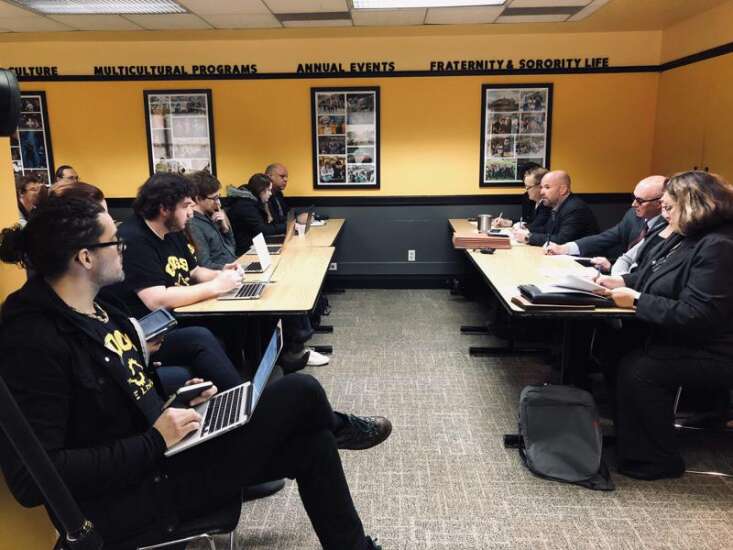 IOWA CITY - When legislators changed Iowa's collective bargaining law last year - allowing the Board of Regents to refuse to negotiate on any topic but salary with health care employees, graduate student workers and faculty members - administrators vowed to address other workplace issues in employee handbooks.
But the handbooks, unlike the previous binding contracts, offer workers no guarantees.
'The procedures, practices, policies, and benefits described here may be modified or discontinued from time to time," according to a University of Iowa Health Care employee manual for staff nurses, who are organized under the local Service Employees International Union.
The law change meant public employers could avoid negotiating topics like health insurance, vacation, overtime, holidays and grievance procedures. And that's just what the regents, vowing to be fair, did.
But nurses and their union leaders Wednesday told the board it has not been fair - changing, for example, overtime payments from monthly to quarterly.
'You are disposable and not valued," union attorney Jim Jacobson said, characterizing the message he believes regents are sending workers. 'It's more efficient to be able to change the rules whenever than it is to actually talk to you. So they can continue to do things like punish you for using sick leave."
Wednesday's meeting with the nurse's union was held for the regents to respond to the workers' initial contract proposal for the next two years. It asked - among other things - for 5-percent base pay increases and 8-percent increases for returning employees.
The union proposal also included clauses on overtime, scheduling, grievances and vacation and sick leave.
But the regents rebuffed the proposal with a single-page document offering a 1-percent increase in base pay.
Michael Galloway, the regents' labor attorney, said the board is open to negotiating behind closed doors on wages for returning employees - though it doesn't have to.
But on other topics like vacation and overtime, Galloway said the board won't negotiate.
'That is our intent at this point in our direction," he told the union representatives.
The UI Hospitals and Clinics for years has acknowledged a nursing shortage, prompting it to ask staff nurses to work extra hours and forcing it to pay a premium to fill gaps with traveling nurses. As it has expanded its footprint - via a 14-floor Stead Family Children's Hospital - and continues to report busy inpatient and emergency units, the operation's administrators say there's a need to hire more.
But Jacobson expressed doubts given the board's proposal, which he said likely will anger 3,800 to 4,000 employees.
'You have picked the best way to take morale, which is sinking, and shove it in the toilet," he said. 'Congratulations."
The university said separately, through a spokeswoman, that the number of unfilled nursing positions at the UIHC is just 5 percent, less than half what it was two years ago. Its nursing turnover rate, the UI said, was 4 points below the national average.
In total, the union has delivered to the board petitions stacked with about 400 signatures demanding it bargain on other permissible topics. In November, the union handed a 'cease and desist" notice to the UI General Counsel's Office saying that delaying overtime pay might violate the law.
A mile away and an hour after the health care union rebuke, Galloway and other regent representatives sat down for a similar conversation with the graduate student union - the Campaign to Organize Graduate Students.
Like with the nurse's union, Galloway walked through the board's initial offering of a modest increase in base pay - below what the union requested. Again, he said, regents were willing to discuss wages for returning employees behind closed doors, but not initially willing to discuss other topics.
Union members asked a slew of questions, including if the board cared about grad students' mental health. Galloway didn't speak after many of them.
'I feel that your silence is telling," union member Erik Gustafson said.
l Comments: (319) 339-3158; vanessa.miller@thegazette.com