In a bid to engage students — and their parents — Cedar Rapids school district moves forward on magnet school strategy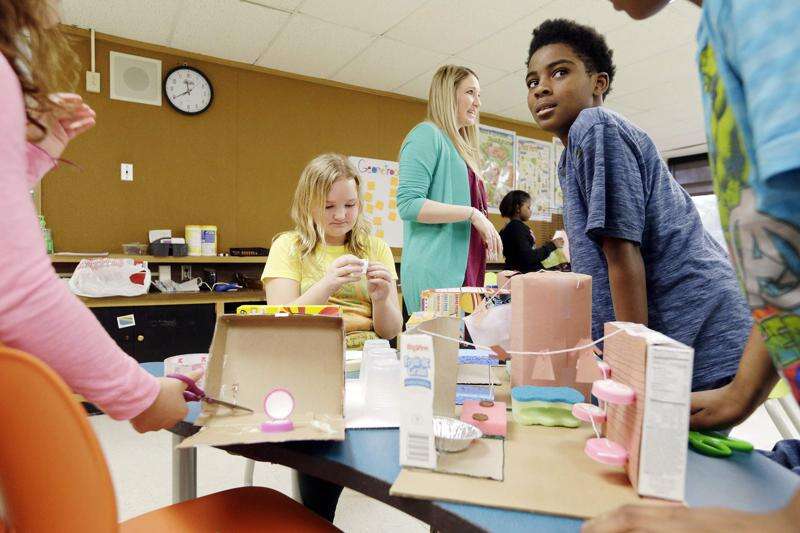 CEDAR RAPIDS — Inside a recycled Cheez-It box, 10-year-old Zoe Morey-Geissinger has built two stories of apartments with tiny cardboard walls and floors. Stick people sleep on pink sponges beneath frayed pieces of black cloth. The entire scene is littered with scraps of tape and string.
'It helps you understand what it was like and how dirty it was,' Zoe said. 'I think I'm more interested in it when I can have more hands-on stuff.'
Zoe's been learning about tenement housing — those crowded, unsafe apartments of the 1890s to 1920s that cropped up as city populations boomed — in her fourth-grade class at Johnson STEAM Academy, Cedar Rapids Community School District's first magnet school.
Opened in August, Johnson was the first step in a long-term district strategy to open several new magnet schools at every academic level over the next few years, said Trace Pickering, associate superintendent of innovation, school improvement and technology.
Magnet schools academically are meant to be a place educators and students can learn more creatively. At Johnson STEAM Academy, that means project-based learning, course integration and an emphasis on science, technology, engineering, arts and math.
But behind the shift toward magnet schools also is a push to give Cedar Rapids parents more choices when it comes to their children's education. Choice isn't traditionally associated with public schools — where children's home addresses long have dictated where they go to school. When parents are dissatisfied, their options often are outside their home district — in private school, home schooling or another public district.
'The bigger, more global thing is, how do we provide unique experiences to our students, how do we provide choice to our families, and, to be completely honest, how do we become an even more enticing place for our students?' Superintendent Brad Buck said. 'Could we provide internal choices for parents that would draw back our families that have chosen to enroll out?'
Last year, parents living within Cedar Rapids's district lines sent nearly 1,200 students to outside schools. With only 377 out-of-district students enrolling in, the district suffered a net loss of about 822 students — nearly quadruple the number it was losing 10 years ago.
With state funding married to enrollment numbers, offering up attractive options to families is a matter of survival. The number of students lost to open enrollment alone cost the district about $5.3 million last year.
'With the choice movement, a lot of people think choice means private schools or charter schools,' Pickering said. 'What we're trying to respond to our community is, we can do that in the schools that the public owns. The public schools can offer these kind of choices.'
Lotteries and themes
At the core of every magnet school is a simple enrollment philosophy — students living outside the school's geographic boundaries must be allowed to enroll. Last year at Johnson, that applied only to students living within district boundaries. Next year, it will apply to students living in other school districts as well.
To identify those out-of-boundary kids, the district holds a lottery. A simple online form has been open to parents since February, where they can virtually enter their child's name in the drawing.
On April 16, the district randomly will pick the students that will fill the open spots at Johnson STEAM Academy and at the district's newest magnet, Kenwood Leadership Academy, to open next fall.
Across the country, lotteries can mean different things — some require children to hit an academic benchmark before they're eligible to enter, others wipe out the geography of education altogether, requiring every student to lottery into the school.
Here, that's not the case. Any student can enter the lottery, and children who live in a magnet school's boundaries automatically are enrolled.
In spring 2015, 80 children were put in the lottery. Thirty-six were chosen to round out Johnson STEAM Academy's student body.
Marketing the schools to those outside children was a new experience for Johnson Principal Candace Lynch.
'That's a very foreign concept to most educators,' she said. 'Because typically just whoever lives there comes.'
The school's messaging shifted from getting local students excited about being a Jaguar, the school mascot, to promoting STEAM concepts.
All Cedar Rapids's magnet schools will have a theme. Kenwood's focus on leadership, Principal David Brandon said, will give students at the school more authority over their experience, and each child will have some kind of leadership role.
'We're shifting our paradigms to know that all kids have genius and abilities,' Brandon said. 'How can we help foster those, rather than having just a few kids in leadership roles?'
To keep their magnet schools attractive, educators also are encouraged to try new teaching methods.
'I've been in education almost 30 years, and we have always talked about how can we do things differently?' Lynch said. 'The educational system across the nation is like steering the Titanic, so trying to make a shift within a really huge system is difficult.'
The magnet schools' successes could be replicated in other, traditional schools around the district.
The state doesn't view magnet schools differently than any other public school because there isn't an Iowa Law that defines what a magnet school is or should be. But the federal government does define it — a public school that 'offers a special curriculum capable of attracting substantial numbers of students of different racial backgrounds.'
To qualify for the federal Magnet School Assistance Program, schools must be recognized as voluntary desegregation plans.
In a district made up of more than 70 percent white students, both Johnson's and Kenwood's student bodies stand out as diverse. According to the most recent Iowa Department of Education data, nearly half of Johnson's students are black, compared to about 13 percent districtwide. At Kenwood, about a quarter of the students are Hispanic or multiethnic.
Both schools also have more students who qualify for free or reduced lunch, an indicator of poverty. Across the district, that rate is about 44 percent. At Kenwood, it's 61.
More than 80 percent qualify at Johnson — enough that the school must give all students the free or reduced rate under the Community Eligibility Provision.
Better than recess
The district is applying for the Magnet School Assistance Program, which would provide about $12 million over three years to support opening magnet schools, Pickering said. Recipients of the grant will be announced around early October.
Even if it doesn't obtain that grant, Pickering said the district will move forward with its magnet strategy. But the money would help drive forward the plan to create magnet schools at Roosevelt Middle School, McKinley Middle School and Taylor Elementary, as well as open a downtown Montessori school in partnership with Cedar Valley Montessori. Iowa BIG would be the high school option.
That's all background noise for a child such as 10-year-old Zoe, who said she wanted to enter Johnson STEAM's lottery because she was bored sitting in a traditional classroom setting.
Not everything is different from her old school. Her teacher, Brittany Murphy, has familiar quotes about students trying their best decorating her room, for example.
Copies of 'Ramona Quimby, Age 8' sit on some students' desks. Student artwork is stapled up on the wall.
Before going to the STEAM Lab to work on their projects, students sat cross-legged on a carpet as Murphy read aloud a chapter from 'City of Orphans,' a fiction about a poor 13-year-old newsboy living in 1890s New York.
By emphasizing projects — such as the tenement scenes — and integrating content across all subjects, Murphy said she's seen her students demonstrate better understanding of class concepts. As more years at Johnson STEAM go by, Pickering said he hopes that progress shows through in traditional measures — reading, writing and math test scores — as well as in measures of students' resiliency, a sense of ownership of their education and their engagement.
Murphy's students spent about an hour working on their projects — searching for the right materials in the lab's tall cabinets, hot-gluing structures together and talking to each other about the imaginary families living inside their scenes. The girls at Zoe's table talked about the horses and carriages people used for transportation.
Lakhiya Hardeman, 10, put the finishing touches on her tenement.
'I like this more than recess,' she said.