Does a focus on STEM mean losing sight of other skills?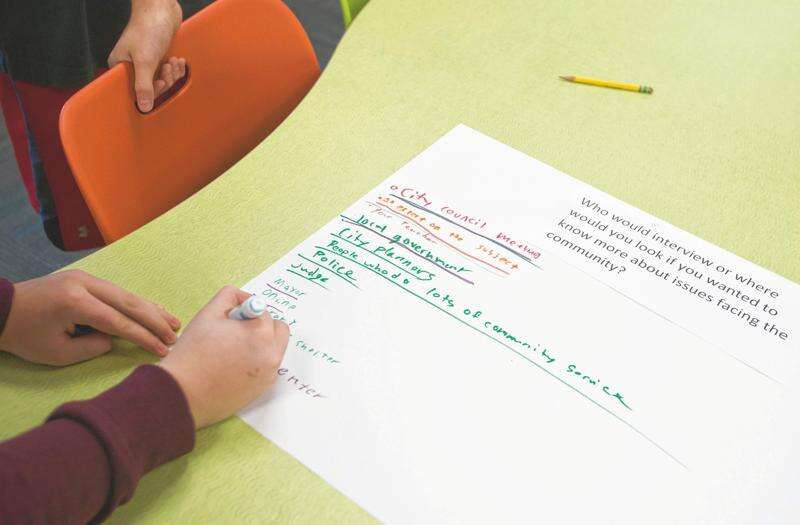 Cholera, a bacterial infection of the intestines, can kill within hours if not treated.
The science behind diseases including cholera, Ebola, meningitis and pertussis captivated seventh-graders at Iowa City's South East Junior High earlier this year.
But when they learned how government decisions, culture and poverty can influence disease, they really started seeing the big picture.
Add to that students writing speeches to persuade their peers why the disease they researched deserves public funding in the form of $500 play money from each student.
'Other classes learn about disease, but the way we learn about it and the way we present it is totally different,' said Nora Gibson, 12, of Iowa City.
Nora is one of 90 Iowa City seventh-graders in a pilot program that combines science, global studies and language arts in a multidisciplinary approach that shows students how academic subjects are interconnected in the real world.
In today's educational environment where STEM — Science, Technology, Engineering and Math — gets all the love, a program such as South East's ensures other disciplines not only aren't being ignored, but are getting recognition for the role they play in developing critical thinking.
'Robbing' them for STEM?
STEM education has gained prominence in this past decade as leaders in manufacturing, health care and modern agriculture have reported a shortage of employees with the skills required to fill open positions. Increases in funding for STEM reflect U.S. concerns about falling behind China and India, in particular, in producing college graduates in computer science, engineering and math.
In July 2011, then-Iowa Gov. Terry Branstad created the Iowa Governor's STEM Advisory Council, which had the task of invigorating 'the pre-K-12 talent pipeline toward STEM careers.'
Iowa's STEM initiative has a budget of $5.4 million this year, with the bulk of that to be spent on STEM programming, teacher professional development, school-business partnerships and statewide IT certification.
With all this emphasis on STEM, other academic fields have been diminished, educators said.
'We're totally in favor of the STEM initiatives, but what ends up happening is they rob from social studies to make that happen,' said Nancy Elliott, executive director for the Iowa Council for the Social Studies, which represents 700 teachers and former teachers.
State tests hold students accountable for their progress in math, science and literacy, but not social studies. As a result, elementary school teachers spend 90 minutes per day on literacy, but only 18 minutes on social studies, which can include geography, civics, history and economics, Elliott said.
When students are pulled from class for special programming, such as English language learning or band, it often happens during social studies instruction, she said.
But losing out on social studies could hurt the long-term prospects for students and employers, social studies teachers said.
Modern social studies are about understanding the tools of democracy and learning to engage in civil debate around important issues, such as immigration, use of natural resources or poverty, educators told The Gazette.
'The skills employers are asking for are built into the social studies experience: Critical thinking, applying knowledge in a real-world setting and experience working with a variety of people,' Elliott said.
Raising the bar
Iowa students haven't taken the social studies portions of the National Assessment of Educational Progress in recent years. But in 2014, only 18 percent of U.S. eighth-graders were proficient in U.S. history.
The scores were a little better in civics and geography, in which 23 percent and 27 percent of eighth-graders, respectively, tested as proficient.
Math, reading and science all were around 34 percent proficiency for eighth-graders in 2014.
The Iowa Senate passed a bill in late February that would require Iowa students to take a civics exam similar to the test given to immigrants who want to become U.S. citizens. Students would need to pass the multiple-choice test sometime between seventh and 12th grade to graduate.
Jason Harshman, a University of Iowa assistant education professor who specializes in social studies and global education, said he has mixed feelings about the legislation, which did not survive the mid-March funnel. A required civics test could be a launching point for quality social studies education in Iowa, or it could just be rote memorization.
'When you have an assessment, you're better positioned to ask for resources, but there's teaching for the test,' Harshman said, referring to the idea teachers would only provide knowledge required on tests.
Last May, Iowa approved new social studies standards requiring students to develop questions, take positions and apply those positions outside the classroom, Harshman said. The new standards, already being implemented, embed Iowa history and financial literacy in the K-12 standards and introduce in multiple grades key standards every high schooler should know for college or employment.
Helping teachers
Having standards is one thing. Knowing how to apply them is another.
A survey of more than 1,500 Iowa elementary and secondary social studies teachers conducted by the University of Northern Iowa in 2015 showed that while 81 percent of high school teachers believed their curriculum was aligned with Iowa social studies standards, only 43 percent of elementary teachers thought that to be true.
Less than 13 percent of elementary teachers surveyed said they'd had professional development opportunities in social studies made available to them in the past three years.
Iowa's nine Area Education Agencies are like state-funded consulting firms charged with providing educational services to school districts across the state.
About 80 percent of the AEA budgets cover special education, but the agencies also provide consultation in math, science, technology integration, reading recovery, STEM and college and career readiness.
'One of the problems that comes in is the AEAs are really designed in recent years to give the bulk of their assistance to STEM classes and literacy,' Elliott said.
'I don't believe that there are any AEAs in Iowa that have a dedicated social studies consultant.'
Indeed, compared to nearly 100 AEA literacy consultants, nearly 40 who specialize in math and 21 who consult on science, the state AEAs have no consultants whose primary role is to advise on social studies, according to statewide data collected by the Grant Wood AEA, based in Cedar Rapids.
The AEA pays Kim Heckart, a Cedar Rapids-area elementary school teacher, to provide professional development courses for elementary teachers who want to integrate new social studies standards with literacy curriculum. The fall class had 75 teachers — far too many — but money just recently was made available to add a spring session, Heckart said.
'I'm leading these sessions and people call me afterward. They want to come observe my classrooms,' she said. Teachers email Heckart about implementing what they learned, where to find resources and how to align practices from kindergarten on up.
'There are so many questions, but there aren't people at the AEA to answer them,' she added.
Multidisciplinary approach
Even with today's emphasis on STEM, the UI's Harshman believes social studies education can continue to have a place of prominence if taught with other disciplines. When he teaches the social studies methods class, he has future elementary school teachers design an interdisciplinary lesson.
'We want them to be thinking in this way not simply because of the environment, but because it's good teaching,' he said.
That's why he likes the Cross-curricular Approach to Student-driven Learning — CASL for short — program at Iowa City's South East Junior High.
South East teachers Michele Kopecky, Scott Stimmel and Mike Keller-Wilson saw cross-curricular classes taught at Franklin and Roosevelt middle schools in Cedar Rapids and on a trip to Wisconsin. CASL includes units that combine science, global studies and language arts with a focus on real-world application.
Just before spring break, the teachers launched their last CASL unit of the year — a service learning project.
The first day of the new unit, students spent their time in global studies identifying which organizations or factors about a community reduce societal ills, such as hunger or poverty.
When they rotated to Stimmel's science class, they watched a video about the Wave, a new tradition at the UI's Kinnick Stadium in which football fans wave to patients in the UI Stead Family Children's Hospital. In language arts, they wrote emails to their parents about the new project, practicing use of technology, proper tone, spelling and grammar.
'They will develop their own action plan for how they'll get involved in the community,' Kopecky said.
This could be volunteering to serve at the Free Lunch Program, leading a canned food drive or becoming a teen mentor.
Julius Perez, 13, of Iowa City, wasn't sold on CASL in August, when his parents signed him up. 'I thought I wouldn't want to do it,' Perez said. 'Then it started out to be awesome.'
STEM to STEAM
Steve McGuire, director of the UI School of Art and Art History, has succeeded in turning STEM into STEAM with multidisciplinary art courses.
His popular course, Fabrication and Design: Hand-Built Bicycle, allows 12 students per semester to imagine their ideal bicycle, then design and build it.
'Students really learn that it's one thing to design something, and it's a whole other thing to actually make it,' McGuire said. 'To make it aligned and balanced and square and to support your weight is a different reality. But because it's their personal thing, they put all kinds of effort into it.'
On a recent day in the UI's Visual Arts Building, Sam Berry, a UI freshman from West Des Moines, double-checked the measurements on the frame jig Callie Sue Glidden is using to build her bicycle. Even a millimeter off can make it difficult when they weld steel tubes together to make the frame.
Glidden, a UI senior from Clear Lake studying therapeutic recreation, originally had a bike designed with curves and swoops, but she realized that if she wanted a bike she could heft for cyclocross races, she needed something simpler.
'This bike lets me get my shoulder underneath,' she said, pointing to a full-scale drawing she made on Auto-Cad.
Berry, who is studying engineering, said McGuire's class helps him understand how diversity of perspectives can lead to true innovation.
'Some schools have said, 'We don't need the arts,'' Berry said. But 'people who participate in the arts have a good sense of creativity. That helps them think of their own ideas and not just repeat what other people do.'
One teacher's game plan: Combining social studies and literacy
Kim Heckart, a third-grade teacher in the College Community School District in Cedar Rapids, creates professional development modules for the Iowa Department of Education that help teachers integrate new social studies standards with literacy curriculum.
She's testing one of these modules in her third-grade classroom at Prairie Ridge Elementary School. The module about immigration has one overarching question: 'What factors or forces cause people to move from one area to another?'
Heckart starts with the Lewis and Clark expedition in the early 1800s, giving different students readings from the perspectives of Meriwether Lewis; William Clark; Sacagawea, a Native American woman who served as a guide; and York, a black explorer who accompanied the expedition.
'This led to a supporting question of 'Who are Native Americans?' and 'Who are Meskwaki?,'' Heckart said.
The third-graders use maps of the United States to find Native American reservations and settlements and talk about the Meskwaki Nation, less than an hour's drive from the school. This hits on one of the new social studies standards about identifying indigenous people, Heckart said.
'Kids want to know when the powwow is on the Settlement because they want to go with their parents,' she said.
The next supporting question is about how migration affects people. Heckart covers the gold rush, Oregon Trail and land claims. She asks students whether they'd pay $1.25 per acre for land in Iowa or travel vast distances over mountains for free land.
'What happens when cultures collide?' comes next. Heckart teaches students about the forced relocations of Native Americans, and they read 'The Name Jar,' a book by Yangsook Choi about a girl who worries her Korean name is too hard for her new American classmates to pronounce.
Heckart is finishing with the question 'How do we welcome people?' Students are creating brochures, a book, a website and other ways to welcome new students to Prairie Ridge or to Iowa.
l Comments: (319) 339-3157; erin.jordan@thegazette.com