Home / Business News / Economy
Immigrant workers face loss of income, lack of safety net during COVID-19, report says
Almost four-fifths of immigrant households experienced loss of income during COVID-19, according to survey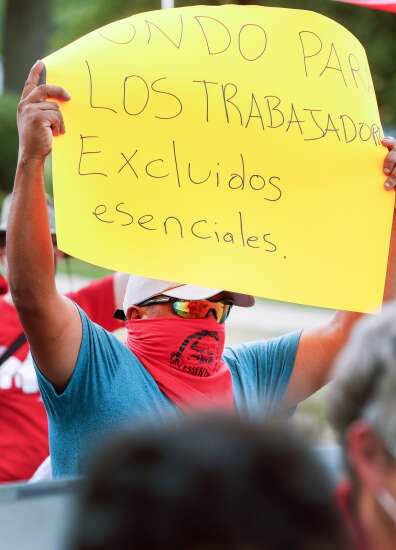 Immigrant workers in Iowa have faced higher unemployment and often lacked health insurance and unemployment benefits, according to a report released this week by the Iowa City Catholic Worker and Fund Excluded Workers Coalition.
The Iowa City Catholic Worker, which advocates for immigrants' rights among other causes, surveyed almost 300 immigrant workers across the state with help from churches with Hispanic congregations for its Excluded in the Heartland report.
About 78 percent of survey respondents said at least one member of their household lost income during COVID-19 pandemic, 94 percent did not receive unemployment insurance and 89 percent expressed concern about how they'll make ends meet next month.
At the same time, about 81 percent do not have health insurance and about 60 percent had at least one household member who was sick with COVID-19.
"As workers in the heartland grapple with the grave risk of infection and the dramatic loss of income, they need urgent action from governments, businesses, churches and communities at every level," the report said.
The Fund Excluded Workers Coalition has asked the Iowa City Council to direct federal pandemic relief funding to go to undocumented workers.
Comments: (319) 398-8394; john.steppe@thegazette.com