Rep. Ashley Hinson: Many Iowans still waiting for federal derecho help
I've heard from many Iowans at both the individual and government level who have been frustrated by FEMA's lackluster response to the derecho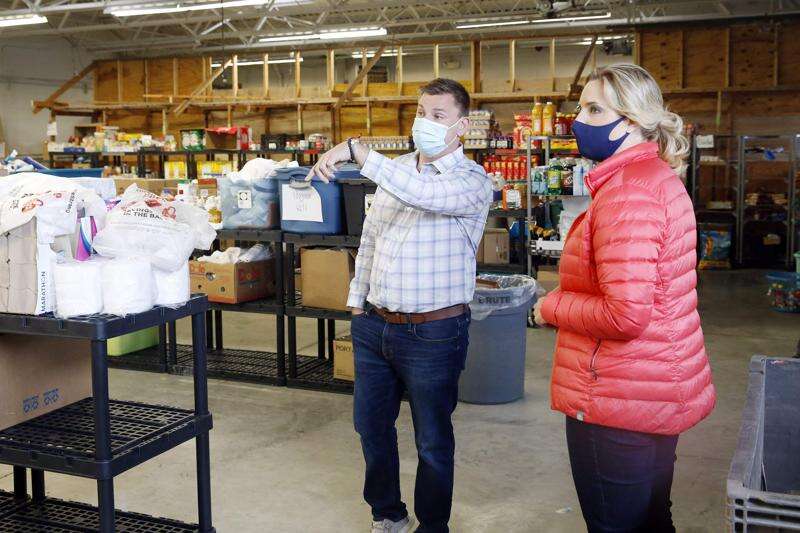 Last year was extremely difficult for Iowa families, farmers and small businesses. In early August 2020, many businesses were still shuttered and it had been months since many people had seen their extended families and friends due to the COVID-19 pandemic.
Then on Aug. 10, a derecho raged through central and Eastern Iowa and other parts of the Midwest. We all remember where we were when the derecho happened. I was huddled in the basement with my kids as the power went out and we watched water flood through our downstairs door. Max and Jax, then 7 and 9, were scared. As a parent, I felt helpless.
The massive "land hurricane" tore through the Cedar Rapids area for just 45 minutes of its 14-hour warpath but left horrible damage in its wake — damage we are still trying to repair and will be for years.
Last year's derecho was the most expensive thunderstorm in U.S. history with $11 billion in damage, but the emotional toll this storm took on our community is impossible to quantify. People's lives and livelihoods were upended in an instant — homes, schools, businesses, and farmland were devastated, and in some cases, completely destroyed. It was a one-two gut punch for families, farmers, and main street shops who were already in the middle of one of the most challenging years of our lives. The derecho also brought back memories of those dark days of the Flood of 2008 and left many of us lamenting that our community had been brought to its knees yet again.
Many who have applied are still waiting for a response from FEMA or have just given up dealing with the bureaucracy
Despite our collective fatigue, Iowans did what we always do — we pulled together to rebuild. The Derecho Storm Resource Center was opened within two days of the storm and helped countless Iowans feed and clothe their families when they didn't know where to turn. I was there soon after it opened, and I've spent hours alongside other storm center volunteers to help our friends and neighbors. Thanks to an outpouring of donations and support, we were able to provide those in need with necessities like food, diapers and clothing. This gave people a bit of comfort and support that the combination of the derecho and pandemic had ripped away from so many.
Farmers in our district and across Iowa were hit incredibly hard by the storm and experienced widespread crop losses. Following the derecho, I headed to several farms to help clean up, survey crop damage and hear about the needs of our agriculture community. Once again, the resiliency of Iowans was evident. Despite the extreme loss, our farmers immediately rededicated themselves to feeding and fueling the world and persevering through yet another challenge.
A year later, we are still in the middle of an uphill recovery process. Nearly every organization, business, farmer and family I talk to still is grappling with derecho damage.
Being on the ground during the recovery process and hearing how the derecho still is impacting our community today has greatly influenced how I view my role in Congress. It is a top priority for me to ensure that our community has the resources to rebuild fully from this disaster and that we are better prepared for another extreme weather event in the future. While there is a long road ahead, I am advocating for the needs of Iowans and pursuing common-sense solutions, and we are making progress.
I've heard from many Iowans at both the individual and government level who have been frustrated by the Federal Emergency Management Agency's (FEMA) lackluster response to the derecho and have experienced difficulty navigating FEMA's public and individual assistance programs.
Current estimates indicate that only 15 percent of Individual Assistance applications related to the derecho have been approved. Many who have applied are still waiting for a response from FEMA or have just given up dealing with the bureaucracy. I've called on FEMA to address these issues, and secured bipartisan language directing the agency to be more transparent about its Individual Assistance program so that Iowans can receive clear answers and relief instead of running into a wall of red tape.
During a House Appropriations Committee hearing in March with then-Acting FEMA Administrator Bob Fenton, I raised concerns about the agency's failures to adequately respond to the derecho. Within hours of the exchange, FEMA announced a $9 million federal grant for debris removal in Marion and a $2.5 million grant for debris removal in Cedar Rapids.
On behalf of Iowa agriculture, I teamed up with my fellow Iowa Rep. Randy Feenstra to help farmers receive additional crop loss relief by pushing for the inclusion of derecho damage in the Wildfire and Hurricane Indemnity Program disaster relief program. I've also reached across the aisle to work with Rep. Cindy Axne to ensure that Iowa's biofuels producers — many of whom lost critical grain storage — aren't left behind when they most need relief. And I've worked in a bipartisan manner to direct the USDA to use the lessons we've learned from previous disasters to help our agriculture community with mitigation efforts.
While these are steps in the right direction, there is much more work to be done. Reflecting on the anniversary of the derecho, I am reminded of all that is out of our control. We can't predict the weather, and I can't promise there won't be another devastating natural disaster in Iowa. But I can promise that I will be there through every step of the recovery process and do everything in my power to ensure we are better prepared, and that our community is more resilient, as we go forward together.
Ashley Hinson of Marion represents Iowa's 1st District in the U.S. House.