Gazette readers share uplifting photos, stories a year after the derecho
Many Gazette readers found beauty, kindness and works of art in the aftermath of the devastating 2020 derecho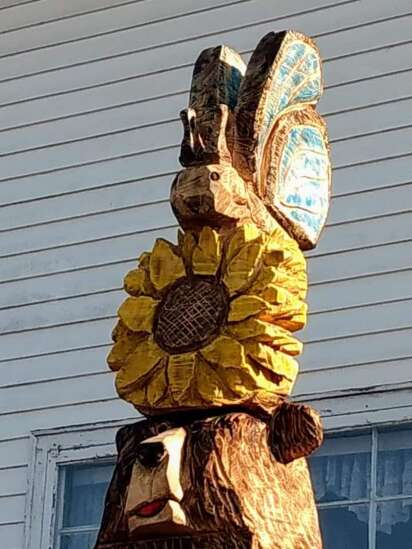 We asked Gazette readers to share their stories and photos of good memories from the derecho. You shared stories of neighbors growing closer and of finding beauty in the ruins through art.
Here are some of those stories and images:
'Making lemonade out of lemons'
"Sadly we lost a 21-year-old Birch tree to the derecho last August. We live on the golf course at Hunters Ridge and back up to the No. 5 green.
"We decided that a golf-themed wood carving out of the birch stumps would be a great way to make lemonade out of lemons, especially since the cart path runs adjacent to our backyard at this location. We have gotten a lot of enjoyment watching golfers stop and take pictures of the golf bag carving; some have actually stopped and posed for a picture with the carving!"
— John Bender
Family finds art in slices of downed trees
"On an Easter Sunday walk at our nearby park, our son kicked a piece of wood. On closer inspection, it looked like a watermelon slice, and I wanted to paint it.
"I asked and got permission from the park to have wood pieces leftover because of the derecho. Our daughter, Emily, and our son, Ethan, and I then enjoyed painting what we found according to what we thought each shape resembled. I also painted the wood slice from our own front yard tree that had to be removed since it fell on our house."
— Angela McGlothlen
A new beginning
"We had two large trees in front of our house, a blue spruce that was 32 years old and a white pine that was close to 30 years old. The derecho toppled the spruce by the roots and snapped off the pine about halfway up.
"I had always thought about putting a carved bear between the two trees, but had never done it. Once the trees were cleaned up, enough of the pine was left standing that it could be carved. This spring, I contacted Colony Carvers from Amana to create the carved bear. All I knew was that I wanted a 'happy bear.'
"The carver suggested a bear with a sunflower behind it and a butterfly on top of the sunflower. He had no way of knowing that my mother had passed away on the first day of spring, and that the butterfly had a very special meaning for me. The butterfly signifies a new beginning, and this was a new beginning of a life without pain for my mother.
"I can now look out my living room window every day and see a butterfly to signify the new beginning for my mother as well as the newness of recovery brought on by the derecho."
— Maggie Hrvol
Neighbors grow closer
"Our neighborhood has always been close but after the derecho, people on our street got to meet people at the other end of the street, and now we are a community and not just people who live close together.
"We all help each other with little things, wave as we go by, and stop to visit on our walks. There are lots of different age groups in our neighborhood, but we all look out for each other.
"After the derecho, we shared food, cooked food on grills for neighbors without a way to make a meal. Those who could get out brought ice for coolers to save food, others delivered food to those without transportation, and all chipped in to help clear the debris one tree at a time. Our 95-year-old neighbor came out with her scissors to help cut trees because that was all she had but wanted to help however she could.
"I wouldn't trade my neighborhood for anything in the world. We were definitely lucky to land here when we moved from out of state many years ago."
— Wendy Orr
Bigfoot sighting
This image was shared by Duane Sands of a carving at a friend's home. It's one of the more interesting carvings we've seen, featuring bigfoot and a bald eagle with its wings stretched up to the sky.