Home / Sports / Iowa State Cyclones / Iowa State Football
Young Iowa State football players stepping up on experienced team
Cyclones starting to get contributions from new faces in all 3 phases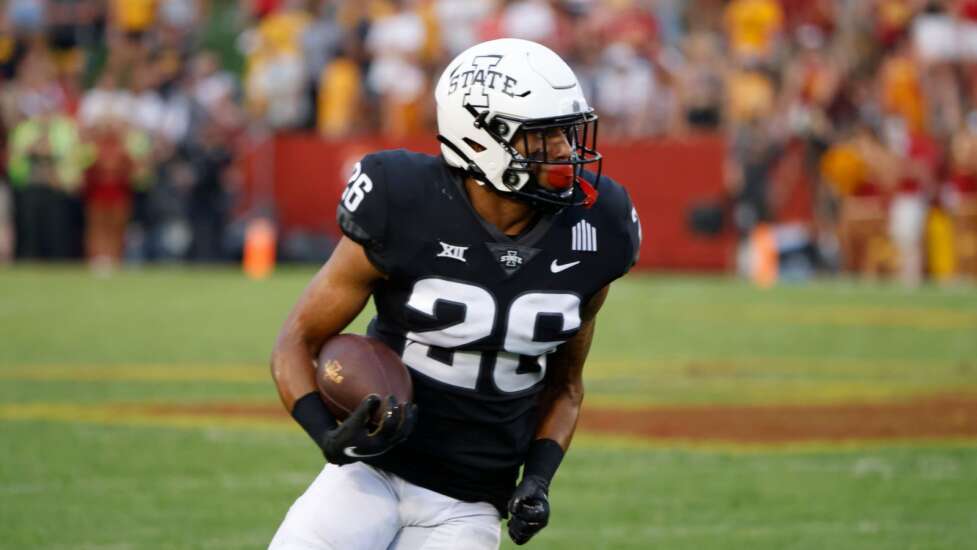 AMES — Iowa State has one of the most experienced and veteran football teams in the country.
The Cyclones only lost four or five key players from last year's team and returned 19 of the 22 starters.
Still, some young faces are emerging in Ames.
True freshman running back Eli Sanders took over for receiver Xavier Hutchinson as Iowa State's kick returner and true freshman receiver Jaylin Noel replaced receiver Tarique Milton at punt returner.
Sanders took his first kick-return opportunity against UNLV 32 yards to give Iowa State great field position. His second return was 19 yards but, since it was a shorter kick, he still brought the ball past the 25-yard line.
"Eli was really close to having two big returns in that game but still, both of them were returned past the 25-yard line and they were positive returns," Iowa State Coach Matt Campbell said.
Noel returned four of the seven punts he fielded for 23 yards against UNLV.
"What Jaylin was able to do in the game were some things that we've been missing over the last couple of years," Campbell said. "There was a punt right at the end of the football game that kind of hung up there. That ball has hit (the ground) in the past and bad things have happened but he goes up and makes a great fair catch.
"I think we're really excited about what Jaylin has brought to the table in one football game. We'll continue to see as it's a growth process for him."
For comparison, Hutchinson returned just one kick for 21 yards in his two games as kick returner and Milton returned just one punt for 11 yards. Milton also let one drop against Iowa, which turned a routine punt into a 69-yarder, which is what Campbell was referencing.
The young players have provided a little extra juice in the return game.
"I think they both made positive steps last week," Campbell said. "Both guys will continue to grow into those roles and both guys have the elite speed and skill to be a difference maker in those roles. We're putting a lot on those two young guys."
Hutchinson believes the coaching staff made the right decision having Sanders replace him.
"He has very good speed," Hutchinson said of Sanders. "And he's a running back. He knows what little holes to look for that maybe I couldn't see. The coaches made the best decision for the team at the kick-return spot. He can make some big plays there."
Beyond their roles as returners, both freshmen have gotten playing time on offense. Noel has five catches for 27 yards and Sanders has five rushes for just 9 yards but he's proven to be a threat out of the backfield, catching three passes for 41 yards.
Fellow true freshman running back Deon Silas saw his first playing time against UNLV. He had five carries for 32 yards and a touchdown.
Defensively, two true freshman defensive backs have found their way onto the field.
Myles Purchase has been a special-teams player all season, but played a pivotal role in Iowa State's defense with Datrone Young out with an injury. T.J. Tampa filled in for Young but when Tampa needed a breather, the coaching staff turned to Purchase.
Beau Frayler has been the other true freshman defensive back to get time. Like Purchase, he started on special teams but has worked his way up to a backup role for Isheem Young at the star position.
"Myles continues to grow and continues to learn the playbook," cornerback Anthony Johnson said. "He has all the capabilities as far as moving as a corner and playing corner. The quicker he can continue to grasp things, the more playing time he'll get.
"For Beau, he's playing the same position as Isheem Young and he's playing just as physical. The way he's tackling, filling holes and playing physical, you don't see that too often from a freshman. It's outstanding to see."
All of the young faces finding roles has been a pleasant surprise for Campbell.
"What's surprised me a little bit has been the amount of young guys that have earned the right to play and have played so well for us," Campbell said. "It started in special teams but now guys are really forcing themselves into the two-deep. Those things have certainly been positive and it's created depth from the top down.
"Some of these guys are demanding to be on the football field. The guys I've talked about (Sanders, Noel, Silas, Purchase and Frayler) have earned the right to get themselves on the field and they're forcing the hand of the coaches to say, 'Hey, you have to play me.'"
Comments: benv43@gmail.com