Home / Sports / Iowa State Cyclones / Iowa State Football
Iowa State football summer check-in: Tight ends continue to influence offense
Charlie Kolar and Chase Allen return to give the Cyclones a big 1-2 punch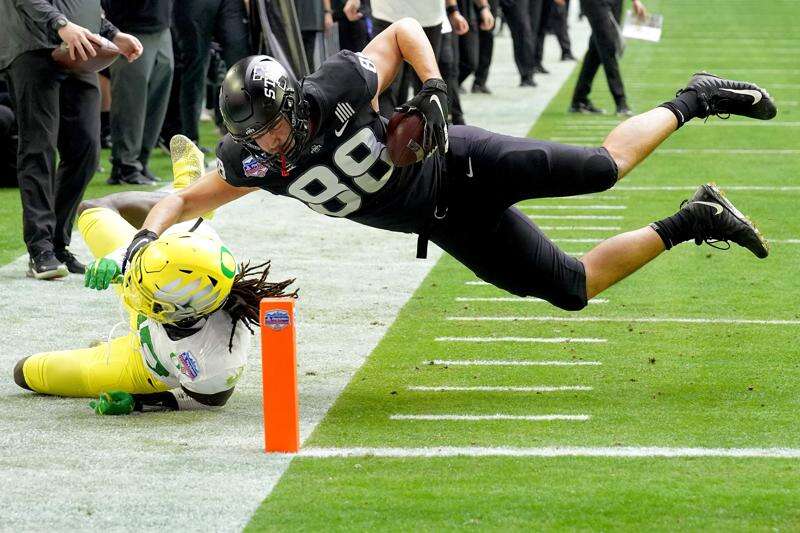 AMES — The tight ends' rise in popularity, usage and versatility in football has been one of the larger developments on the offensive side of the football in the last decade.
In have come the Travis Kelces, George Kittles and Zach Ertzs of the world.
Guys who are athletic enough to run routes and run by linebackers but also strong enough to hold their own against a defensive end.
The tight end's rise to positional stardom even has them going in the top 10 of the NFL draft like former Iowa star T.J. Hockenson.
Iowa State is riding that tight end train, too.
The Cyclones had three all-conference tight ends last year, and the first- and second-team guys are returning in Charlie Kolar and Chase Allen.
Only honorable mention Dylan Soehner moved on to the NFL.
While Kolar and Allen are already two of the best tight ends in the Big 12, both have areas they want to improve in.
Kolar essentially missed the entire summer before the 2020 season due to surgery and then once he was cleared, he was sidelined for most of fall camp due to COVID-19 contact tracing.
Tight ends coach Taylor Mouser has already noticed the difference an offseason can make for Kolar.
"We really feel like we'll be able to check a lot of the boxes we weren't able to check last year," Mouser said. "Like the run-blocking part of it and the route-running part of it.
"He's so fluid in his movements now and so strong in the run-blocking part of it. He's light years ahead of where he was last offseason. We're breaking down the finest details of his routes and the smallest steps he takes in the run game. He's so particular."
While Kolar was the pass-catching tight end and Soehner was the run-blocking tight end, Allen was the do-everything and anything tight end.
He's solid as a run blocker and he has no problems in the pass game.
Well, maybe one problem.
"He's always on me about looking the football all the way in," Allen said of Mouser. "He draws numbers on the nose of the football, so as soon as I catch it, I have to be able to tell him the numbers right away or I'll be accused of not looking it in."
Kolar and Allen have helped Mouser as the first-year position coach gets his bearings. Mouser has been on Matt Campbell's staff since Campbell came to Ames, but that was as a graduate assistant and offensive analyst, not as a position coach.
"Coming into this, I had great relationships with Chase and Charlie," Mouser said. "Those guys are pros and they want to be pros. They have high standards. They built this tight end room into what it is, and I understand that. There have been coaches that helped but they are the ones that built it into one of the best in the country.
"Every position meeting we have, they have high standards for what those look like. It's fun to challenge guys and it's fun for me to find areas where those guys will fail at certain things, so we can push them and challenge them."
Allen was the first scholarship tight end on Campbell's roster. He's seen the growth of the tight ends from literally nothing to, like the rest of the football world, becoming an integral part to an offense.
"We're not trying to prove ourselves to our offense anymore," Allen said. "We're trying to prove we're the best tight ends in the country."