Home / Sports / Iowa State Cyclones / Iowa State Football
Iowa State vs. Oklahoma State analysis: Breaking down Saturday's game
2 of the Big 12's top defenses collide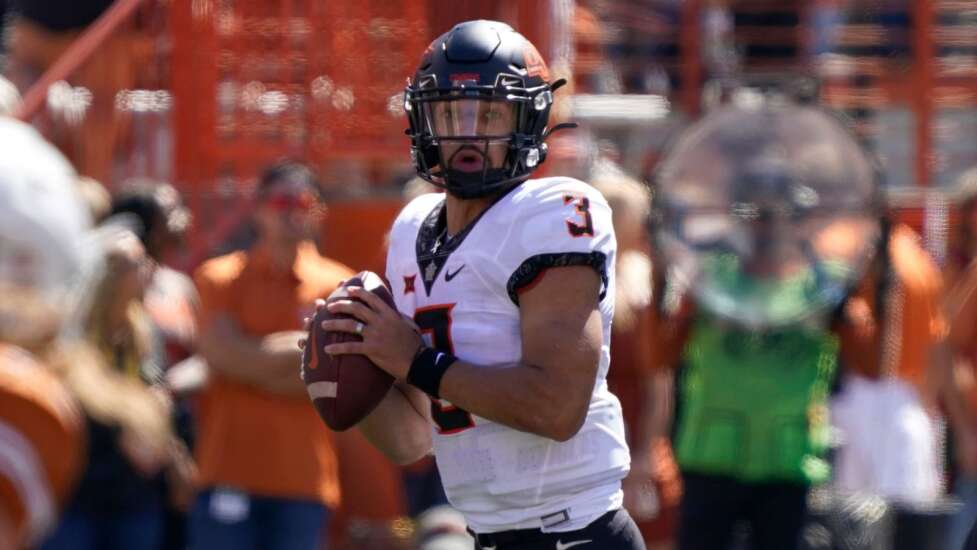 AMES — Breaking down Saturday's Big 12 football game between Iowa State (4-2, 2-1) and No. 8 Oklahoma State (6-0, 3-0). Kickoff is 2:30 p.m. at Jack Trice Stadium in Ames (TV: Fox).
Iowa State offense
All season Iowa State has been looking for a second wide receiver to emerge.
Xavier Hutchinson has been the guy, and deservedly so. He's caught 34 passes for 414 yards and three touchdowns. But after him, it's tight end Charlie Kolar and running back Breece Hall.
Last Saturday, true freshman Jaylin Noel emerged as a potential second receiver candidate as well as Sean Shaw, who is returning from injury.
Noel led Iowa State with five catches and 48 yards and Shaw caught a touchdown pass.
"I think Jaylin's a guy that has continued to elevate his play in practice, which has allowed him to get opportunities," Coach Matt Campbell said. "When the opportunity came his way to be the guy on Saturday night, he was able to really do a great job of taking advantage of that opportunity. It gives us continued trust and his teammates' continued trust around him as the season goes."
Oklahoma State offense
Oklahoma State will go as far as the offense takes it.
Right now, quarterback Spencer Sanders is having a subpar season, completing 59 percent of his passes and throwing nearly as many interceptions (five) as touchdowns (six).
The Cowboys' redeeming quality on offense are the players around Sanders.
Utah State transfer running back Jaylen Warren has been a revelation for Oklahoma State.
"You talk about the guys around (Sanders) and he has really good players around him," Campbell said. "That's what Oklahoma State has always done a great job of. They put great playmakers around their quarterback.
Iowa State defense
The Cyclones have, bar none, the best defense in the Big 12 and it's not particularly close.
Iowa State has given up the fewest yards, fewest yards per play, fewest points and fewest touchdowns.
Pick a statistical category for team defense, and Iowa State leads it. And it starts with linebacker Mike Rose.
"As the coach, you're seeing a guy that has the ability at times to shut down half the field because of his athleticism, but also come into the box and be a real physical presence," Campbell said. "I think that's what makes him really special."
Ooklahoma State defense
Oklahoma State's defense isn't too shabby, either.
The Cowboys, who used to be a team that got into a lot of offensive shootouts, have really turned around their defense.
Oklahoma State has given up the second-fewest yards per game in the Big 12 at 307 — Iowa State is at 250 — and the third-fewest points, allowing 19.5 — Iowa State is at 16.
Oklahoma State-Iowa State prediction
Oklahoma State has had some narrow victories against some bad teams, like Missouri State, and some narrow victories against some good teams, like Baylor. The point is, the Cowboys won those games and are undefeated despite some inconsistent play from the offense.
But the shaky offensive play is a particular concern, especially going against this Iowa State defense.
Iowa State 31, Oklahoma State 28
Comments: benv43@gmail.com