Home / Sports / Iowa State Cyclones / Iowa State Football
Iowa State football summer check-in: Quarterback Brock Purdy aims to get even better
Checking out the Cyclones heading into 2021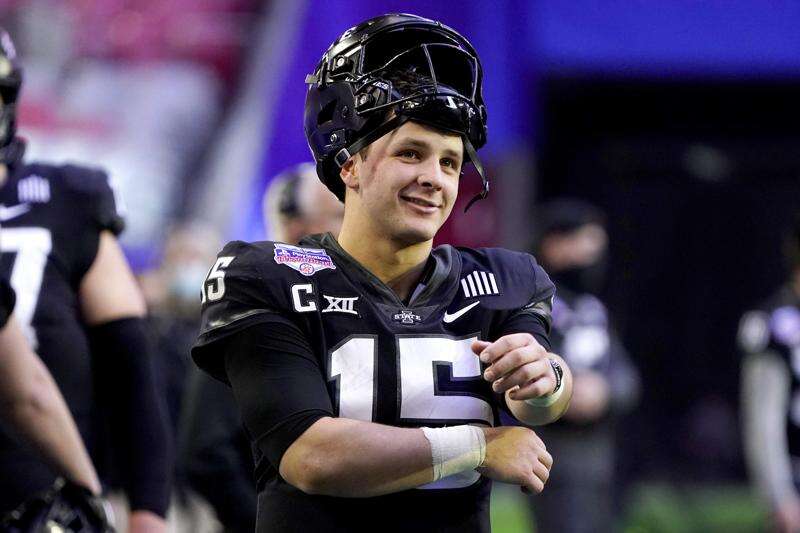 AMES — Collegiate athletics is an interesting subset of sports fandom.
Players are only allowed to be at one place for four to five years.
Coaches are only allowed to be there as long as they're successful, and that assumes they don't move on by their own accord (Iowa State football coach Matt Campbell already is the third-longest tenured coach in the Big 12).
Fans of non-blue blood programs sometimes have to wait years or decades for the stars to align.
That's where Iowa State is now.
Campbell is the most successful coach in Iowa State history and led the Cyclones to the most successful season in school history last year, winning the Fiesta Bowl. He's as successful as any Iowa State fan could hope for, so if he leaves it'll be on his own accord.
And, according to CBS Sports, he could've left Iowa State for the Detroit Lions to the tune of $68.5 million after last season.
That brings us to the players, and more specifically, the most important position on the field — quarterback.
Brock Purdy is entering his fourth season as Iowa State's starting quarterback. He is unquestionably the best quarterback in Cyclone history, owning or sharing 25 school records. He was the first Iowa State quarterback to be a first-team all-conference selection since John Quinn in 1981, which makes him the only Cyclone quarterback to be named first-team all-Big 12.
Over the last three seasons, Campbell and Purdy have been synonymous with Cyclone football success. The stars have seemingly aligned.
But with how good Purdy has been, Campbell and quarterbacks coach Joel Gordon still see more for him. Specifically, with his decision making.
"Even saying he needs to work on his decision making could be taken the wrong way," Gordon said. "Brock makes a lot of really good decisions and he's done that throughout his career. You don't win as many games as he has for three years without making really good decisions.
"But he does make some bad decisions at times, as every quarterback who has ever played has. He'd be the first one to tell you that he has to get rid of some of those decisions that could end up being game-changers."
The throw late in the fourth quarter against Oklahoma in the Big 12 Championship game comes to mind.
On third down, with less than a minute left and Iowa State down by six points, Purdy was pressured out of the pocket. Instead of throwing the ball out of bounds to fight another down, he heaved it into a mess of people, resulting in a game-sealing interception by Oklahoma's Tre Brown.
"I feel like (going for it all) has been part of my game — trying to make the play," Purdy said. "Coach Campbell and I have talked about it and I just have to make the right play."
Still, for every one of those go-for-broke plays that fail — his interception against TCU is another example — he makes a dozen that do work out.
One of Gordon's favorite qualities about Purdy is his self-awareness.
"One of his best qualities is he's his own worst critic when he needs to be and he can honestly evaluate how he plays on the football field and he wants to be coached," Gordon said. "He doesn't shy away from those conversations. Look at the Baylor game, he had three turnovers in the first half. Then comes back in the second half of that game and wins us that game and then the next five or six games, he plays lights out."
As a fourth-year player, it's up to Purdy to take the next step and play within himself and within the offense.
"As I continue to grow, I have to understand how to manage the game and know that I can't win a game in one play," Purdy said. "I think that will help me rein in those plays where I'm trying to make too much happen."
The hope of the coaching staff is all of Purdy's ability and now experience will help lead the Cyclones to even greater heights.
"When you look at his game physically, technically and fundamentally, he is really solid at throwing the football," Gordon said. "He's as accurate as anybody in the country when he sets his feet, and even when his feet aren't set, he's still really accurate.
"For him, it's the mental side of the game and the specific situations that arise in a game that maybe we didn't talk about during the week but they come up during the game and they're new.
"It's been a great process for him to take some of the situations that have happened in his career and boil them down to, 'This is what happened. This is what went wrong. And this is what we need to do to make them better.' When he gets in those situations again, the hope is that we get a different result."
Comments: benv43@gmail.com