Home / Sports / Iowa State Cyclones / Iowa State Football
Iowa State football injuries: Cyclones without receiving weapons Charlie Kolar and Sean Shaw against UNI
Linebacker O'Rien Vance leaves game with injury as well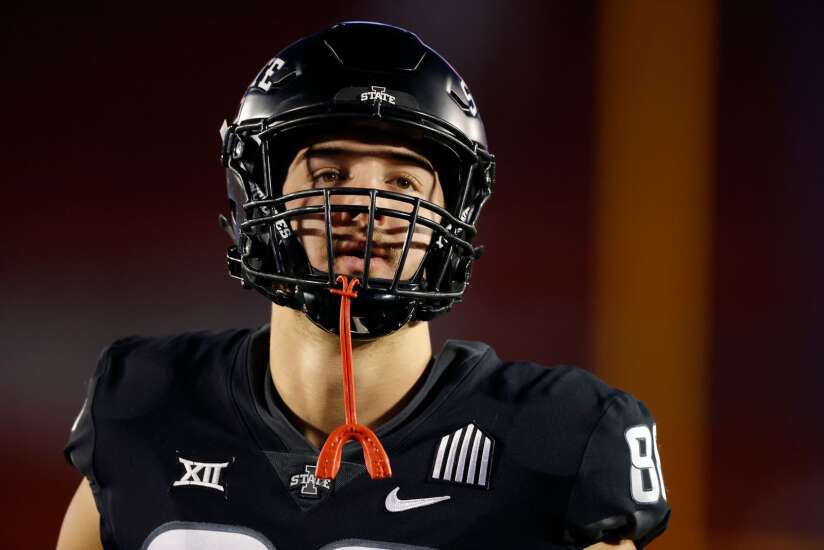 AMES — Iowa State Cach Matt Campbell plays his cards close to his chest when it comes to injuries.
In the Cyclones' 16-10 victory over Northern Iowa on Saturday at Jack Trice Stadium, Iowa State was without several key players.
Most notably, All America tight end Charlie Kolar was out with an ankle injury. Kolar was in uniform and went through warm-ups but Campbell said he tweaked his ankle earlier in practice and wasn't quite ready.
"My hope is he'll be back," Campbell said. "We felt like he was really close to playing today."
Iowa State's offense struggled for stretches on Saturday, amassing 333 yards and going just 5-for-14 on third down. It's hard to imagine Kolar not being able to aid the offense on third down, especially.
"I don't know what all changes other than Charlie is a guy, who in critical situations, is a great target for us," Campbell said. "He's a great matchup in a lot of different ways."
The Cyclones started All-Big 12 tight end Chase Allen as well as Jared Rus. Rus was expected to play a role this season as a Dylan Soehner-type of tight end or fullback but his role expanded on Saturday.
On top of his role as a run blocker, Rus caught one pass for 19 yards.
Iowa State also played sophomore tight end Easton Dean for an extended amount of time for the first time in his career.
"I thought Jared Rus stepped in and did some really good things, I thought he played really well," Campbell said. "Chase did a really good job. I'm interested to see what Easton Dean looked like on tape. I'm anxious to see how close some of these guys are to really making an impact for us."
The other notable injury was to receiver Sean Shaw, who Campbell said had surgery a few weeks ago.
Shaw is another 6-foot-6 target for quarterback Brock Purdy to look for in some of those third-down situations. Joe Scates got the start with Shaw out and caught two passes for 9 yards.
"Sean is probably a couple of weeks away," Campbell said. "He had offseason surgery, but I think he's probably closer than not. He's still probably not ready to go next week, but I would say after that maybe getting a little bit closer. Sean's done a great job getting himself back ready to rock and roll for us."
The final injury of note was an in-game injury to starting middle linebacker O'Rien Vance.
Vance was having a strong game before his injury in the third quarter. He had five tackles, a sack and a QB hurry.
"I think he will be OK," Campbell said. "It was a little bit of a hamstring deal. It's not one of those things I'm globally concerned about and I don't think our staff is. I think we'll know a lot more tomorrow. He was walking around pretty good inside."
Gerry Vaughn took Vance's spot after the injury and picked up where he left off.
"Gerry Vaughn came in and did really good and played outstanding," Campbell said. "He had been waiting for his opportunity."