Home / Sports / Iowa State Cyclones / Iowa State Football
Cyclones, many other bowl teams, have shrunk since November
Twelve Iowa State players entered the transfer portal, and star RB Breece Hall opted out of the Cheez-It Bowl.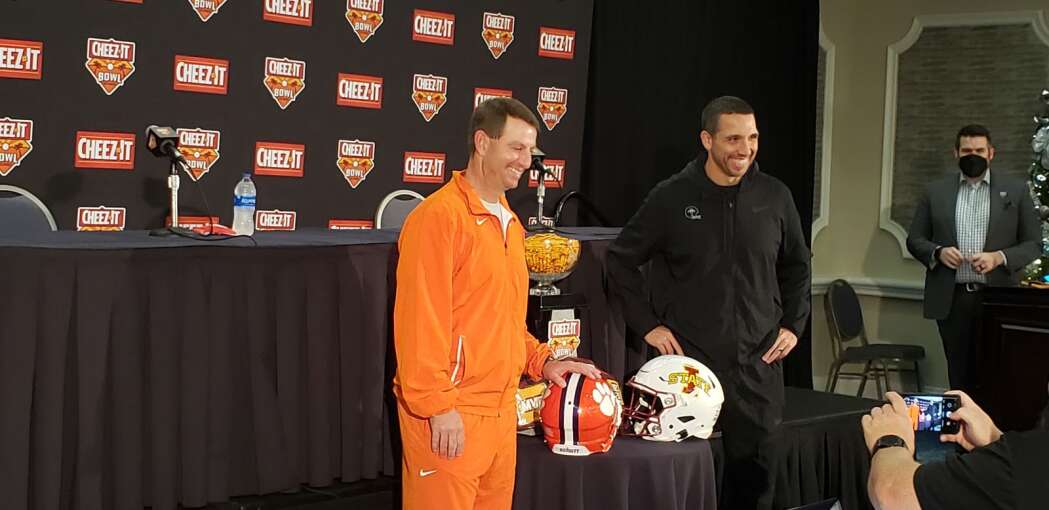 ORLANDO, Fla. — Maybe it's from being in this theme park-dominated land of fantasy, but so much of what's going on in college football right now almost requires suspending all belief.
Something actually called the Cheez-It Bowl between Iowa State and Clemson will be played here Wednesday. When you're involved in a contest that promotes snack crackers, you take a big bite and smile all the way to the bank with your conference and its television partners.
In more serious areas — serious to the college sports/entertainment industrial complex, anyway — seismic waves are pounding bowls more and more.
Three first-team All-Big Ten players and a second-teamer are opting out of Ohio State's Rose Bowl against Utah. It's one thing to juke past a Cheez-It Bowl like Iowa State All-America running back Breece Hall has done, but a Rose Bowl? Is nothing sacred?
Many bowl teams have patched up starting lineups and depth charts in the last few weeks. The line for the NCAA's transfer portal is longer than the one here for Disney World's Space Mountain roller coaster.
At last count, 12 Cyclones have entered the portal since the regular-season ended. All are from out-of-state.
One is starting safety Isheem Young, a Big 12 Co-Defensive Freshman of the Year in 2020. None of the other 11 started in ISU's regular-season finale, nor made a tackle or had an offensive statistic in that rout of TCU.
Many of the dozen had nothing but praise for Cyclones Coach Matt Campbell, their position coaches, and Iowa State in general in statements they posted on social media that all pretty much read the same. Maybe all the non-starters looked at the future and didn't see themselves as future primary players in Ames.
But 12 transfers?
"You hate it," Campbell said Tuesday. "We've had great alignment. We've had very little of turnover within our program and for the first time we had a little bit of that."
Twelve isn't a little bit. Whether it's meaningful or not is for time to determine. Rivals.com ranks Iowa State's 2022 recruiting class as the 22nd-best in the nation. On a veteran team, some of this season's freshmen worked their way into playing spots.
"There are so many key contributors in this freshman class that came in with that competitive spirit and challenged right away," Campbell said.
One is safety Beau Freyler, who will start for the first time Wednesday. Another first-time starter is sophomore running back Jirehl Brock, taking Hall's place today.
Thus, like the Rose Bowl and other games, these aren't the full representations of teams at these postseason exhibition games. You don't see players on the four College Football Playoff teams jumping off early, for obvious reasons. They're playing for a ring.
We can say the Cheez-It Bowl and Citrus Bowl (Iowa 1,151-yard running back Tyler Goodson opted out of Saturday's game here) are deeply meaningful, and of course they are to the participants.
However, is it really Iowa State's 2021 team without the magnificent Hall? Is Ohio State 2021 without all-Big Ten receivers Garrett Wilson and Chris Olave still Ohio State 2021?
No, but that's OK. If universities are fine with stealing away someone else's coach before bowl games, they should have no problem with players avoiding the risk of a blown-out knee in a game named for crackers that will stay at their best quality for six to nine months if their package is unopened.
Like the snack section in Aisle 7, college football rosters get restocked in no time with other players utilizing their newfound liberty to immediately pursue happiness elsewhere.
"For me," Campbell said, "it's continue to build your program the right way and continue to align yourself with coaches and players that believe in that kind of system.
"Where are we and are we aligned? I would probably say we're as aligned today as we've ever been moving forward."
Hey, the Cheez-It Bowl hasn't gotten because of COVID-19, so that's certainly something. Let's enjoy a football game, Clemson and Iowa State. May the best somewhat-complete team win.
Comments: (319) 398-8440; mike.hlas@thegazette.com