Home / Sports / Iowa State Cyclones / Iowa State Football
5 UNI players to watch in Week 1 vs. Iowa State football
Cyclones take on Panthers in season opener in Ames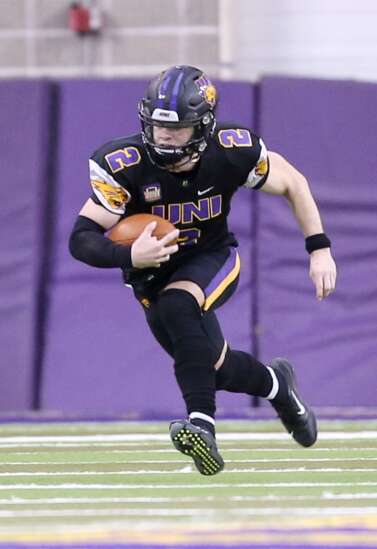 AMES — Iowa State's football program knows Northern Iowa quarterback Will McElvain all too well.
And on Saturday, the Cyclones will get another look at the UNI signal caller when the two teams meet at Jack Trice Stadium.
Two seasons ago, McElvain, then a freshman, led the Panthers to triple overtime against Iowa State and gave the Cyclones everything they could handle. Iowa State won that game in the third extra period.
McElvain completed 25 of his 42 pass attempts for 228 yards and a touchdown. And it's not like McElvain jumped out of nowhere against Iowa State.
What: Northern Iowa Panthers vs. No. 7 Iowa State Cyclones
When: 3:30 p.m. Saturday, Sept. 4
Where: Jack Trice Stadium, Ames
TV: ESPN+
Matt Campbell and his staff recruited McElvain as a preferred walk-on.
"I think the world of their starting quarterback," Campbell said in 2019. "He's a young man that at one time was thinking about coming to Iowa State, but he obviously made a great decision for himself and has really done a phenomenal job there.
"The familiarity we know about him is just his true ability and his ability to improvise and make plays. He's a real talent."
During the spring FCS season last year, McElvain had the cards stacked against him as he completed just 51 percent of his passes for 938 yards in five games.
UNI offensive coordinator Ryan Mahaffey left for the Green Bay Packers two weeks before the season started, offensive linemen were being shuffled in and out of the starting lineup due to COVID-19 and injuries hampered the receivers, so it was a perfect storm for a second-year quarterback to stagnate.
Now, with a much more normal year and offseason, expect McElvain to make the jump he was unable to last season.
Here are four other Panthers to keep an eye on Saturday:
WR Isaiah Weston
Speaking of injured players, wide receiver Isaiah Weston played in just four games for the Panthers last season. But in those four games, he proved just how much of a deep threat he is.
He caught seven passes for 152 yards and a touchdown. He averaged 21.71 yards per reception. And all of his production came in just three games.
If Weston is healthy this season and McElvain is back in his groove, the Cyclones will have to keep their eye on the 6-foot-4 receiver from Minnesota streaking down the sidelines.
OL Trevor Penning
UNI always seems to have a bona fide NFL prospect or two.
Whether it's former running back David Johnson, former receiver Daurice Fountain or former linebacker L.J. Fort, the Panthers produce NFL prospects.
Left tackle Trevor Penning is that NFL prospect this time around.
The 6-foot-7, 321-pound junior from Clear Lake has been mauling defensive linemen for the last two seasons. Penning is the engine that makes UNI's offensive line go.
He's tasked with keeping McElvain clean and making holes for the Panthers' rushing attack.
CB Omar Brown
It can be hard identifying elite cornerbacks based on stats alone.
If a player is a great cornerback, opposing coaches just won't call plays that go to that side of the field. That's what has happened to UNI cornerback Omar Brown.
Iowa State defensive coordinator Jon Heacock has said one of the marks of a great corner is they don't have a lot of tackles. If they are making a lot of tackles, that means they're letting the receivers they're defending catch the ball a lot.
Heacock would love Brown. Brown made just 30 tackles last season as teams elected to not throw his way. The most tackles he had in a game was six against Southern Illinois. Every other game he had three or fewer.
To reinforce Heacock's point, when opposing offenses did throw Brown's way, he made them pay. He had five pass breakups, which was the most on UNI and he also had an interception.
DT Jared Brinkman
Defensive tackles don't often put up eye-popping numbers, but defensive tackle Jared Brinkman is an exception.
As a tackle, he's often double teamed but he still recorded 38 tackles, nine tackles for loss and 3.5 sacks. The nine tackles for loss led UNI.
He also had three quarterback hurries and two forced fumbles. Brinkman is a player to be reckoned with on the interior of the Panthers' defense.
Comments: benv43@gmail.com