Home / Sports / Iowa State Cyclones / Iowa State Basketball
Stirring Iowa State men's basketball Sweet 16 run ends against Miami
Remarkable season ends with 70-56 setback in Chicago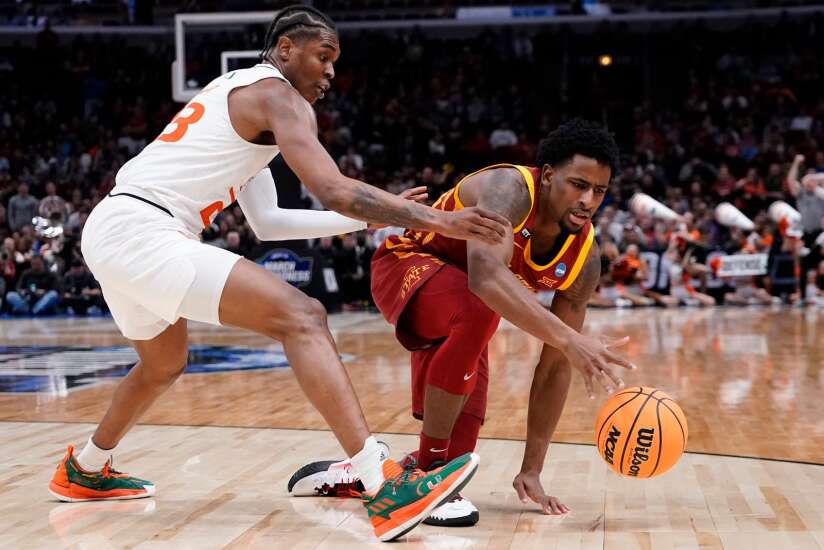 CHICAGO — Too fast. Too long and athletic. Too talented.
Iowa State ran into a Miami team rippling with all of the above in the Sweet 16 late Friday at the United Center, and saw its remarkable season end in a 70-56 setback before a decidedly pro-Cyclone crowd.
Thousands of ISU fans made the journey to Chicago to cheer on their formerly downtrodden and suddenly soaring team, but the Hurricanes played with poise and precision, never letting the Cyclones settle into a rhythm offensively, and slowly finishing them off with timely 3-pointers and dunks.
"They did a better job than we did in terms of disruption and creating live-ball turnovers," said ISU first-year head coach T.J. Otzelberger, whose team finished 22-13. "They made some timely shots when we made or runs, as well, so credit to them. (Friday) just wasn't our night."
Tenth-seeded Miami (26-10) shot just 4-for-29 from 3-point range in earlier NCAA Tournament wins over USC and Auburn, but drilled 9 of 26 from beyond the arc against the Cyclones, who played in the Sweet 16 one season after going 2-22.
"This is a special run," said senior forward George Conditt, who was one of two rotational players returning from last season's team. "Like T.J. said, you never knew — I mean, when we signed up for this, we didn't know wins, losses. We just wanted to go out there and play hard and bring pride back to Iowa State."
Mission accomplished. Pride is restored. But that doesn't take the sting out of seeing it all end one win short of the Elite Eight.
"I know everyone's proud of us in Ames and through the community, but hopefully (everyone) knows what we've down, how much heart we gave to this team and put it on the court each and every night until that final buzzer sounds," said senior transfer guard Gabe Kalscheur, who along with Tyrese Hunter scored a team-best 13 points. "I loved playing with the guys. With this coaching staff. We made an incredible run. I just hope everyone noticed how much work we put into this season."
The 11th-seeded Cyclones trailed all but 16 seconds of the game, but remained within striking distance until the Hurricanes took a 55-44 lead on a Charlie Moore jumper with 6:17 left. ISU never got within three possessions of the lead after that — and lost for the first time against a non-Big 12 foe this season.
"Iowa State is one heck of a basketball team," Miami head coach Jim Larrañaga said. "They played so hard and so well."
Izaiah Brockington added 11 points for the Cyclones, who outrebounded Miami 42-34, but shot just 31.6 percent in the second half and gave up 14 points off turnovers.
The Hurricanes advanced to Sunday's Elite Eight matchup with top-seeded Kansas.
The Cyclones will now go home, but not before reviving a program that had become a Big 12 and national also-ran the previous two seasons.
"I mean, this staff, this team, the fans, the school, you know, every single one of them changed my life," said Brockington, a transfer from Penn State who picked ISU over several other schools. "I'm forever grateful. I'm proud to be a Cyclone."
The future's bright, they say. The present stings, they fully admit. But to have been a part if it? That's hard to put into words.
'When that final buzzer went off, it hurt a little bit because the season's over with," Conditt said. "But at the same time you have to hold your head up high."
Otzelberger ensured that they all will. Both Friday night and into the foreseeable future. None of this season's success was guaranteed — and it could have gone sideways several times.
"I'll remember these guys for their heart, their fight, for their sacrifice to one another, for the trust they bestowed in our coaching staff, for rolling up their sleeves and just doing the work every single day," Otzelberger said. "It wasn't easy, but they kept coming back. … So this group will be very dear to me. And I'll always remember what these guys did, each and every day."