Home / Sports / Iowa State Cyclones / Iowa State Basketball
No. 18 Iowa State tops Oklahoma State with double-digit scoring nights from Ryan, Diew
Cyclones overcome bad shooting night to win, 69-64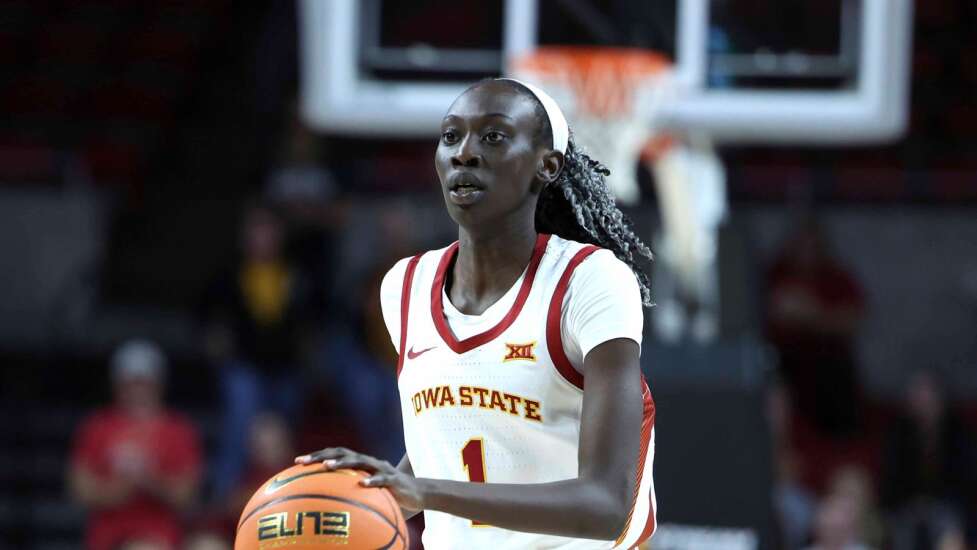 AMES, Iowa (AP) — Emily Ryan scored 14 points, reserve Nyamer Diew had eight of her 12 in the fourth quarter and No. 18 Iowa State defeated Oklahoma State 69-64 on Wednesday night.
The Cyclones closed the third quarter with a pair of 3-pointers, the second by Ryan in the closing seconds, that put ISU on top 49-47.
Naomie Alnatas scored five-straight points to pull the Cowgirls even at 52-all but they went almost four minutes without a field goal, falling behind by seven. Diew's second 3 at the 1:42 mark put the lead at 66-57.
Oklahoma State got within 67-62 with 22 seconds left but the Cyclones cut 16 seconds off the clock before Denae Fritz was fouled and made two free throws for a 69-62 lead.
Morgan Kane added 11 points for Iowa State (12-4, 4-2, Big 12 Conference) and All-American Ashley Joens, despite a horrible shooting night, added 10 with 12 rebounds. Joens, a 43% shooter, was just 3 of 17.
Anna Gret Asi scored 15 points to lead the Cowgirls (13-5, 3-3). Claire Chastain added 12 and Taylen Collins had 11 with 10 rebounds.
Iowa State had a bad shooting night but came through in the fourth quarter, making 5 of 10 shots, including 3 of 5 3-pointers. The Cyclones also had an 11-1 advantage in offensive rebounds, five more 3-pointers and made six more free throws than OSU.
The Cyclones are home Saturday against Kansas.
Iowa State head coach Bill Fennelly missed the game for personal reasons.