Home / Sports / Iowa State Cyclones / Iowa State Basketball
Iowa State's Joens sisters finally have their day against Iowa
Iowa City natives both post double-doubles in Cyclones' 77-70 victory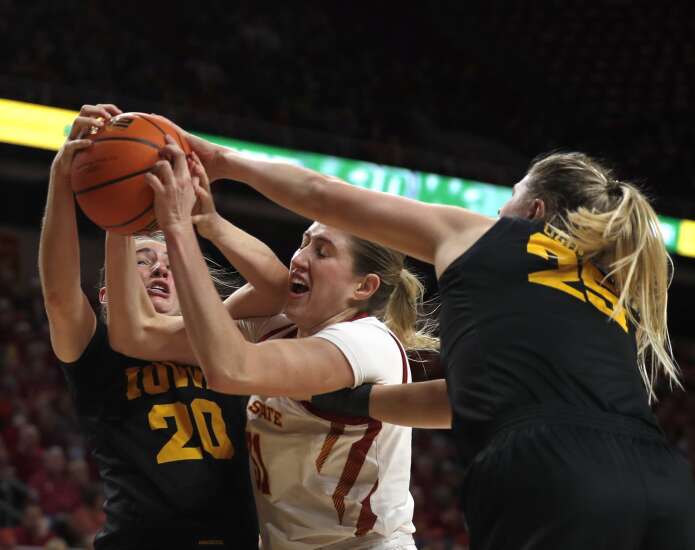 AMES — The Joens sisters finally had their day, and had their way, against the Iowa Hawkeyes.
Ashley Joens scored 23 points, Aubrey Joens added four 3-pointers and the 15th-ranked Iowa State women's basketball team topped No. 12 Iowa, 77-70, before an announced crowd of 11,348 Wednesday night at Hilton Coliseum.
The Cyclones (9-1) ended a five-game losing streak against the Hawkeyes. Ashley Joens had been on the floor for three of those hard-to-swallow defeats.
"It's been a while since we've won in this series," she said.
A pair of Iowa City natives who were not recruited by the Hawkeyes, the Joens sisters put a big stamp on this one.
Both recorded double-doubles — 26 points and 11 rebounds for Ashley; 12 points and 11 boards for Aubrey.
Ashley Joens flashed a rare glimmer of emotion, a broad smile, after pulling down a rebound and taking a foul in the final seconds:
"It was just a sense of excitement," she said.
Iowa (5-2) rallied from a 12-point second-quarter deficit to take a two-point lead on three occasions in the third quarter. But the Cyclones scored seven consecutive points, punctuated by a steal and layup by Emily Ryan, to take the lead for good.
It was 57-54 entering the fourth quarter, and ISU Coach Bill Fennelly had a final message in the huddle.
"I just told them, 'We've got a three-point lead and 10 minutes to go in the best place to play. This is what you came here for,'" Fennelly said.
The Cyclones appeared poised to win last year at Carver-Hawkeye Arena, but let a 17-point fourth quarter lead get away in an 82-80 loss.
This time, they closed the deal.
Iowa got within 58-56 on McKenna Warnock's basket at the 9:15 mark, then within 70-66 on Gabbie Marshall's 3-pointer with 3:00 remaining. But Morgan Kane converted inside to make it 73-66 with 1:50 left, and ISU clinched it at the foul line.
The Cyclones converted 16 of 22 free-throw attempts. Iowa was 5 for 6.
"When you don't shoot free throws, it's hard to win a game," Iowa Coach Lisa Bluder said. "I felt we should have been shooting more.
"I thought there were a lot of fouls not called. I thought (Iowa post) Monika (Czinano) got beat up like crazy.
"I tell our team to control the controllable, and you can't control the officials. We've got to move on."
Iowa's Caitlin Clark said, "When they were shooting free throws, they also were able to set their defense. It makes it challenging to have a transition offense."
Free throws were just one piece of the puzzle. Turnovers were another.
The Cyclones turned it over just eight times and enjoyed an 18-9 advantage in points off turnovers.
Ashley Joens missed her first seven shots and finished 9 of 28. But the win was the thing.
"This was definitely one thing I wanted to accomplish," she said.
Iowa State opened the second quarter with a 15-5 surge for its largest lead of the game, 34-22. Czinano was whistled for what was believed to be her third foul at the 2:17 mark, but Addison O'Grady came in and scored two late buckets that brought the Hawkeyes within 36-31 at intermission.
One of Czinano's fouls was transferred to Kate Martin sometime around halftime, enabling her to play free and go on a spree early in the third quarter.
"I'm happy that got changed," Czinano said. "It gave me a lot more confidence. Coach Bluder is going to stand up for us."
Czinano scored three straight Iowa hoops to open the second half, and the Hawkeyes took the lead at 45-43, 47-45 and 49-47.
ISU scored the next seven points and led the rest of the way.
Lexi Donarski added 16 points for the Cyclones.
Clark led Iowa with 26 points, shooting 10 of 26 from the field.
"I told (Donarski, who drew most of the defensive assignment on Clark), if her shots equal her points, that's exactly what we want," Fennelly said.
Czinano added 13 points for the Hawkeyes. Warnock scored 11.
Iowa State will try to complete an in-state sweep Sunday, when it hosts Northern Iowa. Iowa returns to action Dec. 18, at home against Central Florida.
Iowa State 77, Iowa 70
At Ames
IOWA (70): McKenna Warnock 5-10 0-0 11, Monika Czinano 5-13 3-3 13, Kate Martin 3-7 0-0 9, Caitlin Clark 10-26 2-2 26, Gabbie Marshall 3-7 0-1 7, Tomi Taiwo 0-4 0-0 0, Kylie Feuerbach 0-0 0-0 0, Logan Cook 0-0 0-0 0, Addison O'Grady 2-2 0-0 4. Totals 28-69 5-6 70.
IOWA STATE (77): Morgan Kane 3-4 3-4 9, Emily Ryan 3-6 2-2 9, Aubrey Joens 4-11 0-0 12, Lexi Donarski 5-11 4-6 16, Ashley Joens 9-28 7-10 26, Beatriz Jordao 0-1 0-0 0, Maggie Espenmiller-McGraw 2-6 0-0 5. Totals 26-67 16-22 77.
Iowa 17 14 23 16 — 70
Iowa State 19 17 21 20 — 77
3-point goals: Iowa 9-27 (Warnock 1-5, Martin 3-5, Clark 4-12, Marshall 1-3, Taiwo 0-2), ISU 9-28 (Ryan 1-2, Aub. Joens 4-9, Donarski 2-4, Ash. Joens 1-9, Espenmiller-McGraw 1-4). Team fouls: Iowa 20, ISU 12. Fouled out: Warnock. Rebounds: Iowa 39 (Martin 10), ISU 44 (Aub. Joens, Ash. Joens 11). Assists: Iowa 15 (Czinano 5), ISU 13 (Ash. Joens 6). Steals: Iowa 3 (Clark 2), ISU 6 (Ryan 2). Turnovers: Iowa 13, ISU 8.
Attendance: 11,348.
Comments: jeff.linder@thegazette.com