Home / Sports / Iowa State Cyclones / Iowa State Basketball
Iowa State's shooting goes from bad to worse in 59-41 NCAA tournament loss to Pitt
No. 6-seed Cyclones shot 23.3 percent
Bob Sutton
Mar. 17, 2023 6:35 pm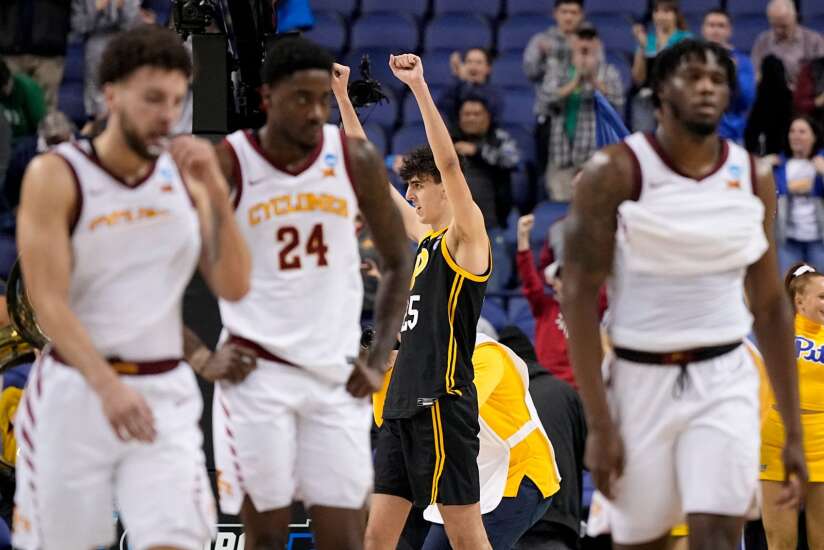 GREENSBORO, N.C. — Iowa State never figured out the rims in what turned out to be its only 2023 NCAA men's basketball tournament game.
Somehow, the Cyclones' shooting went from bad to worse in Friday afternoon's 59-41 loss to Pittsburgh in a first-round game at the Greensboro Coliseum.
"Offense has always been important to who we are," ISU guard Gabe Kalscheur said. "Our offense just wasn't clicking."
The Cyclones shot an inexplicable 23.3 percent from the field, going 2-for-21 on 3-pointers.
It was the second-lowest point total in Iowa State's NCAA Tournament history behind only a 40-31 loss to Utah in 1944 – the first year the Cyclones played in the tournament. The 18 second-half points are a tournament low for the program.
"It's frustrating," Kalscheur said. "We want these opportunities to play in March Madness. We want to play really well and shoot the lights out."
Jaren Holmes and Kalscheur both scored 12 points and Tre King had 11 points for Iowa State (19-14).
All this made Pittsburgh's 34.1-percent shooting look remarkable.
In an oddity, Iowa State's pregame shooting was halted while arena workers adjusted the basket at that end of the court. Pittsburgh players continued to shoot.
Coach T.J. Otzelberger didn't make a big deal of the situation.
"I like to think our guys have enough mental toughness," he said. "We've been in a lot of big games and a lot of tough environments."
The NCAA issued the following statement on the rim topic: "Iowa State asked us during pregame warmups to check if the rim was level. Building personnel checked it and made a minor adjustment prior to the game beginning. We offered them additional warmup time but they declined."
As it turned out, it didn't matter which end the Cyclones were aiming in their lowest-scoring game of the season.
"You always want to have your shot falling and stuff like that," King said. "Like Coach said, we are a team that prides ourselves on defense. One thing that he has instilled into us is whenever our offense is not falling, take pride on the defensive end to get it falling on offense."
Iowa State gathered 16 offensive rebounds — or about one-third of the 46 missed shots from the field. The Cyclones were 11-for-19 on free throws, not coming close to keeping up with Pittsburgh's 25-for-29.
Otzelberger pointed more to the team's defense than offense for the struggles.
"We're a team that is fueled by our defense and felt like early we didn't dictate and disrupt quite as well as we needed to," he said.
Iowa State was within 30-25 before managing just one point across the next eight minutes.
It was unfathomable that the Cyclones trailed 22-2, needing more than 10 minutes before registering their first field goal. Holmes was the only Iowa State player with a field goal in the first 13 minutes — and he had two of them.
So a 30-23 halftime deficit was a feel-good situation for Iowa State, which missed its first 11 attempts from the field.
Pittsburgh produced its largest lead at 22 points in the second half.
The Cyclones shot 29 percent from the field, including 1-for-11 on 3-pointers, in the first half. The field-goal rate was 17.2 percent after halftime.
Blake Hinson, an ex-Cyclone who never appeared in a game for Iowa State, posted five points on 1-for-8 shooting as his first season at Pittsburgh as a transfer continued for at least another game. The Panthers (24-11) meet third-seeded Xavier (26-9), a 72-67 winner against Kennesaw State, on Sunday.