Home / Sports / Iowa State Cyclones / Iowa State Basketball
Iowa State men's basketball excited to face tough competition in Phil Knight Invitational
Cyclones open with Villanova on Thursday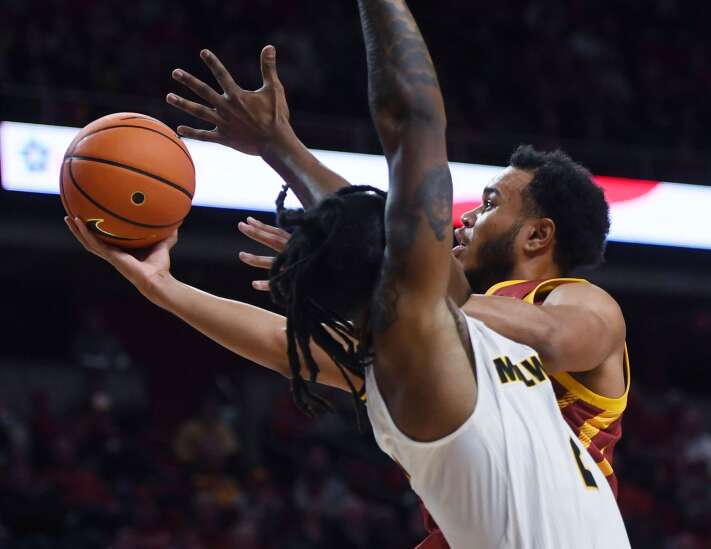 AMES — Iowa State guard Jaren Holmes is no stranger to big-time basketball.
But playing against big-name schools was an infrequent treat — and facing more of them is one reason he chose to become a Cyclone after graduating from St. Bonaventure.
That higher-profile part of the talented Michigander's journey starts now, when ISU (3-0) takes on Villanova (2-2) at 4:30 p.m. Thursday in the Phil Knight Invitational in Portland, Ore.
"I'm excited," said Holmes, who leads the Cyclones in scoring at 18.3 points per game. "It's a tremendous opportunity. I can't wait. It's gonna be a great experience, gonna be a lot of fun. It's gonna be a lot of great memories made with these guys that I'll cherish for a lifetime."
If ISU wins, it will face top-ranked North Carolina or Portland in Friday's 2 p.m. semifinal. Other possible foes in a third game on Sunday include No. 12 Michigan State, No. 18 Alabama, No. 20 Connecticut or Oregon.
"It's the next necessary step for our team," Cyclones head coach T.J. Otzelberger said. "I think we've done the job we've needed to with the three game at Hilton (Coliseum) up to this point and now you want that challenge. You want that opportunity to go play somebody else in this type of format."
ISU may need to navigate the stacked PKI without veteran guard Gabe Kalscheur, who injured his hip at practice late last week.
"We're hopeful he'll be able to play," Otzelberger said Tuesday. "He hasn't practiced yet. Don't know if he will. He's doing everything he can do in the training room to try to be available to play, but a pretty deep bruise. A lot of pain."
So stay tuned on Kalscheur, who emerged as ISU's best on-ball defender last season after transferring from Minnesota. As for Holmes? What you see is what you get — a dynamic scorer who can finish strong at the rim as well as drop in an occasional 3-pointer.
"Jaren's stepped up for us like that up to this point," Otzelberger said. "We'll continue to ask him to do that. We believe in him as a go-to scorer."
Comments: robgray18@icloud.com