Home / Sports / Iowa State Cyclones / Iowa State Basketball
Big 12 basketball 'better than ever'
There's never an easy night for No. 12 Cyclones, or anyone else in the league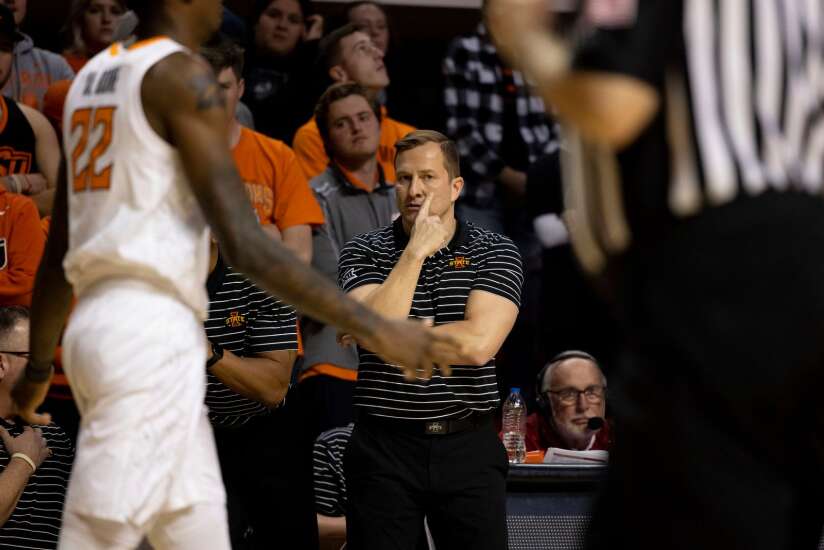 AMES — Iowa State's biggest turnaround in program history almost didn't come to fruition last season.
The Cyclones stood 3-9 in the Big 12 on Feb. 12, 2022 after an overtime loss at Kansas State and needed to mount a powerful late-season charge simply to make the NCAA tournament. They managed to achieve that tall task in the best league in the country according to KenPom and other analytics-based measuring sticks.
But that's ancient history. The Big 12's even better now.
"It's better than it's ever been," said second-year ISU men's basketball coach T.J. Otzelberger, whose 12th-ranked team (14-4, 5-2) faces the No. 5 Wildcats (17-2, 6-1) at 8 p.m. Tuesday at Hilton Coliseum. "The numbers say that. You've got to be mentally tough every single day."
The Cyclones went 7-11 in conference play last season, secured an 11-seed in the tournament and reached the Sweet 16 for the first time since 2016 after limping to a 2-22 mark the previous season.
"I think once you go through the league, all of us, your'e battle-tested, you've got grit, you have resolve," Otzelberger said. "You find a way to fight through really hard things so whatever postseason opportunities present for anybody in our league, they should have a lot of confidence to play teams outside the league."
Back to the numbers Otzelberger mentioned. The Big 12 is the only conference in the country to have six teams in the Top 20 of the NET rankings. No other conference has more than two. And according to KenPom, nine of the league's 10 teams rank among the Top 40 nationally.
Oklahoma State — the team that came back to beat ISU, 61-59, on Saturday in Stillwater — is 34th. Oh, and by the way, No. 11 TCU handed ninth-ranked Kansas its second-worst home loss of the Bill Self era the same day — an 83-60 rout that was never in doubt.
"There was a story last week after we lost to Kansas (by two points), I think it was in the Athletic, on how Kansas is really good," Otzelberger said. "That's why they win these games. And the same publication had a story that was out this week that says, 'What's wrong with Kansas?' So it's the same publication one week later.
"It's called the Big 12. For the most part, there's gonna be a lot of us that lose two games in a week. The team that wins this league might have 11 wins. Might be 11-7. So who knows? The league's really good and you've got to be mentally tough."
That's certainly been true for the Cyclones, who lost leading rebounder Aljaz Kunc because of a broken finger suffered before conference play began. ISU also could be without starting guard Caleb Grill against the Wildcats because he's battling a back injury sustained late in last week's win over No. 10 Texas.
So facing adversity — as well as a non-stop array of talented teams — has been a feature, not a bug this season.
"I think we've done a pretty good job of staying together, kind of (with) that next man up mentality," Cyclone forward Osun Osunniyi said. "I think guys have stepped up."
So far, so good. Resilience is key in the Big 12 — and the Cyclones could rise to a tie atop the conference standings with a win on Tuesday.
"It's gonna be a war tomorrow," ISU guard Jaren Holmes said. "Just be ready to fight."
Comments: robgray18@icloud.com