Home / Sports / Iowa State Cyclones / Iowa State Basketball
A 'super fun' Iowa State men's basketball season continues Saturday at Missouri
Cyclones lead conference in average margin of victory as they shift to SEC/Big 12 Challenge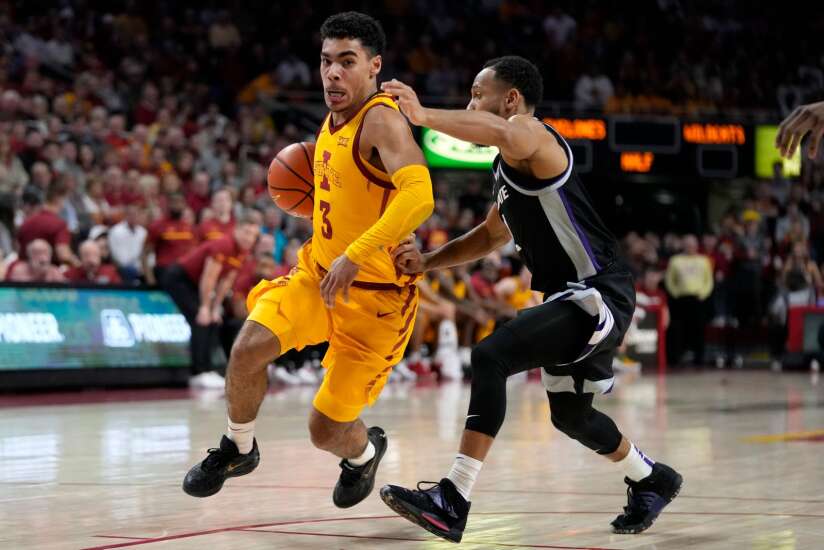 AMES — Iowa State boasts the largest average margin of victory per game in Big 12 Conference play.
But the gap is 8.2 points. Half of the No. 12 Cyclones' six league wins — and one of their two losses — have come by four or points or less, so one could expect chronic stress to ripple through the lineup.
That would be an erroneous assumption, at least for true freshman point guard Tamin Lipsey.
"A lot of fun," Lipsey said of the season thus far, which winds through Missouri in Saturday's 1 p.m. SEC/Big 12 Challenge game (ESPN2) in Columbia, Mo. "The most fun. Every game is super fun. Every day is fun."
That's a lot of fun — and it shows throughout the 15-4 Cyclones' roster.
So stepping out of league play in a one-off that briefly revives a once-longtime rivalry should fall into the same enjoyment-based category, but with momentary stress attached.
The Tigers (15-5, 4-4 SEC) feature an explosive offense that ranks sixth nationally in adjusted efficiency, according to KenPom. Missouri is 11-2 at home this season and, like ISU, lurks among the top 10 nationally in opponents' turnover percentage at 25.2. The Cyclones still lead the country in that statistical category, forcing turnovers on 28 percent of their foes' possessions.
"They shot the heck out of the ball (in a win over Mississippi) the other night," ISU Coach T.J. Otzelberger said of the Tigers. "They can play a lot of guys, a lot of different combinations, but they'll play fast. They'll play with a lot of freedom and confidence."
The antidote to Missouri's high-flying tactics? The cornerstone of ISU's program since Otzelberger took over last season: Suffocating defense that constrains opponents and punctures confidence.
"Like all games, (it's important we) control the tempo the way we want, us valuing the ball in possessions, us getting great shots, us getting back in transition defense has been a common theme," Otzelberger said. "It's going to be really important in this game because they're at their best when they're in transition."
ISU hasn't been able to field its best starting lineup throughout conference play because of injuries to leading rebounder Aljaz Kunc and versatile guard Caleb Grill.
Kunc, Otzelberger said, remains out indefinitely with a broken finger, but will visit the doctor next week to determine when he can safely return to practice. Grill still is battling a back injury suffered late in the Cyclones' win over 10th-ranked Texas. The 6-foot-3 senior was in and out of the lineup throughout Tuesday's 80-76 triumph over No. 5 Kansas State, so his status for Saturday remains unclear.
"Caleb's gotta focus on everything he can do every day to put himself in position to play," Otzelberger said. "We'll see and make those decisions as we approach the game, just like we did the other night."
But back to the "fun" part. Overcoming adversity is a key component of that joy-based aspect of the game. Pain merges with pleasure — and so far the Cyclones have found a way to conjure positive emotions and banish the negative ones.
"There was a lot of talk at the beginning of the year, just wondering what it's gonna be like, if (last) year was a fluke or whatever," Lipsey said. "But I think we all came in with the mindset that we're gonna work hard and we're gonna win a lot of games."
Comments: robgray18@icloud.com