Home / News / Crime and Courts
With hugs and tears, former classmates honor Sabrina Jackson
She graduated from Kennedy High in Cedar Rapids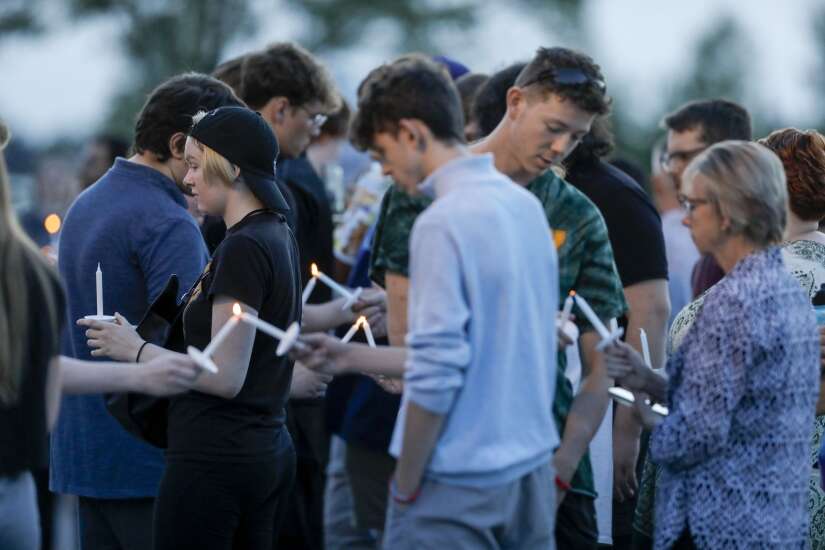 CEDAR RAPIDS — With tears flowing and candles glowing, scores of students gathered Wednesday night outside Kennedy High School for a vigil to honor their friend and former classmate, Sabrina Jackson.
The 19-year-old was shot and killed Tuesday morning in her northeast Cedar Rapids house, along with her father, Jan Jackson, and her mother, Melissa Jackson.
Her brother, Alexander Jackson, 20, who had graduated from Kennedy High a year before her, is charged with three counts of first-degree murder.
Following brief prayer, the students lit candles and sang "Amazing Grace." Afterward, students stepped forward to share their memories of Sabrina and their profound grief.
Many recalled her kindness and zest for life.
"She was a wonderful person," one girl said. "She was kind and sweet and so much fun."
Many said Sabrina made them feel accepted and cared for.
"You could talk to her about anything," one friend said.
She was strong and funny and had a smile for everyone she met, they said.
Both Jackson siblings were in high school band programs: Alexander played the flute and Sabrina the oboe. Both participated in honors band in 2019.
Matthew Meppelink, 19, went to school at Kennedy High with both, graduating in 2020 in the same class as Sabrina.
"I didn't know Sabrina personally, but she was nice and had lots of friends," Meppelink said in an interview before the vigil. "She was a really good musician."
Even though Alexander Jackson was a grade above him, Meppelink said they were in marching and concert band.
"He gave me rides home from school several times. We were pretty good friends during and after high school," he said. In fact, Meppelink said he was playing video games with Alexander Jackson on Monday night — hours before the killings.
"This is completely out of Alex's character. I can't imagine him doing this … We were playing Halo Reach 12 hours before everything happened," Meppelink said. "He was completely normal, and it wasn't any different than I ever remembered him. Nothing out of character really."
While in high school, Sabrina Jackson was also involved in speech and the JFK Young Democrats.
Both the Jackson siblings were enrolled last spring at the University of Iowa in Iowa City.
The UI is offering support and resources for anyone at the university who is affected by the deaths, a spokeswoman said.
Gage Miskimen of The Gazette contributed.