Home / News / Crime and Courts
Two teens responsible for killing Malik Sheets sentenced to prison
Grandmother: 'We don't need to lose any more children'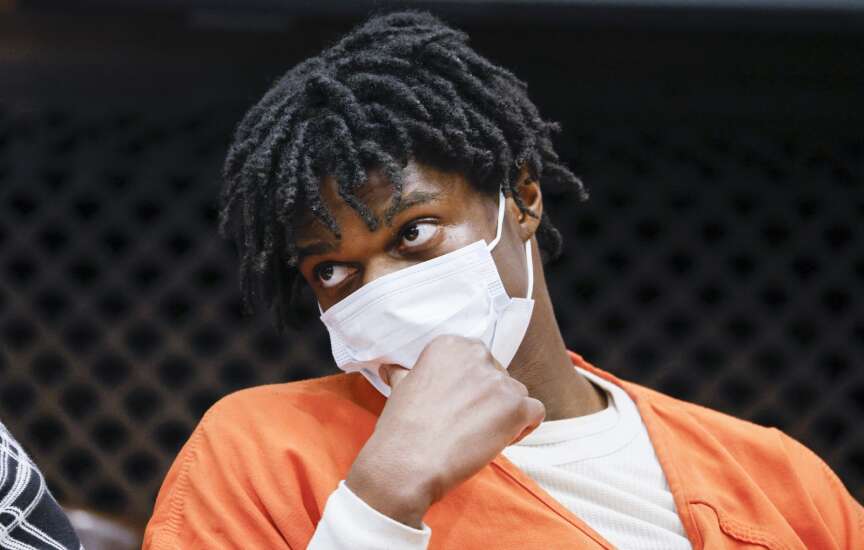 CEDAR RAPIDS — A grieving grandmother said Friday she was at a loss for words because she never expected to lose her "greatest, precious gift" — her grandson, Malik Sheets, who told her the day before he was fatally shot that he was going to graduate soon and she "wouldn't want for anything."
Havana Cooper, in her victim impact statement read during sentencing hearings for two men convicted in her grandson's June 18, 2020, death at a northeast Cedar Rapids party, Marshawn L. Jeffries, then 16, and Christian D. Emedi, 17 at the time, said instead of attending his graduation, she was attending a funeral.
Cooper, at Emedi's sentencing, raised her voice and scolded him for killing her grandson on her birthday and on Malik's mother's birthday — birthdays now ruined for the family.
"We don't need to lose any more children," Cooper said as she pounded her fist on the witness stand, next to the judge's bench. The Sheets family and friends stood and clapped afterward.
Carlos Sheets, Malik's father, also received applauds when he said he didn't forgive Jeffries and Emedi — now both 18 — calling them "coldblooded killers."
The father said he never had a chance to grieve for his "first born son" because after the shooting he was searching to find the killer. He was busy meeting with police and putting up flyers around town to stop and grieve. He still hasn't.
Both sentencings were emotional, but after Emedi's hearing, a physical fight almost broke out. Emedi's friends exchanged words with the Sheets family and friends and both were yelling at each when Linn County sheriff's deputies, who were in the courtroom, jumped in to separate the individuals and escorted them out.
Sixth Judicial District Judge Ian Thornhill had already left the courtroom, but two prosecutors and two defense attorneys were still there. Deputies took out Emedi when it started.
Nobody was arrested, according to the Linn County Attorney's Office.
Emedi sentencing
Emedi, originally charged with first-degree murder and obstruction of prosecution, previously pleaded to second-degree murder. During that plea hearing, Emedi admitted to firing all five shots that killed Sheets, who died from injuries to his neck and chest.
He admitted to all elements of the charge but entered an Alford plea to one of the elements — malice aforethought — or intentionally doing an unlawful act with an intent to cause injury. In an Alford plea, a defendant does not admit guilt but admits the prosecution has enough evidence to prove guilt beyond a reasonable doubt.
Emedi declined to make a statement Friday at sentencing.
Thornhill sentenced Emedi to 50 years in prison but suspended all but 15 years to serve, which was part of the plea agreement. There is no mandatory minimum sentence for juveniles, so Emedi could be paroled before the 15 years is served.
Emedi also was sentenced to five years in prison, which Thornhill ran concurrently with the 15 years, in a separate case. He was convicted of willful injury causing bodily injury when he and Cordal R. Lewis assaulted Kavon Johnson in 2020, punching and stomping him.
Lewis and Johnson were discovered dead this week in two separate homicides in southeast Cedar Rapids. Police would not say if the homicides are related and no arrests had been made.
Jeffries sentencing
Jeffries, also originally charged with first-degree murder and obstruction of prosecution, previously pleaded to a new charge of intimidation with a dangerous weapon, a felony, and to obstruction, a misdemeanor.
Jeffries, in the written plea for the gun charge, admitted he threatened to shoot a firearm into a group of people during the party when Sheets was fatally shot by another — Emedi.
In the obstruction plea, Jeffries admitted to destroying, altering, concealing or disguising physical evidence with the intent to prevent an arrest or to obstruct the prosecution of another person — Emedi — in the fatal shooting.
Jeffries also declined to make a statement during sentencing.
Thornhill sentenced Jeffries to five years on the gun charge. He said Jeffries would receive the two years on the obstruction conviction as time served — he has been in jail since June 2020.
Linn County Attorney Nick Maybanks, during the sentencings, said people involved in this tragic incident were not being truthful to police during this investigation and it took some time to find out who actually shot Sheets.
Maybanks, during Jeffries sentencing, said Jeffries didn't shoot Sheets but he bears responsibility for his part in this escalating argument that turned deadly. Jeffries pulled out a gun and pointed it at one person and was in a fight with another when Sheets was shot. Jeffries then concealed the identity of the shooter — Emedi.
In other hearings Friday, Aleah Anderman, 19, and Miguel Ruiz, 26, were sentenced for their part in Sheets' death. They weren't involved in the killing but helped cover up the crime after it happened.
Anderman, Emedi's girlfriend at the time, pleaded to accessory after the fact and received a deferred judgment and two years probation. Ruiz, Jeffries brother, pleaded to accessory after the fact and obstruction of prosecution. Both two year sentences ran concurrently and Ruiz was sentenced to two years in prison.
Comments: (319) 398-8318; trish.mehaffey@thegazette.com