Home / News / Crime and Courts
Testimony: Human bone fragments found in burn pile at Ely man's home
Fragments of an elbow bone, rib and a tooth root recovered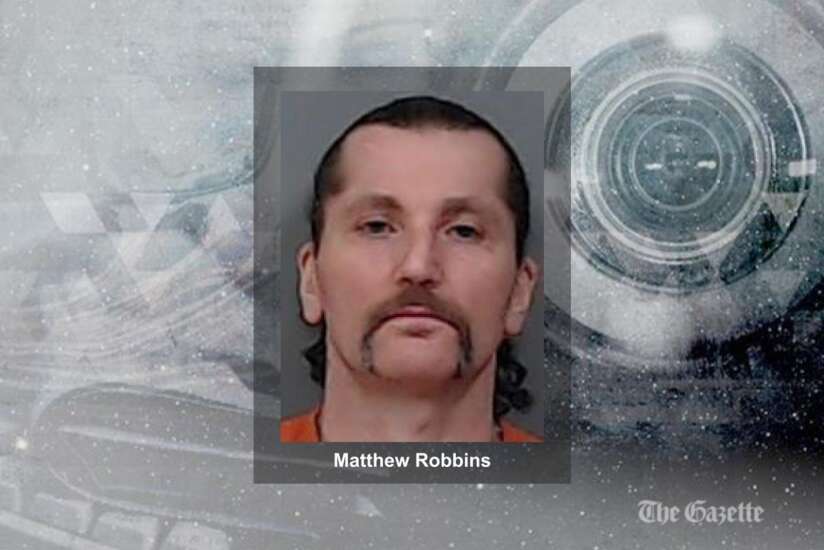 CEDAR RAPIDS — An Indiana forensic anthropologist testified Monday that 24 bone fragments consistent with human bone were recovered from a burn pit on the Ely property where Matthew Robbins lived and where witnesses say a Marion man was robbed and killed in 2014.
Krista Latham, professor of biology and anthropology at the University of Indianapolis, said she and several graduate students sifted through a large burn and dirt pile for about six days in May 2015 at the request of the Marion Police Department.
Of the 88 fragments recovered, 24 were consistent with human bone, Lathan testified. Two fragments were determined to be from a right elbow of a person, one was from a left elbow area, one was from a right second rib at the back of a body and another was a tooth root from a lower right lateral incisor.
Robbins, 48, is on trial in U.S. District Court for robbing and fatally shooting Booher, 51, a drug dealer, on May 31, 2014. He is charged with robbery affecting interstate commerce, conspiracy to commit robbery affecting interstate commerce, and using, carrying and brandishing a firearm during a crime of violence resulting in murder.
The prosecution will likely wrap up its case Tuesday and the defense may start Wednesday.
In last week's testimony, more than one witness said Robbins fatally shot Booher with a sawed-off shotgun and burned his body at a burn pit at the Ely farmhouse, which he was renting.
One witness, Danielle Busch, Robbin's ex-girlfriend, testified she was at the farmhouse when Booher was shot. Others said Robbins told them about the shooting or that William Yancey, also charged in the case, told them what happened.
They testified Robbins killed Booher because he was angry that Booher repeatedly sold him methamphetamine mixed with bath salts — reducing its quality or potency.
Latham testified that some of the bone fragments found by her team were less than a half inch — the size of a fingernail Most were fragmented, charred and gray or white in color because of the burning. They were difficult to analyze because of the size and condition.
She said the fire where the bones were burned had burned for a length of time, possibly with fuel added to the fire.
Assistant U.S. Attorney Lisa Williams asked Latham is she could say with a level of confidence that those 24 fragments were human bones.
Latham said she had a "high level of confidence" that the fragments were are human and not animal bones, which have different, identifiable characteristics.
Latham couldn't say those fragments were from Booher's body. She didn't conduct the DNA analysis.
On cross-examination, Latham admitted fire can warp and change the shape of bones, and she didn't know if the burn pile had been dug up between May 31, 2014, and May 2015 at the time of her work.
Inmate testifies
In other testimony, Timothy Sprous, who is serving 10 years in federal prison for manufacturing meth, testified Yancy told him what had happened to Booher when he was staying with Danielle Ayers, Robbins' ex-wife, who testified last week, in August and September 2014.
Sprous said Yancey told him Robbins thought his ex-wife was having sex with Booher in exchange for meth, and that Booher was selling "fake" meth or mixing it with bath salts. Yancey said they robbed Booher and then Robbins shot him with a pistol at Robbins' house.
Yancey also told him the body would never be found.
On cross-examination, Mike Lahammer, one of Robbins' lawyers, asked if Sprous had written to a law enforcement officer, saying he wanted to trade information in the Booher case to gain release. Hadn't he also signed an affidavit, saying he didn't know anything about Robbins, Lahammer asked.
Sprous said he did.
On redirect, Williams asked Sprous who had him sign that affidavit.
Sprous said it was four inmates at the federal prison in Leavenworth, Kan., where he was in custody. Sprous said they threatened to "bash in" his head if he testified against Yancey. Yancey had been in that prison at one time and told the inmates Sprous was providing information in the Booher case.
Sprous said he didn't want to testify at Robbins' trial but said he'd signed a cooperation agreement promising to tell the truth, as part of a plea deal that reduced his prison sentence.
Comments: (319) 398-8318; trish.mehaffey@thegazette.com