Home / News / Crime and Courts
Man punches, injures Cedar Rapids police officer, authorities say
Gazette staff
Jun. 15, 2022 1:03 pm, Updated: Jun. 19, 2022 8:06 am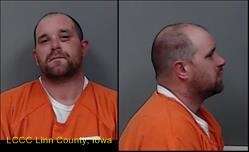 CEDAR RAPIDS — A Cedar Rapids police officer was seriously injured and hospitalized Wednesday morning after being repeatedly punched in the face by a fleeing suspect, authorities said.
The injured officer was identified as Rod Schulte, a 23-year employee of the police department.
Ryan Floerchinger, 34, of Cedar Rapids, faces charges of second-degree burglary, willful injury, assault on a peace officer with the intent to inflict serious injury, interference with official acts causing serious injury and trespass. He also was served with outstanding warrants.
The criminal complaint said Schulte responded to a harassment call at 2:20 a.m. Wednesday in the 300 block of Lewellen Dr. NW, where Florechinger's former girlfriend lives.
Schulte located the suspect, who took off running with the officer chasing. The suspect then charged Schulte, knocking the officer to the ground and began repeatedly punching him.
The suspect returned to the Lewellen Drive home, and additional officers and a medical crew arrived. Officers located the man inside a locked bathroom and took him into custody.
The criminal complaint said Schulte suffered "multiple facial fractures." He was taken to University of Iowa Hospitals and Clinics, where he was being treated for what the city described as non-life-threatening injuries.