Home / News / Crime and Courts
'Savage' stabbing of Chris Bagley was planned and calculated, prosecutor says
Defense rests without calling any witnesses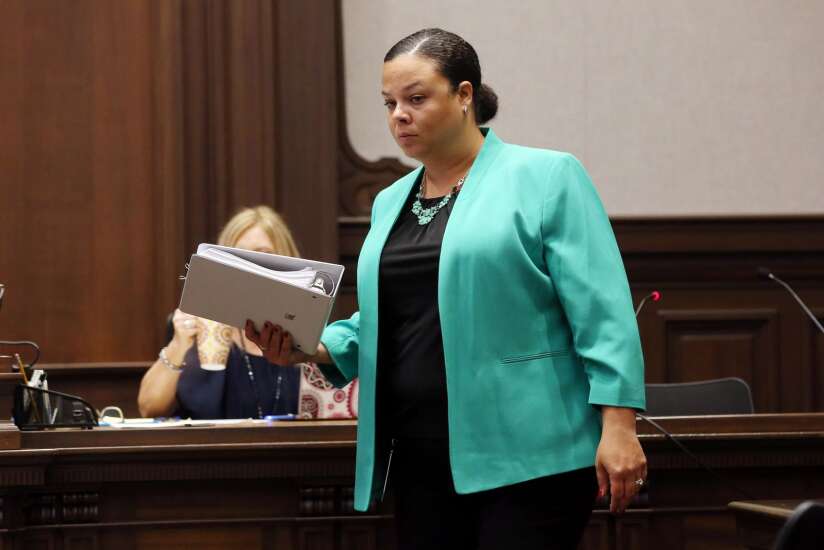 CEDAR RAPIDS — At the behest of a drug dealer, Drew Blahnik hunted down and viciously stabbed Chris Bagley to death, a prosecutor told jurors Monday in making her final argument urging them to find him guilty of the 2018 murder.
"You will decide if Blahnik's stabbing of Bagley was justified," Assistant Linn County Attorney Monica Slaughter said. "You will find it wasn't."
Bagley, 31, of Walker, was "messing up" business for Cedar Rapids marijuana trafficker Andrew Shaw. He had become a $200,000 burden to Shaw, she argued, and that burden had to be eliminated: Blahnik was under Shaw's orders to "take care" of Bagley.
After six days of prosecution witness testimony, Blahnik's defense rested Monday morning without calling any witnesses to the stand. Instead, defense attorney Leon Spies questioned the credibility and motivations of the witnesses against Blahnik, and argued key aspects of the case remained without evidence. Blahnik acted out of self-defense — that once he saw a gun, he intervened to protect.
The jury briefly started deliberations after 4 p.m. before 6th Judicial District Judge Christopher Bruns sent them home for the day. They will return 9 a.m. Tuesday.
Blahnik, 34, of Cedar Rapids, is charged with first-degree murder, obstruction of prosecution and abuse of a corpse. He is accused of stabbing Bagley 13 times in his torso and neck on Dec. 14, 2018, according to testimony.
Slaughter, during her closing argument, said that where Blahnik stabbed Bagley — going for his organs — was deliberate with specific intent. The "savage" stabbing was not accidental, she said — this was planned from the moment Blahnik and Drew Wagner went to Paul Hoff's trailer early that day.
The two went to the trailer court "hunting" for Bagley. At first they left because they didn't see his truck there, Slaughter said, citing surveillance video. But they returned after Wagner called Hoff and learned Bagley indeed was at Hoff's trailer.
Bagley and Shaw were sworn enemies after Bagley had stolen drugs and money from Shaw, according to testimony. Wagner, who has already been convicted in this case, testified for the prosecution that he had overheard Shaw talking to Blahnik about killing Bagley. They were laughing, Wagner said, and Blahnik remarked that it would cost Shaw more than what he had offered.
Shaw was a major drug trafficker for all the lower-level dealers, Slaughter noted. Shaw hasn't been charged in this case but he was convicted in federal court of marijuana trafficking and firearms violations. He is serving an eight-year prison sentence.
Slaughter recounted testimony for the jury: That as soon as Blahnik and Wagner arrived at the trailer, Wagner took Hoff to another room and told him they were going to "mess up" Bagley. Hoff thought it was going to be just a fight.
But Wagner came back into the room and engaged Bagley in an argument. They fought and then Wagner "bum rushes" Bagley, holding him as they struggle.
Blahnik then yelled "gun" — "if you even believe the gun exists," Slaughter said, casting doubt on the notion that Blahnik acted in self-defense. Wagner testified he saw a gun fall to the floor, but no one was in danger from it.
Wagner, convicted in this case of voluntary manslaughter, and Hoff, who also is charged in this case, may have told different accounts in their testimony, Slaughter said, but jurors can choose who they believe is most credible.
Hoff said Blahnik grabbed a knife and in a punching motion started stabbing Bagley and screaming like a "maniac." Hoff said he heard what sounded "like air" being released when Bagley was stabbed.
Slaughter said Hoff grabbed his gun because he didn't know what Blahnik was going to do. Hoff said he was the only one there with a gun.
Slaughter told the jurors to review Blahnik's interview with police and his grand jury testimony. In the police interview, he denied for five hours being involved — but in the last hour, said the stabbing was in self-defense because Bagley had a gun.
Blahnik also admitted to a grand jury he stabbed Bagley multiple times, with the goal of incapacitating him. He told the grand jurors it was not his knife — that he got it off a counter in Hoff's trailer.
"Blahnik's story doesn't make sense because it's not true," Slaughter told the jury. "It wasn't self-defense. It wasn't justified. It was murder."
In the defense's closing argument to the jury, Spies focused on Wagner and Hoff — pointing out their criminal histories and inconsistent stories.
Hoff was a daily meth user and he also used heroin and marijuana, Spies said. He had used meth all day the day of Bagley's killing, which influenced his thoughts and action.
Spies said Hoff made sure a federal prosecutor was involved when he finally talked because he wanted a deal in his federal gun and drugs case. He was facing over 20 years but was sentenced to less — 14.
Wagner was questioned by authorities more than once and gave different versions of what happened, Spies noted. The lawyer asked the jurors to judge Wagner's credibility, as he had tried to minimize his own involvement when he testified. And, Spies urged, look at his motivation — a plea deal where he was convicted of lesser charges.
The plea agreement said Wagner admitted he was "provoked" by Bagley. Bagley was "armed and dangerous." He was known to carry guns.
Corissa Marti, a friend of Hoff's, testified she saw Bagley with a gun at the trailer. Spies showed a photo of a waistbelt Bagley had on, which could have held a gun.
Blahnik's two knives were not used in the stabbing, Spies said. They didn't test positive for Bagley's DNA. This wasn't a premeditated killing, he argued — Blahnik had nothing against Bagley.
There also isn't evidence of a conspiracy between Blahnik and Shaw, he said. Wagner — not Blahnik — had told Hoff he was there to "mess up" Bagley.
Spies then pointed out Blahnik's military experience. He went into the Iowa National Guard and on active duty joined the 101st Airborne. When he did a tour in Afghanistan, he "stared death in the face every day. He had seven buddies die. Six of them in one day."
Blahnik and Wagner both said Bagley had a gun, Spies noted. "This was one soldier defending another and himself. The deadly force was justified. He felt danger to trigger a justified response."
Spies said there is no proof that Blahnik moved or buried Bagley's body, and he didn't obstruct prosecution. Blahnik wanted to call police, Spies said, but Hoff threatened him. Wagner also told Blahnik that Hoff was going to kill him.
On rebuttal, Slaughter said the murder of Bagley was a trained and calculated killing. It was only 12 minutes from the time Wagner and Blahnik arrived at the trailer to when they left with Bagley's body in the truck bed.
She also pointed out that Blahnik is a trained actor. In other court papers, Blahnik has said he had taken acting lessons and asked to change his name to "Johnny Church" so he could pursue an acting career. Actors are fed lines, Slaughter said, and that's what investigators in this case did to get him talking. They fed him the self-defense line to get him to admit his involvement and he "hung onto it."
Comments: (319) 398-8318; trish.mehaffey@thegazette.com