Home / News / Crime and Courts
Key figure in 2016 murder-for-hire case faces weapons charges
North Liberty man with 11 felony convictions accused of illegally buying guns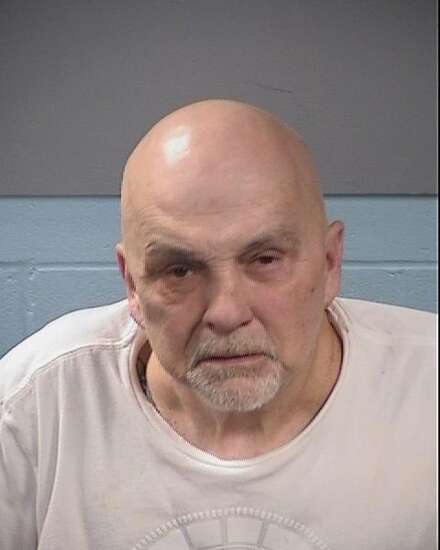 CORALVILLE — A key figure in a 2016 murder-for-hire plot faces numerous weapons charges.
According to Coralville police criminal complaints, Ronald Robi, 69, of North Liberty, bought two handguns at Scheels on May 20 and took possession of them June 1. Robi, who has 11 felony convictions, is barred from possessing firearms.
On Monday, police served a warrant at Robi's home and recovered a rifle in his truck.
It was Robi's criminal past — he told The Gazette in 2016 that he's spent about 35 years in prison for various crimes, including theft and fraud — that ensnared him in a bizarre criminal case.
Robi told The Gazette he hired Justin DeWitt as his landscaper in 2015. DeWitt later asked Robi if the convict had ever killed anyone, Robi said. Robi then learned of DeWitt's plans to kill a business associate and their family.
Robi eventually recorded a conversation with DeWitt in which they discussed the murder-for-hire scheme, and he turned it over to North Liberty police. Authorities organized a sting during which DeWitt thought he was hiring a hit man, but was actually meeting with an undercover officer. He was arrested and charged with four counts of attempted murder and solicitation to commit murder.
Robi's involvement in the case did not end there, however. In December 2016, while awaiting trial in the Muscatine County Jail, DeWitt met with another person he thought was an associate of a hit man and sought to have Robi, his wife and the undercover officer in his original arrest killed. The person DeWitt met with was also an undercover officer, earning DeWitt three more charges of attempted murder.
DeWitt ultimately pleaded guilty to two counts of attempted murder and two counts of solicitation to commit murder in the original case and was sentenced to 35 years in prison in 2018. Court records show he was found guilty of three counts of attempted murder in the Muscatine County case.
DeWitt died of natural causes in 2020 while serving his sentence.
Robi faces three counts of possession of a firearm by a felon, a Class D felony punishable by up to five years in prison.
Comments: (319) 339-3155; lee.hermiston@thegazette.com