Home / News / Crime and Courts
Police now investigating Cedar Rapids man's death as homicide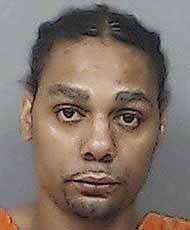 CEDAR RAPIDS - Cedar Rapids police are investigating the death of a man who was found unresponsive early this morning as a homicide.
A release from the department said Clifton Diapolis Sparks, 31, of 1518 7th Avenue SE, suffered traumatic injury. His cause of death has not been released, pending an autopsy.
The man's identity was released after police received a call of a body lying in the street in the 1800 block of B Avenue NE at 12:30 a.m. Tuesday morning.
When police arrived on scene, the man was unresponsive and pronounced dead.
The release said the case remains under investigation and the department does not believe there is any immediate threat to the public. This is the third homicide in Cedar Rapids this year.
"Studies have shown that, in homicides, the victim and offender or offenders are known to each other," said Greg Buelow, Cedar Rapids public safety communications coordinator, elaborating on why there is no threat to the public.
"The investigation is ongoing but information is leading us to believe the victim was probably targeted."
Buelow said the police department is not releasing any more information on the nature of Sparks' injuries as doing so could impede the investigation.
He said police do not yet know how long Sparks was laying there before they were called to the scene and said police are investigating how he got there and where he was in the hours leading up to his death.
Buelow said the police have not yet arrested anyone in connection with the case.
Moving forward, Buelow said Sparks' body will be taken for an autopsy to determine the cause of death and police will process any evidence collected at the scene and talk to any available witnesses to get a timeline and determine the facts and circumstances of the case.
Online court records show Sparks has a lengthy criminal record which includes domestic abuse and drug-related charges.
[mqMap key="oSmF" width="670" height="420" src="http://www.mapquest.com/embed?icid=mqdist_mb_wp&c=oSmF&maptype=map&zm=14&cr=41.99340500000001,-91.64785000000002&projection=sm&showScale=false"]My New Map[/mqMap]