Home / News / Crime and Courts
Iowa parole board approves moving Marion man who killed pizza delivery driver to minimum security prison
Driver's brother feels killer should have to serve life sentence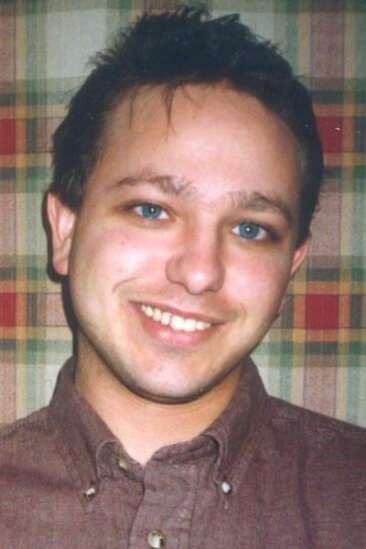 CEDAR RAPIDS — A Marion man, who was 17 when he robbed and killed a pizza delivery driver by slashing his throat with a knife in 2002, didn't receive parole during a Wednesday review hearing, but board members agreed he should be transferred to a minimum security facility.
David Keegan, now 37, now serving life in prison — with the possibility of parole, because he was juvenile at the time of the crime — was convicted of first-degree murder and second-degree robbery in the slaying of Greg Wells, 31, of Cedar Rapids, on Jan. 6, 2002.
In 2016, Keegan was resentenced to life with the chance to parole after the 2012 Supreme Court ruling that banned juvenile offenders from serving life without parole.
Susie Weinacht, Iowa Board of Parole member and a former Cedar Rapids City Council member, said during the virtual hearing that Keegan has served more than 18 years of his sentence and was last reviewed for parole a year ago.
He has continued to do well in prison, receiving the highest inmate privileges and lives in "honor housing"- with fewer restrictions, according to the Iowa Department of Corrections reports.
He also works as an IT tech in the prison and received his associate degree in 2019.
Keegan hopes to continue his education, has a "passion" for writing and has written a book, Weinacht said, citing corrections reports.
Weinacht said the reports, which aren't public record, state Keegan has taken advantage of many programs offered in prison and has engaged in one-on-one counseling and volunteered for youth programs.
She was in favor of following the department's recommendation to not release Keegan at this time, but to move him to a minimum security prison.
Keegan is currently at the Fort Dodge Correctional Facility, a medium-security prison.
Andrew Boettger, board chairman, said during the hearing that he was "on the fence" about Keegan because he showed no remorse after killing Wells.
Boettger said they should give "serious consideration" before his release would be an option. However, he favored moving him to a minimum security prison to give him a chance to prove himself in a less restrictive environment.
Board members Ralph Haskins said he thought Boettger had valid concerns but thought minimum security would be appropriate to continue his "reform" and improvement of himself.
'Senseless murder'
First Assistant Linn County Attorney Nick Maybanks, who was the prosecutor for the resentencing in 2016 and listened in on the hearing Wednesday, said he agreed with the board decision to not release Keegan.
It appears that Keegan has made "significant progress," Maybanks said, and those efforts for rehabilitation should be commended.
"Their hesitation to release is justified, however, given the brutality of this crime and the lack of remorse shown by Mr. Keegan when it was perpetrated," Maybanks said.
"I remember when this happened, and I can say with confidence I am sure the victim's family remains traumatized by this senseless murder to this day. My thoughts are also with them today."
Family prefers he stay in prison
Paul Wells, Greg's brother who lives in Illinois, told The Gazette he didn't know about the Wednesday hearing but that he and his sister, Teresa Ellickson, had submitted victim impact statements for previous parole board hearings.
"Our preference would be that he serve life in prison, but acknowledge he was 17, close to turning 18, at the time and he may not serve life," Wells said.
He knows his family has little recourse in the justice system and has tried to move on with their lives.
"I've thought about this and prayed about it," Wells said. "If he is released some day, and if what we're hearing is true, I pray that he can be a productive member of society. Let him not hurt anyone else … Do good and not evil."
Trial testimony
According to testimony at trial, Keegan called and ordered a pizza on Jan. 6, 2002, and that he and his friend, Brandy Byrd, planned to rob the pizza delivery driver.
Byrd hid in a utility closet in Keegan's Marion apartment, so she could ambush Wells and steal his money and car.
Byrd struck Wells in the head 10 to 12 times with a claw hammer, and then Keegan attempted to smother him with a pillow, according to testimony.
Wells tried to defend himself, but Keegan slit his throat with a butcher knife. Wells died from multiple blunt force injuries to his head and the laceration to his throat.
Comments: (319) 398-8318; trish.mehaffey@thegazette.com