Home / News / Crime and Courts
Judge tosses theft charges against derecho contractor. So prosecutors file a tougher charge
4 homeowners taken in scheme, criminal complaint shows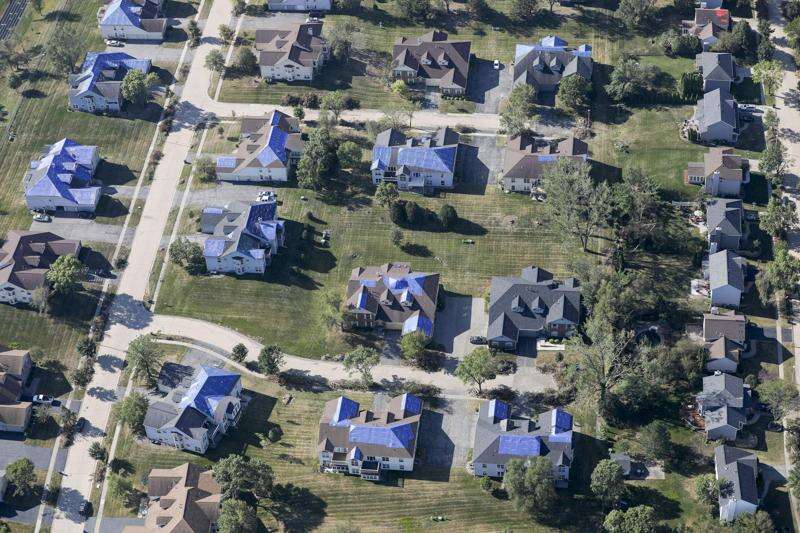 CEDAR RAPIDS — A judge last month dismissed a theft charge against a Burlington contractor accused of taking money from four homeowners for derecho repairs but never doing the work, ruling prosecutors missed a crucial deadline.
But now a more serious charge has been filed against the contractor.
Linn County Attorney Nick Maybanks doesn't agree with the finding, but had to accept 6th Judicial District Judge Christopher Bruns' ruling that found, based on case law, prosecutors missed the 45-day deadline for filing "trial information" — details of charges similar to an indictment.
Bruns ruled the speedy indictment rights for the contractor, Ryan Richard Standard, 30, of Burlington, were violated and so he dismissed charges of first- and second-degree theft.
The deadline issue is based on when Standard was arrested, which triggers the 45-day deadline to file the trial information, according to the judge's ruling. The defense and the judge agreed that after a warrant was issued for his arrest and Standard made a "promise to appear" in court, the clock started ticking. The prosecution argued Standard was arrested when he appeared in front of a judge, which was later than his promise to appear.
Maybanks, who didn't initially file the charges last year because he wasn't county attorney at the time, said this week he asked the Iowa Attorney General's Office to appeal Bruns' ruling after he became aware of it from an assistant prosecutor who took over the case, but the office declined.
"After the judge's ruling, we discussed the case and realized we had other legitimate options to pursue," Maybanks said.
New charge
After reviewing the case, the prosecutors decided that "ongoing criminal conduct" would be a more appropriate charge because there were multiple homeowners over several months who accused Standard of taking repair money but not doing the work.
Maybanks noted it's a more serious charge, a Class B felony, with a higher penalty of 25 years in prison. If Standard is convicted, the prosecution also will ask the court to order Standard pay victim restitution to the homeowners.
According to the criminal complaint, Standard obtained over $32,000 by "deception from four separate victims over the course of several months" when they hired him to do repair work from the Aug. 10, 2020, derecho. Standard took their money, never did the work or refunded their money despite requests. He used the money for his own use, the complaint stated.
Court documents show financial loss to each homeowner — Steven Kayfes, Jacqueline Burmeister, Thomas Haring and Charles and Amber Cotton — all of Linn County.
Previous convictions
Standard was convicted of third-degree theft Monday in Des Moines County for an incident in 2019, according to court documents. He received a suspended sentence on a two-year prison term and must serve two years' probation. He also was fined $2,000 and ordered to pay $2,058 in restitution.
According to a criminal complaint, Standard wrote a $2,058 check on a closed checking account to a home improvement store in West Burlington for building supplies Nov. 1, 2019. A bank official told a store employee the checking account was closed in March 2019 due to an outstanding balance.
Standard never returned any of the items and owed over $2,800 to the store, the complaint stated.
He also has previous convictions for theft, forgery, harassment and possession of a firearm by a felon, according to court records.
Homeowner reaction
Kayfes told The Gazette on Tuesday that he contacted Maybanks and was told what happened and that the new charge was being filed. He has been frustrated over the case and doesn't understand why it would take so long for the prosecution to get the trial information filed. But he's hoping this new charge, which also would require restitution, will go forward.
Kayfes, who has lived in his northwest Cedar Rapids home for four years, said he had to pay out-of-pocket to fix his storm repairs after he gave his insurance money to Standard — an $11,859 down payment for a roof, siding and gutters on his house and garage. Standard quoted him over $22,000 for the entire repairs.
He learned about Standard after the storm from a neighbor repairing a roof. Kayfes' neighbor gave him Standard's contact information, and the contractor agreed to do the work.
Standard also did the same thing to this neighbor and another neighbor, Kayfes said in the interview. The contractor took down payments for siding work from the two neighbors but never did the work.
Kayfes said he attempted last year to get his money back from Standard but found out over a series of text messages that the contractor wasn't going to refund it. He said Standard kept making excuses about not sending a check or having the wrong address.
Kayfes filed a police report in October 2021.
"I guess I'm one of the lucky ones who could do the repairs out of pocket," Kayfes said.
But he wants his money back, and he hopes the county attorney will "keep better track of those deadlines" this time.
Comments: (319) 398-8318; trish.mehaffey@thegazette.com