Home / News / Crime and Courts
Flooding catastrophe strikes Davenport
Quad-City Times and Dispatch-Argus staff
Apr. 30, 2019 11:22 pm, Updated: May. 1, 2019 9:34 am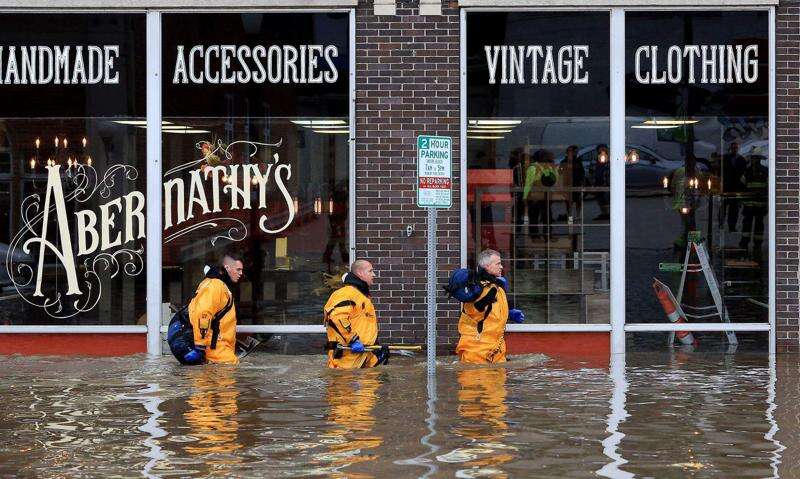 As the temporary flood barriers on River Drive in Davenport failed, Chase Neukam was among those rushing to grab sandbags and shore up water inside Paradigm Virtual Reality Gaming and Training.
'I was standing out front and saw it come in. It was like 'The Day After Tomorrow,'" Neukam said as he stacked sandbags in the East Second Street building. 'It was like a disaster movie, heading down the street really fast. And then it started getting worse."
Around 3:30 p.m., the temporary levees at Pershing Avenue began to break. Just hours earlier, Davenport police and firefighters were walking East Second Street, urging people to evacuate. The HESCO flood barriers haven't been used in a flood higher than 21.5 feet, said Nicole Gleason, assistant city administrator and public works director, and there was a risk they wouldn't hold. During the day, they had been reinforced with sandbags on the tops and backs, because having the river at 21 feet was a 'milestone," she said.
'If the floodwall goes, we will not have time to evacuate anyone," Police Chief Paul Sikorski told business owners.
Maureen Carter, an employee of Great River Brewery on East Second Street, was in the brewery when she looked out and saw water 'come rushing up Iowa."
'We had very little time to do anything," she said as she stood on the street about 45 minutes later.
Among those evacuated by boat from the Peterson Paper Co. Loft Apartments, 301 E. 2nd St., was Tim Schiffer, executive director of the Figge Art Museum. He had returned Monday night from a 10-day, Figge-sponsored trip to France.
Unfortunately, he said, he had left his car parked next to the apartment building, where it filled to the top of the doors with water, as were at least eight other cars.
But the Figge, Schiffer noted, was built to be flood-proofed.
The public safety response to Tuesday's flooding was swift, and no serious injuries were reported.
All employees and residents were evacuated from Peterson Paper Loft Apartments.
'The safety of the residents and employees is our first concern," Davenport City Administrator Corri Spiegel said. 'Once we get that taken care of the Public Works can come in and we can see what can be done about reducing the impacts to the property in the area."
Spiegel said that they knew that given the forecast, the day was going to be touch-and-go.
'Unfortunately the rain came fast and furious, and the localized flooding didn't help. This is the first time we've had the HESCO system tested like this.
'This is going to be an hour-by-hour ordeal," she said.
For those who need it, a shelter is set up at Lincoln School in Davenport. The Red Cross also is stationed at the Radisson Quad-City Plaza in Davenport to assist people in need.
While Davenport has the most dramatic flooding, it's an issue across the Quad-Cities. Here's a look at what's happening:
The crest hasn't arrived yet. And it's now forecast at 22.4 feet
National Weather Service meteorologist Brian Pierce said the Mississippi River at Lock and Dam 15, Rock Island, was rising a little quicker than the forecast. But the breach could draw the crest down somewhat.
'That's the part we don't know yet," Pierce said. 'We're still trying to figure out how much water is now in the downtown area."
As of 4:30 p.m. Tuesday, the Mississippi River was at 21.87 feet and rising. The forecast crest of 22.4 feet is expected Wednesday.
Overnight rain could drive the crest higher, threatening the 22.63-foot record set in 1993.
At the 21.87-foot mark, it is the fifth highest flood on record. And it's the longest flood on record: Wednesday marks the 39th day of continuous flooding here.
Getting an emergency disaster declaration
Scott County has been advocating with the Federal Emergency Management Agency to extend President Trump's declaration of an emergency for western Iowa to other parts of the state dealing with flooding, said Dave Donovan, director of the Scott County Emergency Communications Center and Scott County Emergency Management Agency.
'Right now, we don't understand the impacts of this flooding. Many areas are still under water and until the floodwaters recede it's impossible for us to begin to estimate what those impacts might be," he said. 'Very wet soil conditions from last fall along with high amounts of snow in the winter months and spring rains have created a very bad situation for us,"
He, too, guessed it may eventually match the record set in 1993, one of the worst natural disasters in the region's history.
On Tuesday, U.S. Rep. Dave Loebsack, D-Iowa, said he will 'continue to work with FEMA and the Trump Administration to ensure the local emergency responders have access to the resources the federal government can provide."
Gov. Kim Reynolds tweeted: 'We are ... working to make any necessary resources available" to Davenport.
Is drinking safe?
Yes, your drinking water service is safe. Iowa American Water Co. built a new floodwall in 2013 that will protect against flooding to 31.4 feet.
'This is probably the first real test we've had. We've had floods (prior) to this where we've gone through the motions - we've closed the doors and done what we needed to do to practice," spokeswoman Lisa Reisen said. 'But I don't think the water has been near this level for a long time."
Earlier this week, Iowa American shut down all of the floodwall gates at the center of its property, which also shut down any rail traffic.
'They will remain closed until the river levels drop below 21 feet."
Behind the wall, it's business as usual, Reisen said.
'We want to stress to our customers that the drinking water continues to meet all the EPA and Iowa Department of Natural Resources standards for safety, and obviously we're taking extra safety precautions to protect the treatment facility as well as the water quality."
Buffalo: Please stay away
Unless you're going to Buffalo to help with the sandbagging efforts, city officials are asking you to stay away.
The bank in town is closed, along with some other businesses that have been inundated by the Mississippi River floodwaters. Many residents were not prepared for the higher-than-predicted crest, and help is needed throughout the small city in southwest Scott County.
The only problem is getting there.
Highway 22 along the Mississippi is closed on either end of town, and the only good way to access Buffalo is by taking Coonhunters Road off Highway 61
'You can't get through town, but that's not keeping people from trying," said Tanna Leonard, city clerk. 'If you're coming to help, come on in. But people are trying to come through who shouldn't be here."
She said the townspeople are eager to hear of a disaster declaration, which would deliver extra aid for the flood fight and, ultimately, the cleanup.
'We're pushing for it," Leonard said. 'I know Scott County is working hard toward that."
Volunteers should report to City Hall at 329 Dodge St. or call 563-381-2226. Or, for more information, visit City of Buffalo on Facebook.
Upper Mississippi locks closed, halting barge traffic
With all but two locks closed along the Upper Mississippi River, local barge traffic has come to a complete halt, said Allen Marshall, a spokesman for the Rock Island District of the Army Corps of Engineers.
Lock and Dam 15 in Rock Island closed last month due to flooding. Lock 19 in Keokuk and Lock and Dam 21 in Quincy, Ill., remain open, but they're expected to close within the next couple of days.
That will mean all the locks along the Upper Mississippi, from Dubuque to Saverton, Mo., will be closed.
'I don't think there is a typical flooding season anymore. Locks were also closed in March due to high water," Marshall said. 'We had some closures last year, and it happens, but it hasn't been a regular occurrence - at least not to the extent that all of these locks are closed right now. That's rare."
As a result, companies shipping products on dozens of barges up and down the Mississippi River are searching for alternative means of transportation or are dealing with stalled operations.
'There's not much you can do with multiple closures," he said.
Marshall said as the water recedes, locks will open along the river from north to south. He expects Lock and Dam 11 to reopen around Friday, with the rest of the locks opening late next week, depending on the river level.
What's happening in Muscatine?
'As you can imagine, things are pretty wet down here. We are at 22.7 feet and expected to crest at 24.1 on Thursday," Muscatine Communications Manager Kevin Jenison said. 'Mississippi Drive will be shut down to traffic from Mulberry Avenue to Pine Street this evening. Most of Mississippi Drive from Mulberry to Iowa is already covered in floodwater."
The city is patrolling the levees 24-7, Jenison said, and also have two pumps working to pump water back over the levee around the Musser Park area.
When asked what he was feeling during the flooding, Brad Bark facetiously replied, 'joy." He's thankful for the help he's received in sandbagging and preparing for flooding. Bark, owner of Bark Chiropractic, said he heard water levels were going down in Dubuque and Camanche, and it would be another day or so until water goes down in Muscatine. Flooding goes along with living on a river, said Candice Bark, Brad's spouse and co-owner of the building.
'When the river is high and there's a lot of rain, this is to be expected," she said.
'We're used to this," said LeAnn Wienke, general manager at Missipi Brew in downtown Muscatine. 'Mother Nature's going to do whatever Mother Nature's going to do, and we just have to deal with it."
Wienke said the restaurant and bar on Iowa Avenue has seven pumps in the basement working full time to clear out water, and parking has been difficult for customers because of floodwaters, but other than that, it's business as usual. Wienke said the brewery is a stop on the Rev It Up for Awareness motorcycle ride and rally this weekend, with about 600 bikers expected to visit.
'We'll be ready for them," she said.
Bud's Skyline Riverview needs help, too
The brother-sister team that is reopening their father's namesake restaurant in Davenport was close to finally opening its doors when the near-record flood hit.
By 11 a.m. Tuesday, the Mississippi River was lapping at the seawall behind Bud's Skyline Riverview.
As Davenport Public Works crews were delivering sand and sandbags, co-owner Audie Canfield was calling on former owners of the building at the base of Oneida Avenue to ask where to place the sandbags.
'This is my first rodeo," Canfield said. 'I don't even know where, exactly, the water comes up."
City officials told Canfield she could use the sandbags placed in her parking lot on the downstream side of Bud's, because the city is abandoning efforts to save that area.
'They said they're going to let it go, and we can have those bags they put around the storm sewers," she said. 'I only have a few people to help fill bags. I need help."
Volunteers are asked to dress for the rain and bring a shovel, if possible. The address is 1201 River Dr., and the best route to access it is via Oneida Avenue.
Audie and her brother, Brian Canfield, have been working on getting their restaurant open for months. They were required to pull permits and undergo various inspections because of improvements they made to the building.
Their father, Charles 'Bud" Canfield," sold his Skyline restaurant at the Quad-City International Airport to the airport authority in October 2015, and it was razed to make room for new development.
He died about nine months later, and his children bought the former Driftwood restaurant late last year as a tribute to their dad.
What's next, and how to help
The city of Davenport is coordinating with the American Red Cross and Salvation Army to assist any residents affected by the breach in the River Drive flood protection. About 25 people helped evacuate an area of Second Street west of Brown Street.
The Salvation Army is accepting donations of bottled water, non-perishable food/snacks, new pillows and sheets, towels and washcloths, and toiletries. Donations can be dropped off at the Mississippi Valley Fairgrounds from 10 a.m. until 4 p.m. Wednesday.
The Mississippi River is forecast to rise another 5 inches Wednesday.