Home / News / Crime and Courts
Defense witnesses deny Matthew Robbins had a gun or talked to inmates about his case
Defense wraps up Thursday with DNA expert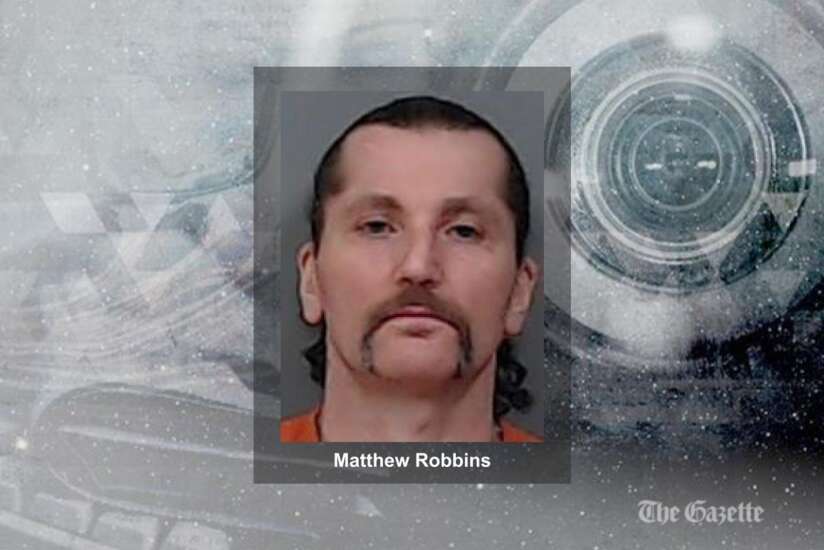 CEDAR RAPIDS — Defense witnesses testified Wednesday that they never saw Matthew Robbins, accused of robbing and killing a Marion man in 2014, with a gun and said he never talked about his case with other inmates, contradicting previous witnesses who said Robbins confessed to them.
Dan Kolsto of Cedar Rapids testified Robbins had been one of his best friends since 2011, and he would visit the Ely farmhouse where Robbins lived about two times a week in 2013 and 2014. He would ride dirt bikes, enjoy the fire pit bonfires and hunt deer on the property, but he never saw Robbins with a gun.
Robbins used a bow to hunt deer with him because Robbins was a felon and wasn't allowed to have firearms, Kolsto said. He did say Robbins had pellet guns.
Robbins, 48, is on trial in the May 31, 2014, robbery and shooting death of Booher, 51, of Marion. He is charged with robbery affecting interstate commerce, conspiracy to commit robbery affecting interstate commerce, and using, carrying and brandishing a firearm during a crime of violence resulting in murder.
In last week's testimony, more than one witness said Robbins fatally shot Booher with his sawed-off shotgun and burned his body in a burn pit behind the farmhouse. One was his former girlfriend, Danielle Busch, who has been convicted in the case, but she didn't actually see the shooting. Others testified Robbins confessed to them about the incident.
The witnesses said Robbins killed Booher because he was angry that Booher repeatedly sold him methamphetamine mixed with bath salts — reducing its quality or potency.
The defense started its case Wednesday and will wrap up testimony Thursday with a DNA expert.
Kolsto also testified that Robbins called him once and asked him to get a shotgun left by Brandon Lee, who testified last week, off the property because he couldn't have it. The weapon he retrieved wasn't a sawed-off shotgun.
Tom Estrada Jr. of Cedar Rapids testified he had known Robbins for 30 years and considered him a close friend. He had been to Ely to visit a few times in the spring or summer of 2014 but never saw any guns there.
On a heated cross examination, he was asked about a recorded jail call between him and Robbins last year. Robbins, who was in jail, told Estrada that Andrew Shaw, a convicted marijuana trafficker, was going to testify against him.
Assistant U.S. Attorney Lisa Williams asked if Robbins told him to do whatever he could to "f**k up" Shaw and his family.
Estrada said he didn't recall.
Williams then asked if drug task force officers came to his home after that to talk to him.
Estrada denied it happening.
Williams also asked him if the last four digits of Robbins' phone number was 0670.
In Tuesday's testimony, the 0670 number was shown to be under the name of William Yancey, who also is charged in the case, but the prosecution's theory is it was Robbins' phone and he frequently changed phones.
He again didn't recall, so Williams showed him eight calls made by himself to that phone number on May 31 and June 3, 2014. He previously said he wasn't friends with Yancey.
Estrada finally admitted to making those calls.
Jessie Akers, who is serving 148 months for firearm convictions in Louisiana, testified that he was in a Colorado federal prison with Robbins in 2017 for more than a year. During that time, Robbins never talked about his case, which inmates "rarely" do, he said.
On cross-examination, Assistant U.S. Attorney Emily Nydle asked him about a letter he sent to Mike Lahammer, Robbins' lawyer, asking him for a legal document saying he testified for a defendant, so he could show other inmates.
Akers said that wasn't the reason.
Nydle then asked about the saying "snitches get stitches."
Akers denied ever hearing that.
The defense had its final witnesses scheduled for Thursday, so the judge allowed the prosecution to have its two rebuttal witnesses testify.
Dennis Klinsky, Robbins' landlord for the farmhouse, said he had been calling and exchanging text messages with Robbins on the 0670 phone number May 30 and 31 and June 3, 2014.
The jail call was played of the conversation between Robbins and Estrada, which disputed Estrada's testimony that he didn't talk to Robbins about Andrew Shaw.
After the call was played in court, Adam Cirkl, a Marion police officer and member of the Drug Enforcement Administration Task Force, testified he talked to Estrada outside his house after the call was discovered and Estrada wouldn't say anything, except telling him he could listen to the call.
Comments: (319) 398-8318; trish.mehaffey@thegazette.com