Home / News / Crime and Courts
Defense DNA expert doesn't dispute prosecution's findings in Matthew Robbins' trial
Jury begins deliberations Friday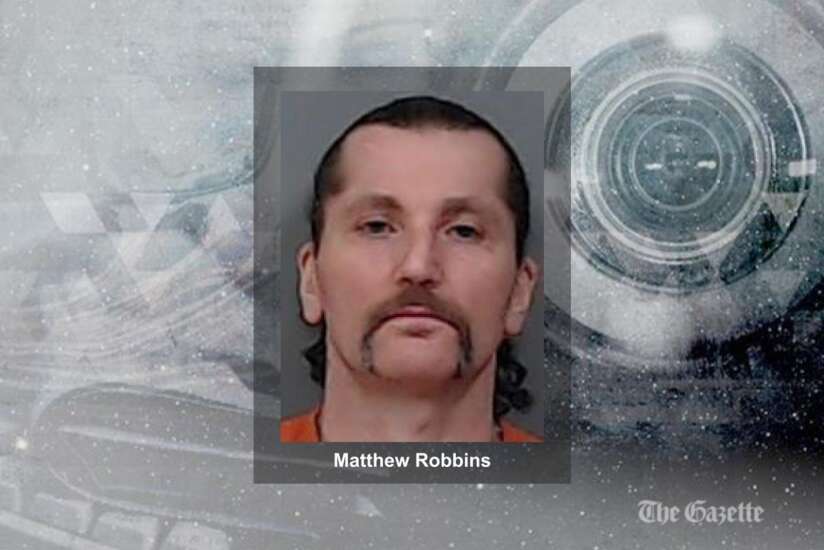 CEDAR RAPIDS — Some cases involving DNA come down to a battle of the experts, but a defense DNA expert testifying for Matthew Robbins, accused of robbing and fatally shooting of James Booher in 2014, agreed with the prosecution's experts.
Michael Spence, forensic DNA consultant and owner of Spence Forensic Resources in Las Cruces, N.M., on Thursday agreed with the findings of the prosecution's DNA forensic examiner or a state crime lab analysts, slightly refining two results.
Spence couldn't say — because of inconclusive evidence — whether bone fragments found in a burn pit at an Ely farmhouse, where Robbins lived in 2014, belonged to Booher, 51, of Marion.
He agreed with Charity Davis, an FBI nuclear forensic examiner at the FBI Lab in Quantico, Va., who testified Tuesday, that there were two DNA contributors to the bone fragments.
Spence found one contributor was a female. In her testimony, Davis said she couldn't completely rule out that one could be a female but that one was definitely a male.
Robbins is accused of robbing and killing Booher, a drug dealer, May 31, 2014. He is charged with robbery affecting interstate commerce, conspiracy to commit robbery affecting interstate commerce, and using, carrying and brandishing a firearm during a crime of violence resulting in murder.
The defense wrapped up its case in U.S. District Court on Thursday morning without Robbins testifying.
U.S. District Chief Judge Leonard Strand on Thursday informed Robbins of his right to testify. Robbins said he understood, and it was his choice not to testify.
Robbins already is serving a 10-year federal prison sentence for being a felon and an unlawful drug user. He was convicted in 2015.
Closing arguments in his trial were Thursday afternoon, with the jury to begin deliberations Friday morning. If convicted, Robbins faces a mandatory 10 year sentence and up to life in federal prison.
In last week's testimony, more than one witness said Robbins fatally shot Booher with a sawed-off shotgun and burned his body in a burn pit in back of the farmhouse.
One witness was Robbins' former girlfriend, Danielle Busch, who has been convicted in the case, and was at the house when the alleged killing happened. Others testified Robbins had confessed to them.
The witnesses said Robbins killed Booher because he was angry that Booher repeatedly sold him methamphetamine mixed with bath salts — reducing its quality or potency.
Spence, the New Mexico DNA expert, on Thursday said he didn't have a lot of experience analyzing human remains but had reviewed a webinar this year on removing DNA from bones for testing.
He also agreed with Davis and Tara Scott, an Iowa Division of Criminal Investigation criminalist, that it was Booher's DNA found on walls, a vent cover and a glove at Robbins' house.
The inside of the glove had DNA from four individuals — male and female — and Booher was excluded as the contributor.
He also concurred with Scott that stains taken from the farmhouse's front door and curtains showed two unknown male DNA profiles, and that none of the profiles developed matched Robbins.
In other testimony, Jeff Voshell of Cedar Rapids, said he has been good friends with Robbins since they were 14- or 15-years-old. Robbins had done some carpentry work for him and he used to "hang out" at Robbins' home in Ely. He was out there a few weeks before May 14, 2014, he said.
On cross-examination, Voshell denied seeing Robbins, a meth user, use drugs and didn't know he had been convicted on firearms and drug charges.
Assistant U.S. Attorney Lisa Williams noted Voshell visited Robbins in jail and gave him money, but Robbins hid things from him?
Voshell said he didn't think of it that way, saying he understood there are things a person might not want others to know.
Noah Cripe, formerly of Cedar Rapids and now living in Wyoming, said Robbins, his best friend, came to visit him when he was working in Lansing, Mich., in June 2014. Robbins was "doing what he shouldn't have been doing" — using meth — and he came to visit because Cripe had his "stuff together."
Comments: (319) 398-8318; trish.mehaffey@thegazette.com