Home / News / Crime and Courts
Cedar Rapids man charged in fatal robbery of cabdriver loses appeal, asks U.S. Supreme Court to review
Appeals court upholds ruling to give Johnathan Mitchell involuntary medication to maintain competency for trial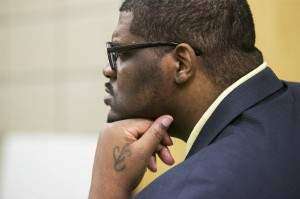 CEDAR RAPIDS — Facing up to 20 years in prison in connection with a 2011 fatal stabbing of a cabdriver, a Cedar Rapids man wants the U.S. Supreme Court to weigh in on whether judges can — as they have so far — order him to take antipsychotic medication against his will so he can be mentally competent to stand trial.
The U.S. 8th Circuit Court of Appeals recently upheld a federal district judge's order to involuntarily administer medication to Johnathan Dewayne Mitchell, 43, to maintain his competency for his long- awaited trial.
However, Mitchell asked U.S. District Chief Judge Leonard Strand to stay — temporarily hold — the medication order, pending a review of that decision by the U.S. Supreme Court. Strand issued a stay last week.
Court documents filed after a hearing last year to determine if medication should be given involuntarily to Mitchell, who was indicted in 2016 on a federal charge, laid out his struggle with maintaining his competency. Most of the information hadn't been in public records until that time.
Mitchell has been sent to a medical prison facility at different times over the years to have his competency restored, which he has fought by not staying on the antipsychotic drugs prescribed to treat his diagnosed schizophrenia and anti-social personality disorder.
According to the appeal, Mitchell was found competent to stand trial — meaning he understands the nature and consequences of the charged crime and can assist a lawyer in his defense — when he complied with taking the drugs. But his "continued competence was contingent upon his willingness to take his medications," according to the appeal.
According to law, all court proceedings must be suspended until a defendant receives treatment and is restored to competency.
An example of the on-again, off-again competency began in early December 2019, when U.S. Magistrate Judge Kelly Mahoney received a report from the month before that Mitchell was competent to stand trial.
In the two months leading up to the report, Mitchell's level of voluntary compliance was between 60 and 65 percent. Mitchell was taken to the Linn County Jail on Dec. 18, 2019, and a competency hearing was set for Jan. 2, 2020. At the hearing, Mahoney found him competent based on that November 2019 report.
But according to the appeal, this report didn't reflect that Mitchell's voluntary compliance had declined much more while at the jail. Mitchell took his medication only 20 percent of the time. Three weeks later, Mahoney granted the defense's request for another competency evaluation.
Mitchell, after he was taken back to federal detention center in February 2020, took the medication about 62 percent of the time but refused to participate in the evaluation process, the appeal stated — so his competency couldn't be determined.
At that time, a psychologist noted Mitchell was experiencing psychotic symptoms, had poor hygiene, fluctuating compliance with medication and was "hoarding and had other questionable behaviors," the appeal stated.
In October 2020, prosecutors filed a second motion for involuntary medication. During a hearing in November 2020, a psychiatrist testified that although Mitchell had been found competent when he complied 60 percent of the time in the past, at other times his competency rapidly diminished after missing only a few doses.
A treatment plan was submitted to Mahoney. In December, she recommended granting the prosecutor's motion for involuntary medication, and Judge Strand approved it.
Mitchell filed a motion to appeal the ruling.
The appeals court concluded last month there is evidence that Mitchell's mental state deteriorates when he doesn't adhere to a medication regimen, and that he has demonstrated a pattern of failing to voluntarily maintain the regimen when he becomes competent.
The court also stated that the district court's order is "narrowly and carefully tailored" to minimize intrusion on Mitchell's rights — meaning the order doesn't mandate forcible administration of every prescribed dose. The order provides that Mitchell's compliance shouldn't fall below 76 percent per month and Mitchell could avoid being involuntary medicated if he complies with that rate each month, the appeal stated.
The indictment for Mitchell's charges accused him of obstructing commerce — a cab company service — by "violently robbing" Catherine "Cathy" Stickley, 54, who was driving a Century Cab on April 29, 2011.
Mitchell was first charged in Linn County District Court with first-degree murder and first-degree robbery but was acquitted by a Story County jury in 2013. His trial was moved to that county because of pretrial publicity.
Stickley was stabbed 18 times in the neck and head, and Mitchell's fingerprints were found in Stickley's blood in the cab. The prosecution argued Mitchell needed money for crack cocaine and killed Stickley to get it.
If Mitchell is convicted in the federal case, he faces up to 20 years in prison.
Comments: (319) 398-8318; trish.mehaffey@thegazette.com