Home / News / Crime and Courts
Cedar Rapids faces 2 lawsuits involving same police dog
Ace attacked homeless man in park in 2018, 13-year-old in 2020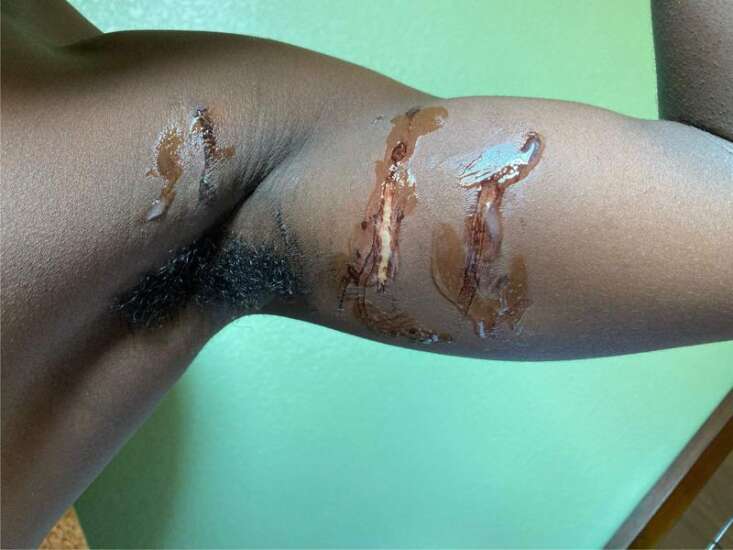 CEDAR RAPIDS — A lawsuit filed earlier this month against the Cedar Rapids Police Department and the city, involving a police dog that bit a 13-year-old boy in August, isn't the first to argue the dog acted without being commanded to attack.
Howard T. Cones, who was homeless at the time, filed a lawsuit in June, asserting he was sleeping under a park picnic table bench around midnight July 12, 2018, when Ace, a police dog, "viciously attacked him."
The dog bit him multiple times on his right arm and elbow, according to the lawsuit.
Ace, his K-9 handler Officer Nathan Trimble and two other officers came to the park as part of a training exercise with Ace, according to the lawsuit. Ace was required to smell a scent and find an object.
The dog was released but rather than finding the intended object, he attacked Cones, the lawsuit states, claiming the officers were negligent in failing to properly train and control the dog.
The city has denied the allegations and is asking the court to dismiss the lawsuit, according to court documents. No action has been taken on that petition. At this point, a trial is set for Jan. 31.
City officials said, by policy, they do not comment on pending litigation.
The two incidents point to the use of police dogs by law enforcement in the United States, where a 2020 news investigation found many of the people bitten by dogs were not violent and were suspected of minor crimes or no crime at all.
All the area police departments use police dogs for apprehensions, building clearings, narcotics and bomb sweeps. Cedar Rapids has seven dogs and handlers, Marion has three and Iowa City has one.
Police report
In the Cones' lawsuit, Cedar Rapids lawyer Mark Liabo, who is representing Cones, said the police report states Ace was on an "off leash" search the night of the attack in Poet's Park, 1200 17th St. SE.
In the report, Ace's handler, Trimble, said he noticed Ace had a distinct change in behavior when he was about 35 yards out and then he saw Ace jump on a picnic bench.
Ace attacked Cones, who was lying on the ground beneath the bench, biting his arm. Trimble ran over and removed Ace, Liabo said.
In their report, the officers — Trimble, Amy Shuman and Craig Fangmann — said there was no intent to attack Cones and that they were unaware Cones was in the park. They acknowledged Cones wasn't a suspect for criminal activity and that Cones didn't do anything to provoke the dog, Liabo added.
There is no body camera footage of the incident, as there is in the other lawsuit involving Ace.
Teen bitten
In the other lawsuit involving Ace, TonyaMarie Adams of Cedar Rapids asserts excessive force was used on her Black 13-year-old son — because of his race and appearance — when Ace, a 6-year-old Belgian Malinois, attacked him.
The attack came as officers were pursuing young Black males along Eighth Street NW near Ellis Boulevard in the early morning hours of Aug. 13, 2020. The youths were suspected of stealing a vehicle, and police thought they might be armed.
The 13-year-old was taken to a hospital to be treated for his injuries and was not charged.
The police report said the teen had planned to spend the night at a friend's house Aug. 12, but the friend wasn't home and he ended up falling asleep in his friend's backyard.
It was two days after the derecho hit Cedar Rapids, with electricity cut off, phones silenced and tree debris throughout the city.
The lawsuit asserts Ace bit the teen without a command and wouldn't release him after Trimble gave a command to do so.
Use of police dogs
Police dog attacks, for the most part, are not tracked by law enforcement, and there is no national database to track number of bites or who is bitten, according to The Marshall Project, a nonprofit and nonpartisan news organization, and its media partners, AL.com, IndyStar and the Invisible Institute, after a one-year investigation of police dogs.
The key findings from the 2020 investigation were: People are bitten across the country but some cities use biting dogs more than others; bites cause life-altering injuries and death in some cases; many of those bitten were not violent and were suspected of minor crimes or no crime at all; most biting incidents involved men and in some states they have been disproportionately Black; sometimes police officers can't control their dogs, resulting in worsening injuries; and there's little accountability or compensation for bite victims.
Experts and medical researchers said police dog bites can be more like "shark attacks" than nips from a family pet. They cite some extreme examples — where one dog chewed on an Indiana man's neck for 30 seconds, puncturing his trachea and slicing his carotid artery. In another case, a dog ripped off an Arizona man's face.
Dog bites cause more hospital visits than any other use-of-force option used by police, according to a 2008 academic analysis of 30 departments, the investigation found.
Police dog trainers said the dogs should release when given a verbal command, but the investigation found dozens of cases where handlers had to "yank dogs off, hit them on the head, choke them or use shock collars."
'No negatives' in dogs
Marion police Lt. Phil Fort, who has been part of that department's K-9 program since it started in 1998, said Marion police have had only one apprehension where a dog bit a suspect after that person had assaulted officers.
Police dogs, he said, are one additional tool — a non-deadly force option — that law enforcement officers can use to protect officers and citizens.
"There is no negative part of having canine units," Fort said. "The public love the dogs, and all of our dogs are social. They are trained to be social.
"It's left up to each handler if they allow petting (by citizens) when they are out. They go home with the officers and are family pets."
Comments: (319) 398-8318; trish.mehaffey@thegazette.com