Home / News / Crime and Courts
8 animals found living in filthy conditions; owners accused of animal neglect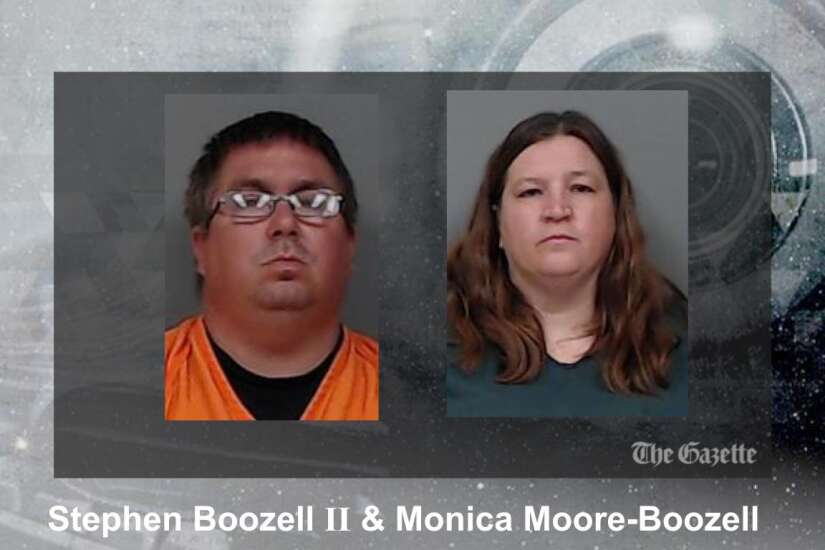 CEDAR RAPIDS — Police arrested a Cedar Rapids couple last week on multiple counts of animal neglect after eight animals were found living in dismal conditions.
Stephen Thomas Boozell II, 40, and Monica Racheal Moore-Boozell, 44, each face eight counts of animal neglect, according to the Cedar Rapids Police Department.
The charges came after officers received information Wednesday regarding alleged neglect at the defendants' residence in the northwest quadrant.
Police said officers found five cats, two dogs and one chinchilla. The house interior, officials said, was covered in animal feces and urine.
Officers said all five adult cats were covered in fleas and flea dust.
An adult Chihuahua was covered in fleas and had the beginning stages of hair loss.
The other dog, an adult springer spaniel, was infested with fleas and had overgrown nails, making it difficult for it to walk. The springer spaniel also had flea dermatitis, which caused large amounts of hair loss and severe allergic reactions flea bites. The Animal Care & Control veterinarian estimated the infestation was several weeks old.
The chinchilla cage was covered in feces and apparently had not been cleaned in a significant amount of time, officials said.
Police said both defendants allegedly acknowledged the animals were in poor health and were living in poor conditions.
All the animals were surrendered to Animal Care & Control, where they are receiving medical care. Once the veterinarian approves, the animals will be placed into rescue, foster homes, or become available for adoption.
In a news release, the police department and Animal Care & Control outlined the minimum care requirements pet owners must adhere to, which include:
Adequate food is defined as fresh nutritious food suitable for the species provided continuously or at suitable intervals in a sanitary manner in quantities sufficient to allow for normal growth or maintain good health and body weight in an animal considering its age and condition.
Adequate water is defined as continual access to a supply of clean, fresh, potable water provided in a sanitary manner suitable for the species, condition and age of the animal in sufficient amounts to maintain good health in the animal. Such water will be provided in a secure manner so that the container cannot be overturned.
Pet owners need to maintain all structures, pens, coops, kennels, yards or other areas wherein animals are confined in a clean and sanitary condition, devoid of vermin, and free of odors arising from feces and urine.
Comments: (319) 398-8238; kat.russell@thegazette.com.