Home / News / Crime and Courts
6th Judicial District Judge Mary Chicchelly is sworn in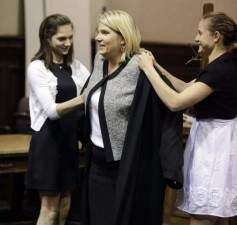 Sixth Judicial District Judge Mary Chicchelly said during her investiture Friday that she couldn't promise her former colleagues, lawyers, that she would rule in their favor but when they are having a bad day she would "try by my demeanor not to make it any worse."
Chicchelly also said she couldn't promise to give defendants what they might request, but they would know "they were heard" and that "their day in court meant something." She lived her dream of becoming a lawyer like her father and working with her brothers, but in the last few years she felt another call to service and now looks forward to her new role.
Gov. Terry Branstad appointed Chicchelly, 45, of Cedar Rapids, in February, as the fifth female district judge on the bench, which provides some balance with the seven male judges. She replaces Judge Denver Dillard who retired last year and who recently took senior status.
Her two daughters, Sarah and Hannah, helped their mother with her robe after being sworn in during the standing room only ceremony, which included many family members, colleagues and friends. Her brothers and former partners of Seidl and Chicchelly, Phil and Mark Seidl, her father Gerald Seidl and Second Judicial District Judge Stephen Carroll introduced her, gave her advice and a little ribbing while congratulating her.
Carroll said when he and another judge went to law schools looking for a law clerk in 1992 the "room got brighter" when Chicchelly entered.
"She was direct, had a sense of humor, common sense and had a first-class legal mind," Carroll. "And she also played well with others at the courthouse, which was important."
Mark Seidl said while he knows his sister will make an "excellent public servant" and he's happy for her new career, he would be sad that he won't "see that sunshine coming through the door" every day at their office.
"I'm really proud of you for taking the challenge," Phil Seidl said. "You have a passion for what is right."
Chicchelly had been a family law attorney with Seidl and Chicchelly for about 15 years prior to being appointed as a judge.  She received her bachelor's degree in 1989 from the University of Iowa and her law degree in 1992 from the University of Iowa College of Law. She is a member of the American Bar Association, the Iowa State Bar Association and the Linn County Bar Association.