Iowa traffic fatalities piling up this year
Speeding, which surged during pandemic, could be partly to blame for spike
Dylan Vascik of Springville, a motorcycle-loving husband and father of two, was 46 years old when he died Feb. 7.
Arlene and John Yanecek of Cedar Rapids were 81 and 75, had been married for 43 years and had more than 50 descendants between the two of them, when they died Feb. 11.
Junier Caballero Vernero, 37, of Houston, Texas, and David Mosinski, 57, of Wilton, died Jan. 8. Rebecca McClaine, 46, of Bettendorf, died Jan. 14. Mary Cowan, 74, of Greencastle, Mo., died March 13.
Those are seven of the 82 people who have died in crashes on Iowa roadways this year, as of Friday. That's 12 more than at this point last year, and 22 more than at this point in 2021, according to the DOT's daily traffic fatality count.
Number of Iowa traffic fatalities as of April 14
Number of Iowa traffic fatalities as of April 14

| | |
| --- | --- |
| 2023 | 82 |
| 2022 | 70 |
| 2021 | 60 |
| 2020 | 58 |
| 2019 | 68 |
| 2018 | 72 |
The reason for the increase in traffic deaths is hard to pin down because a number of factors cause fatal crashes, according to Jan Laaser-Webb, Iowa's state safety engineer.
Speeding a problem
But data shows speeding in Iowa has been up since the COVID-19 pandemic started in 2020. As the pandemic winds down and more people are returning to the roads, those increased speeds could be contributing to increased danger.
Laaser-Webb said that since fewer people were on the roads in 2020 and 2021, drivers got more comfortable going faster, and those speeds haven't returned to pre-pandemic norms.
"We have definitely seen an increase in speeding, and speeding with crashes equals serious. It's absolutely going to happen that if there's a crash, it's going to be severe," Laaser-Webb said.
In the past five years, 53 percent of all fatal crashes have been related to speeding.
In 2018, 936 drivers in Iowa were convicted of driving more than 100 mph. That number dropped to 812 in 2019.
But in 2020, 1,672 drivers were convicted of driving more than 100 mph. That number dropped to 1,477 in 2021 and to 1,281 in 2022.
Iowa State Patrol Trooper Bob Conrad said that even people who aren't driving 100 mph seem to have gotten comfortable driving faster since the pandemic, and they haven't slowed down.
"When COVID hit, we had so many fewer drivers on the road, so the drivers that were on the road could push it a lot more, and I think ever since that there's been a change in the attitude or a change in behavior in a vehicle," Conrad said.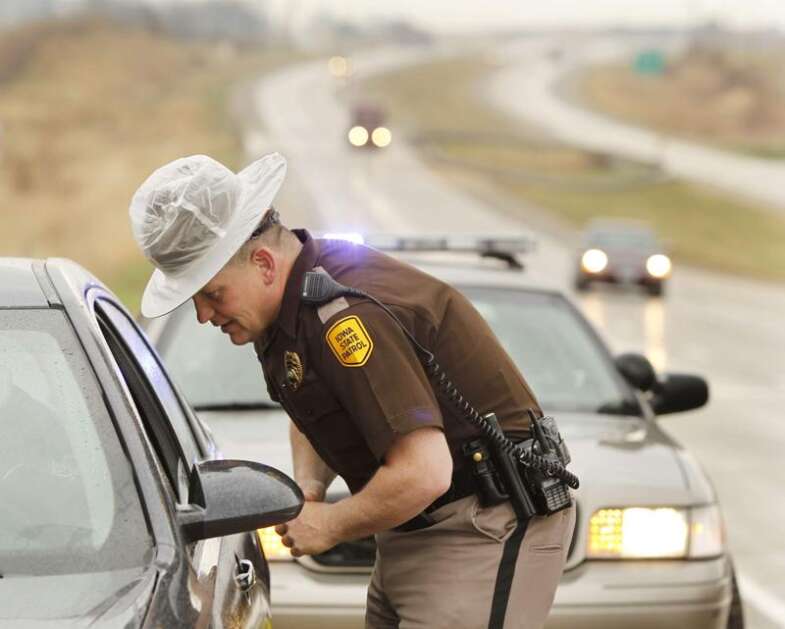 Conrad said he saw an increase in speeding last week because of the nice weather. People tend to slow down and be more cautious when it's dark or rainy outside, but when the sun comes out, there seems to be a greater risk of crashes from speeding.
Two other factors that play a role in the number and severity of crashes are drivers who are distracted or not fully focused on the road, and whether everyone in a vehicle is wearing a seat belt.
Personal injury cases
Cedar Rapids lawyer Jeff Tronvold regularly works on personal injury cases related to vehicle crashes.
Occasionally, he works with people seeking compensation after a family member was killed in a crash, but more often he sees people who have been seriously injured and suing over insurance coverage and medical bills. Those types of cases have become so common he recently appeared in a television ad encouraging people not to drive distracted, stating he'd like to eliminate that part of his practice.
"I did that as a public service announcement," he said. "People were like, 'Are you trying to talk yourself out of business, Tronvold?' I'm like, 'Well, it's sad!' I'm sick of seeing people getting hurt."
Tronvold said many of his cases in the past few years have been related to distracted driving, which isn't difficult to prove if he can subpoena someone's cellphone records. Still, he said, personal injury cases can require years in court, and the process can be especially tedious for someone who has been severely injured and is trying to pay medical expenses.
Preventing crashes
The Iowa DOT is constantly looking for ways to make roadways safer to prevent crashes, like adding shoulders with rumble strips to highways that don't have them and adding cable barriers to prevent cross-median crashes, Laaser-Webb said.
Officials also are looking at ways to make problem intersections safer by adding roundabouts or other traffic-control devices.
"We're really trying to approach how can we do these intersections differently. Which does become a challenge because doing something different means we all have to accept some change, and that can be tough," Laaser-Webb said. "But we're looking. We're exploring it."
The DOT has also recently changed the name of its safe driving campaign to What Drives You to encourage drivers to think about the things that motivate them to arrive at a destination safely. The program encourages safe driving practices like wearing a seat belt, driving the speed limit and never driving under the influence.
"We used to call it Zero Fatalities … (but) we got so much pushback from people who said, 'You're never going to hit zero.' Well, I sure want zero for my family," Laaser-Webb said.
The Iowa State Patrol also is working to reduce speeding by monitoring roads both from the ground and from the sky. The patrol has seven small planes that are used to monitor roads from above and track speeding and other violations. When pilots spot a car that is speeding, they radio down to a trooper on the ground who initiates a traffic stop.
Conrad, the state patrol trooper, said he likes to share on social media when the planes are going to be used because people tend to slow down when they know an area is being monitored.
He said he'd prefer not to write speeding tickets. He'd much rather see everyone driving the speed limit.
Comments: (319) 398-8328; emily.andersen@thegazette.com