Transform Week means transforming lives for some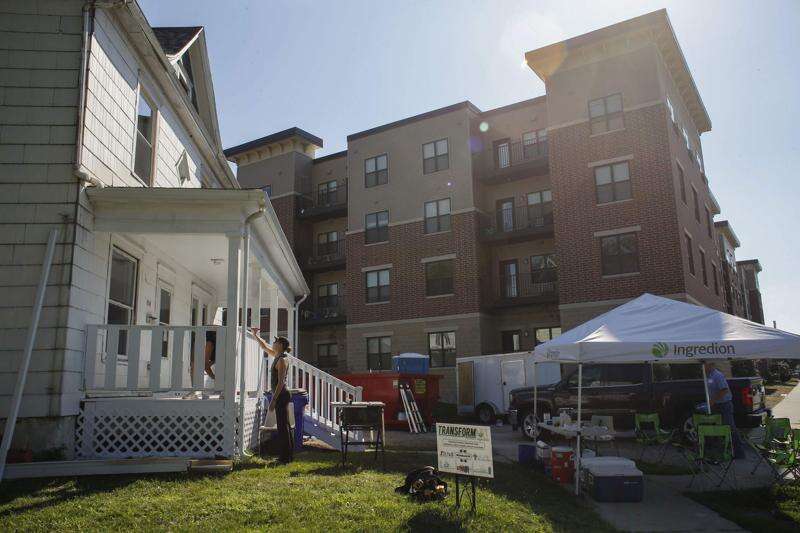 CEDAR RAPIDS - Julie McInroy admitted she knows nothing about renovation or repair work, but she wanted to be part of last week's third annual Transform Week, where volunteers worked on repair projects for homeowners in the Taylor Elementary School neighborhood.
'I haven't done it before but I can scrape," McInroy, a technical project manager at Rockwell Collins, laughingly said Thursday, as she was chipping off old paint from a window. 'I have heard great things about Matthew 25 (the host of event) and it's exciting to see everybody participating. It makes me happy about this community."
McInroy may not have thought her scraping was important, but to Patricia Davis, the homeowner, it meant everything.
'The Lord sent me so many angels," Davis, of 810 Eighth Ave. SW, said last week. 'I was shocked when they told me they were going to help. I didn't believe it until they showed up."
Jana Bodensteiner, director of Development and Communications for Matthew 25, said this year they could take on more projects like Davis' because they had about 50 percent more volunteers - over 275 - than last year. The volunteers completed 18 projects in five days and had 10 sponsors, who contributed volunteers and money for the projects.
'Cedar Rapidians are amazing," Clint Twedt-Ball, executive director of Matthew 25, said last week. 'The turnout has exceeded our wildest expectations. I'm not sure why it continues to surprise me, but every time the people of Cedar Rapids are called on to help out their neighbors they come through. It's awesome to be part of the energy they bring."
The projects last week included house painting, replacing flooring, plumbing and electrical system repairs, rebuilding stairs and porches, replacing windows and doors, roof repair and landscaping.
The Rockwell Collins employees and retirees group were working on Davis' home, which was destroyed in the 2008 flood. The house was in the process of foreclosure, so Davis moved out because she thought the bank owned it. Last year, the bank told her it was still hers.
Davis said she discovered her house had been occupied by 'squatters" who ripped off doors, fixtures, heat vents, pipes and wiring.
Davis has been slowly working on the house, but she needed help and had nowhere to turn, until Matthew 25 came along.
Joe Ampulski, retired Rockwell-Collins design engineer, said he and others had replaced doors, made bathroom repairs, replaced porch railings and did all the prep work for painting on the Davis house. The group wasn't going to have time to do the overall painting, but it's now ready for that next step, Ampulski said.
Roxie Simon, volunteer and plant manager of Ingredion, a sponsor of the event, was at another house, 224 Sixth Ave. SW, owned by Muuiya Mohamud, a Somali refugee who came to Cedar Rapids about 20 years ago. She and many family members had lived in the home over the years but she wasn't around on Thursday.
Simon said she and about 10 to 20 co-workers had renovated porch stairs and built a new railing, replaced 17 windows, repaired the second floor bathroom, did some drywall work and painted inside last week.
They planned to paint the outside but ran out of time, so they will still do it in the future, she said.
'We are in this neighborhood and it's important to us to help," Simon said. 'We have had volunteers do this since it started three years ago."
Matthew 25 is the largest single nonprofit that Ingredion supports, she added.
At the end of the week, Davis said she still can't believe all the work that was done on her home. There's more that needs to be done and she wouldn't refuse more help, but for now she's grateful to her 'angels."
l Comments: (319) 398-8318; trish.mehaffey@thegazette.com